MAYS LANDING — Students from Pleasantville are getting an on-campus experience this week at Atlantic Cape Community College as part of the district's Early College High School program.
Early College High School is a national initiative started by Bill and Melinda Gates in which students have a chance to earn their associate's degree before they graduate from high school. The George Washington Carver Education Foundation operates the program at nine schools in South Jersey, and similar programs are operated in the Greater Egg Harbor Regional and Middle Township school districts.
"Knowing that they can interact, navigate and achieve when engaging with college personnel and professors demystifies the college experience, particularly for underserved populations like Pleasantville," said Jerome Taylor, executive director of the Carver Foundation.
Pleasantville School District has had a tumultuous year, but the students at the high school…
Taylor said exposing students to a college campus is an important part of the program because it makes them more inclined to continue their post-secondary aspirations.
"These post-secondary credentials will lead communities like Pleasantville to better jobs, higher wages and a life that is productive for years to come," he said.
Pleasantville's Class of 2018 had a post-secondary enrollment rate of 36.8%, compared with the statewide rate of 72.8%.
As part of Early College, students are asked to attend a three-week summer academy, referred to as a "bridge program." This week, the students participated in an English book study and a drone technology class with professors at Atlantic Cape.
"Our whole goal is that they interact with college professors and bridge their skills," Taylor said.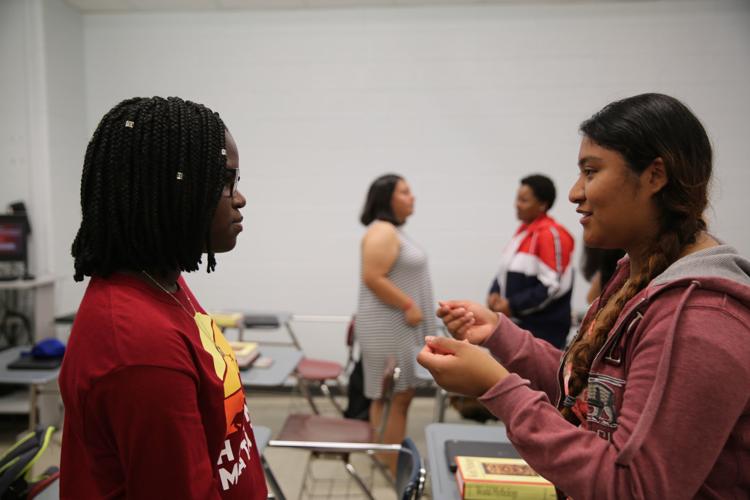 Rising junior Jesus Ruiz, 16, of Pleasantville, is in his second year and admitted he did not want to participate at first, but his mom told him he had to. He decided to study graphic design as part of the arts pathway.
"I'm glad she did because it pushes me to my limit and keeps me active," Jesus said. "I've improved as a person and as a man, in general."
Participation this year in Early College High School among Pleasantville students grew to about 100 from 60 last year.
Josephine Troy, a 10th-grade English teacher at Pleasantville, said that since the program began not only are the students learning more, but she has seen a change in the culture of the school.
"It's improving," Troy said. "It influences the behavior of these students who are kind of on the fence."
She attributed much of that to a portion of the program called "Gateway," led by high school career and business teacher William Burch. In Gateway, students learn study skills, organization, note taking, work ethic and more.
"They see the future," Burch said. "We put a value to education, and they're starting to see the value."
'My Happy Place' is a weekly Press series in which local notables take us on a tour of a fav…
Laura Santiago, 16, will begin her sophomore year in September and is studying health sciences in the STEM pathway. She said she wants to be an orthodontist and knows she is fortunate to have an opportunity to get a head start on her post-secondary education.
"It feels great. Not many have it. Why not appreciate it?" Laura said.
Incoming freshman Khaliyah Haraskin, 14, was part of the middle school Early College program last year and is studying to become a cardiologist. She said she is learning the value of working hard and credited her teachers for pushing her.
"Giving up really wasn't an option," Khaliyah said.