LIVE UPDATES: Elective surgeries to begin later this month as NJ COVID-19 deaths top 10K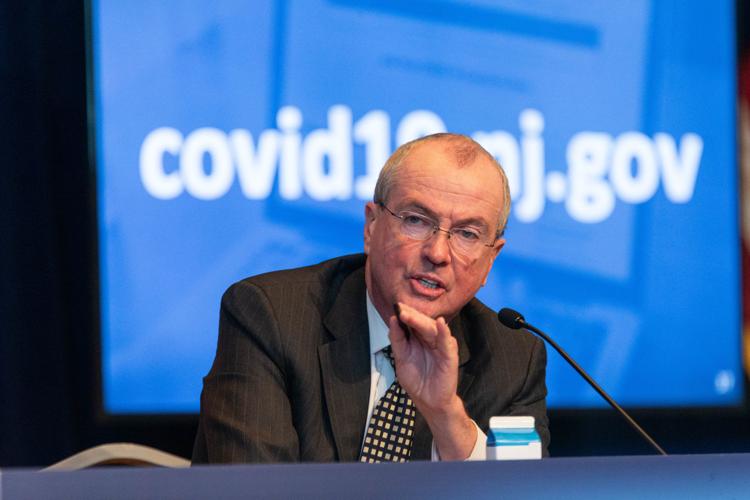 Gov. Phil Murphy announced Friday elective surgeries and other invasive procedures can resume in the state this month.
The executive order goes into effect May 26, Murphy said.
"To be sure, this guidance will take into account the need to protect all patients from COVID-19, for providing PPE to staff, for prioritizing procedures and allowing visitors among other critical considerations," Murphy said. "Allowing for these procedures to resume is a big step forward for public health."
He also signed an executive order for procedures for the July 7 primary.
A limited number of in-person polling places will be available in each county, he said, and all registered Democratic and Republican voters will receive a postage-paid vote-by-mail ballot, while all unaffiliated or inactive voters will receive a ballot application.
"While many voters have seamlessly transitioned to voting by mail, we know there are other voters who prefer to cast their ballot in person, in addition to voters with disabilities who cannot fill out a vote by mail ballot," Murphy said.
The number of positive cases of COVID-19 in New Jersey has increased by 1,297, bringing the total to 143,905, Murphy said. There have been 201 additional deaths, bringing the state total to 10,138.
There are 3,823 people hospitalized across the state, including 1,127 people in intensive care and 865 people on ventilators, Murphy said. Between 10 p.m. Wednesday and 10 p.m. Thursday, 357 residents were discharged from hospitals, while 285 people entered hospitals.
In South Jersey, there were 97 new hospitalizations, Murphy said, with 105 discharges.
So far, Atlantic County has reported 1,678 cases with 107 deaths and 447 cleared as recovered. Cape May County has reported 487 cases with 40 deaths and 199 designated off quarantine. Cumberland County has reported 1,488 cases and 48 deaths.
Included in the totals are 27 new cases and three fatalities reported by Atlantic County officials Friday.
The three deaths were residents of long-term care facilities, according to the Atlantic County Division of Public Health. They include an 83-year-old Egg Harbor Township woman and two Hammonton residents, an 82-year-old man and an 84-year-old woman. All three individuals had underlying health conditions.
The new positives include 12 men, ages 31 to 87, and 15 women, ages 14 to 86, according to a news release from the county. Nine cases were confirmed in Pleasantville, seven in Northfield and four in Galloway; Atlantic City and Egg Harbor Township each had two new positives while Absecon, Hammonton and Margate each had one.
The county will be testing on Tuesday and Thursday at the Hamilton Mall in Mays Landing for symptomatic county residents with a doctor's prescription. Testing is conducted behind the Hamilton Mall in Mays Landing. Appointments are available from 10 a.m. to 1 p.m. each day and can be made online at www.aclink.org.
Residents should come prepared with their doctor's script, proof of residency such as a driver's license or utility bill, and their appointment confirmation. Those who are unable to keep their appointments are asked to cancel so others may have an opportunity to be tested.
For most people, the new coronavirus causes only mild or moderate symptoms, such as fever and cough. For some, especially older adults and people with existing health problems, it can cause more severe illness, including pneumonia.
Also during the briefing, Murphy said his administration is committing $50 million of federal CARES Act funding to support small businesses impacted by COVID-19.
"We know that many businesses have had real concerns about their ability to survive this pandemic, and we all fully appreciate and recognize those concerns," Murphy said. "To the extent that we can use this federal funding to help our small businesses not just make it through but to see them thriving again as we continue our restart, we will take these steps."
Atlantic City Electric is further extending its pandemic bill and service program. The programs include suspending service disconnections, waiving new late fees and reconnecting customers who were previously disconnected.
The policies will now be in place until at least July 1.
"We're managing through difficult times with lots of uncertainty," said Dave Velazquez, president and CEO of Pepco Holdings, which includes Atlantic City Electric. "By continuing these policies to keep energy service on and prevent additional fees, we want to provide our customers with a little more certainty in their lives. We want to make sure our customers have power and to offer support to those who may be struggling to make ends meet as we move through this crisis together."
Customers who may be challenged in paying their bill should contact Atlantic City Electric Customer Care as soon as possible at 800-642-3780. As of May 15, the company has already established more than 833 customized payment arrangement plans helping customers manage the financial challenges of the pandemic. The company also has reconnected energy service for 139 customers where it was safe to do so.
Atlantic City Electric has extended customer support programs for all residential and small business customers and will continue to work with these customers to waive late payment fees, maintain energy service, discuss reconnections, and determine eligibility for assistance programs. Atlantic City Electric representatives can also discuss payment options, like Budget Billing, which averages payments over a 12-month period to help customers manage their monthly energy bill, or flexible payment arrangements that offer individually tailored payment installment plans.
Cash collections will resume at 6 a.m. on the Atlantic City Expressway, New Jersey Turnpike, and the Garden State Parkway on the morning of Tuesday.
Most tolls have been collected either by E-ZPass or by the temporary toll-by-mail process since March 24th when cash collections were suspended as a precaution against the spread of COVID-19.
Drivers who do not have E-ZPass accounts will need to be prepared to pay with cash once cash collections resume. Coin machines continue to be operational.
When toll collectors return to the booths, they will be wearing gloves and face masks. Drivers who intend to pay with cash are encouraged to wear face masks themselves as they travel through the toll lanes.
Ventnor officials announced that the city's beaches will be open for swimming and sunbathing May 23, with the Boardwalk reopening May 29.
The Kathedral Event Center, in collaboration with the Eagle Theatre, have opened Karpool Cinema at Kathedral in Hammonton.
After Gov. Phil Murphy signed Executive Order No. 142 permitting car gatherings for the purpose of drive-in and drive-through events Wednesday, Karpool Cinema was up and running for an in-car only, outdoor movie showing of Toy Story 4, according to a news release. The first preview night was held to paying customers on Thursday, May 14 with more than 50 cars attending Toy Story 4.
Due to the initial preview night's success, additional showings of Toy Story 4 have been added at a reduced opening weekend price of only $10 per carload 9 p.m. Friday and Saturday, according to the release. Gates open at 8 p.m. In future weeks, a larger screen and other movies are being planned and will be announced soon.
"When Mayor DiDonato asked us to put this project together we were excited to give people from Hammonton and visitors the opportunity to do something fun and still follow good social distancing," said Kevin Rodio, President of Spellcaster Productions and Kathedral Event Center.
This is a contactless event, according to the news release. Vehicles will be parked ten feet apart and guests must stay in their vehicles, but may roll down the windows and open their rear hatches.
No concession stand or restrooms are available at this time, but may be added in future weeks, according to the release. Tickets are available online only at www.kathedral.com and must be printed and presented upon arrival to gain entry.
Gov. Phil Murphy, New York Gov. Andrew M. Cuomo, Connecticut Gov. Ned Lamont, and Delaware Gov. John Carney announced on Friday a multi-state agreement to reopen public and private beaches with certain restrictions in place effective, Friday, May 22. This approach will better align the states' policies ahead of the summer months.
"A trip to the beach is a treasured past time for New Jerseyans on Memorial Day weekend just as it is for residents in our neighboring states," said Murphy. "By aligning our social distancing policies for beaches, we can bring some semblance of a 'new normal' to our region ahead of the first weekend of the summer season."
"With Memorial Day weekend fast approaching and warmer weather on the way, we want to make sure New Yorkers and residents of our neighboring states are able to safely enjoy outdoor recreational activities," Cuomo said. "We have been coordinating with other states throughout this entire pandemic, and we have worked on an agreement allowing beaches to be open with proper social distancing and other public health protections in place so we can begin establishing a new normal without jeopardizing the progress we've already made."
"Our beaches are some of our most beautiful and treasured assets," said Lamont. "We want to make sure they are enjoyed up and down the East Coast in the safest possible way, especially as the Summer Season begins. Working together as states to make sure they can be enjoyed responsibly makes sense."
"Summer at the beach is a huge part of life for so many Delawareans," said Carney. "As we ease our way into a new normal, we're trying to find ways for Delawareans to safely to enjoy the outdoors and the company of their families."
North Wildwood beaches opened for sunbathing Friday.
Police asked residents to be aware of the social distancing rules.
Egg Harbor Township officials are reopening township parks and playgrounds Saturday.
Parks and playgrounds will be open, but there are restrictions included to mitigate the spread of COVID-19, according to a proclamation signed Thursday by Municipal Emergency Management Coordinator Michael Steinman.
Use of the facilities is at your own risk; no more than 10 people can use a court, field or playground at one time; social distancing of six feet applies; park visitors must wear cloth face coverings or more protective face coverings in any settings where other social distancing measures are difficult to maintain; and visitors are asked to sanitize any surfaces that they or their children touch.
The facilities were closed March 19.
Gov. Phil Murphy said Thursday night that he is ready to tighten social distancing restrictions if he sees a spike in COVID-19 cases.
"We are taking this one step at a time," Murphy said during an interview on CNN. "…if we have to pull the breaks, we will do that."
Wildwood Crest officials announced it will lift many of its beach restrictions as of 6 a.m. on Friday.
Wildwood Crest emergency management coordinator Ron Harwood has signed a proclamation that allows the public to sit and sunbathe on the beach beginning Friday, according to a news release. Swimming will also be permitted when lifeguards are on duty beginning Saturday, May 23.
Previously, only exercise such as running, jogging, walking, fishing and metal detecting had been permissible on Wildwood Crest beaches in response to the COVID-19 pandemic.
It is the latest Jersey Shore municipality to announce that restrictions would be lifted on beaches. Ocean City, Sea Isle City and Strathmere beaches also open this weekend for sunbathers. Gov. Phil Murphy said Thursday that all beaches would be open by Memorial Day.
Social-distancing measures are still in effect in Wildwood Crest and should be utilized efficiently considering the relatively vast width of the beach, according to the release. Beach visitors must remain at least six feet apart, excluding family members, caretakers, household members or romantic partners. Groups should be limited to 10 or less people.
Masks are recommended but not required when safe social-distancing measures can be followed, officials said. Masks are required when coming into close contact with others or when social distancing is not practicable.
Organized beach games, contact activities and water play equipment are still prohibited at this time, officials said. Portable toilets will be available to the public at various points along the beach. They will be cleaned and sanitized regularly.
Smoking is permitted in designated areas of the back beach only when smoking stations are available.
For further information, contact the borough at 609-522-5176.
Cumberland County Freeholder Jack Surrency and running mates Donna Pearson and Tracey Wells-Huggins on Friday unveiled a micro loan plan to rescue small businesses in Cumberland County struggling due to the COVID-19 pandemic.
"If you own a barber shop or nail salon or dry cleaners, this program is for you," said Freeholder Jack Surrency, D-Bridgeton. "If you were put to the end of the line of the federal SBA program or never even got in line due to the lack of resources, this program is for you."
The program, as proposed, would be called the "COVID-19 Small Business Emergency Stabilization Loan Fund," based upon the model utilized by Mecklenburg County, North Carolina, according to a news release. The county would dedicate $5,000,000 for the fund.
Small businesses (up to 50 employees) in Cumberland County could apply for loans ranging from $5,000 to $35,000, according to the release. These funds may be used to cover day-to-day operating expenses such as payroll, rent, routine real estate and equipment financing, utilities or losses due to destabilizing events. Loans will be available with up to 10-year loan terms at an interest rate of 3%.
"This program can serve as a bridge for Cumberland County small businesses," Donna Pearson, a former freeholder. "Access to financing, like this, will determine if these small businesses ever open their doors again."
Under the program, the county will have the Cumberland County Improvement Authority (CCIA) administer the program in partnership with a local community bank, according to the release. The county will be active in all phases of the loan application and approval process.
"Small businesses are the heart and soul of our economy," said Tracey Wells-Huggins, who is also a Registered Nurse. "We need to be there for them in their time of need."
Human Services Commissioner Carole Johnson announced Thursday that the federal government has approved the department's plan to provide $248 million in special food assistance benefits to nearly 600,000 New Jersey children who normally receive free or reduced-price school meals as part of the response to COVID-19 school closures.
"We are doing everything we can to ensure people throughout New Jersey have access to food assistance during this difficult time, especially children," Johnson said. "Children should never go hungry, and approval of our plan is another step forward in our fight against hunger amid COVID-19."
Under the plan approved by the U.S. Department of Agriculture, New Jersey special Pandemic-EBT benefits will be provided to recipients of the state's Supplemental Nutrition Assistance Program (SNAP) and non-SNAP households with children who normally receive free or reduced-price school meals, according to a news release.
The plan will provide each eligible student with $416.10 to help with nutritional support during the time that schools have been closed during the pandemic, officials said. No application is necessary to receive this benefit.
Human Services is working with schools to identify students who were receiving free or reduced school meals, according to the release. Eligible students already participating in SNAP will receive the Pandemic-EBT on their household's existing Families First card. All other Pandemic-EBT eligible households will be mailed a P-EBT card. Human Services expects these benefits to be issued no later than June.
"No child should go hungry, and this program will help ensure New Jersey children will get the nutrition they need," Human Services Deputy Commissioner Elisa Neira said. "We've been working hard to boost access to food assistance during this difficult time. This is a crucial step toward meeting that goal."
State officials scheduled a 1 p.m. briefing Friday to update residents on the spread of COVID-19.
Appearing for the briefing will be Governor Phil Murphy, Department of Health Commissioner Judith Persichilli, Department of Health Communicable Disease Service Medical Director Dr. Edward Lifshitz, and State Police Superintendent Colonel Patrick Callahan.
So far, Atlantic County has reported 1,666 cases with 104 deaths and 447 cleared as recovered. Cape May County has reported 488 cases with 39 deaths and 199 designated off quarantine. Cumberland County has reported 1,475 cases and 47 deaths.
Source: State of New Jersey Department of Health
For most people, the new coronavirus causes only mild or moderate symptoms, such as fever and cough. For some, especially older adults and people with existing health problems, it can cause more severe illness, including pneumonia.
Wondering which beaches and boardwalks are open in South Jersey? Here's a list.