Hey, where did The Pub Scout go? Well, I'll tell you — he is gone. Why? Because we decided that "scouting" is for children.
So, I would like to welcome you to my radically different, totally new bar based-column. We think it's catchy, original and bears no resemblance to anything written by any newspaper, magazine, blogger, vlogger or ... jogger (sorry, but I needed another word that ended in "ogger").
Without further ado, I present to you: The Bar Exam with Ryan Loughlin. It's a play on words. See what I did there? Pure genius. So what is this new column all about? Glad you asked. Each week, I will fearlessly head out to bars, pubs, taverns, speakeasies and other houses of ill repute and diligently report back on my findings. Will I cover everything? Probably not. Will some of it be based on my mood that day? I would imagine so. But either way, I promise to give you an overview of the place, the vibe, the staff, the food and — most importantly — the drinks.
P.S. — Any resemblance to any prior scout-based column is purely coincidental.
It has been said that laughter is the best medicine, and we couldn't agree more. Lucky for you, there are plenty of places to catch a laugh lo…
When I first came to the area as a kid in the late '80s the town of Galloway was mostly made up of Pine Barrens with a few houses and a sparse collection of shops. But in the last 20 years or so it has become one of those towns where it seems every week a new condo development is built or a new shopping plaza opens its doors. Growth is everywhere here.
One place that I got to witness the growth of first hand is a bar/restaurant by the name of Gourmet Italian. Back in 1989 it stood across the street from its current location. It was a humble, rickety-looking pizzeria in an even humbler and more rickety looking mini-mall (honestly, calling it that really stretches the limits of the term "mini-mall." This was more like a micro-mini-mall). The parking lot was not even paved, just a dusty space with a rundown flea market behind it, selling god-knows-what to god-knows-who. It was a sad scene. But the pizza was great.
Fast forward to today and that entire downtown section of Galloway is nearly unrecognizable. Supermarkets, Wawas and shops of all kinds have replaced the dusty lot, and Gourmet Italian now stands as a massive footprint, neither humble nor rickety, an upscale bar restaurant that has blossomed. The whole thing is very ugly duckling/gorgeous swan.
The building is a labyrinth of rooms, but my crew and I headed straight for the bar. It's an upscale looking pub, with a design that does a decent job of matching the vibe of a place called "Gourmet Italian." It's neither-well worn nor cozy, but it's not really supposed to be.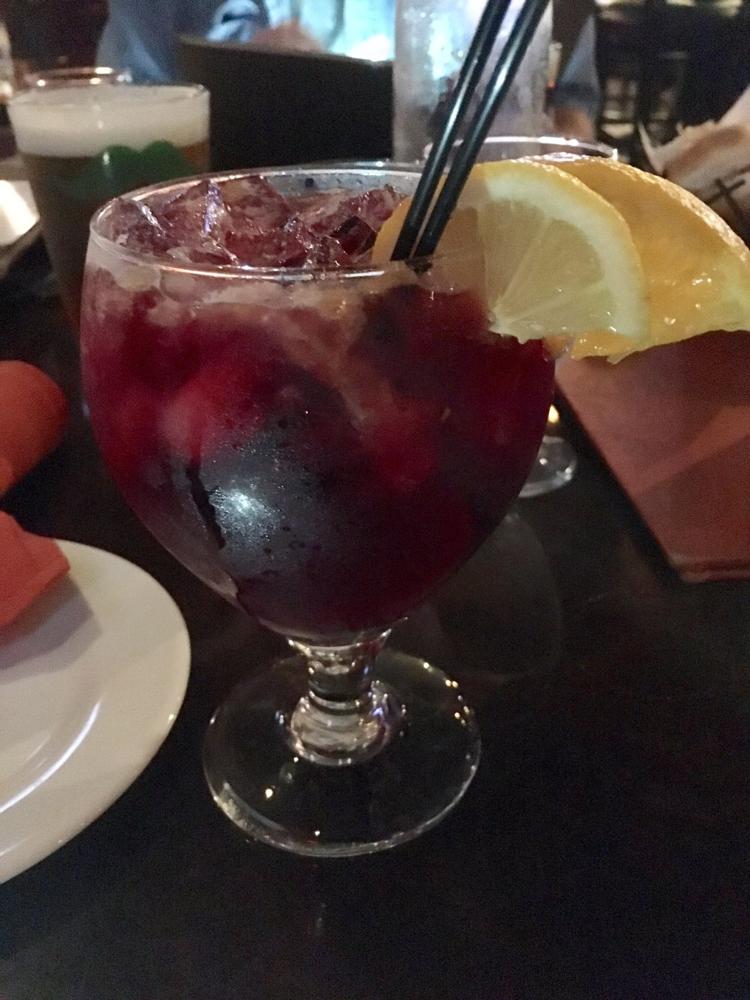 We sat at a high top table and ordered a few drinks. While I asked for a pumpkin beer, I was given a Sierra Nevada Octoberfest instead, which while tasty, was not really what I had been hoping for. Oh well. We then sampled a sangria which was excellent, and a few apps that varied from delicious (the sausage sliders) to odd (fried mac and cheese inexplicably covered in marinara sauce). Just for old times sake we ordered a plate of fettucine alfredo, because … well the place is called Gourmet Italian. How do you not?
Even award-winning country music stars have their doubts and fears about love, life and care…
The fettucine was great, but after that we packed up and headed out. Overall, the staff was friendly and the food was decent. They screwed up a drink order but that was no big deal. If I am being honest, this bar isn't doing anything wrong, but something about the vibe doesn't lend itself to really settling in for a night of good times. It feels more like where you go to grab a drink while you wait for your table, which I suppose is what many people use it for.
As I returned home, a little part of me wished the old rickety pizzeria with the unpaved parking lot was still there. Oh, how times have changed.