ATLANTIC CITY — Some people say schools are a reflection of their community, and for Atlantic City, that is true all the way up through the leadership of the district.
The diverse makeup of the city can be seen in the classrooms and the hallways of the district's 11 schools. And unlike the national average, it can also be seen in the district's administrative team, which includes a majority of black principals, with many who grew up in Atlantic City.
School administrators here say their experiences growing up in Atlantic City helped shape the kind of educators they became. They said their own background paves the way for a greater understanding of children from diverse backgrounds and it was important to make sure students have school leaders who resemble them.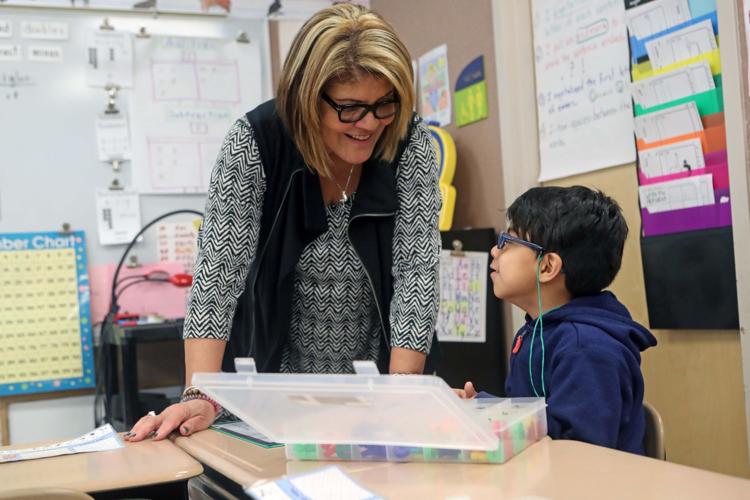 More than 25 are languages spoken and more than 40 countries are represented by the children of the Sovereign Avenue School. For Principal Medina Wilson-Peyton, the complexity to that diversity is something she understands intimately.
"Languages have always been an important thing for me because it's a part of who you are," she said.
Born in Switzerland while her father was in medical school, Wilson-Peyton spoke only French when she moved to Atlantic City at 3 years old. She lived with her parents and several other family members on Ohio Avenue, but understood very little and found it hard to communicate.
"I understand my children who are coming from other countries," she said. "Through all of that, I learned the importance of family."
The principal at the Sovereign Avenue School in the city's 5th Ward, Wilson-Peyton, 63, said she believes the school should be a continuation of the student's family. That is why she says it's important to have diversity in the school staff.
"That's been a challenge for me," she said. "I've tried to make sure our kids see teachers who look like them."
She said a strong family and knowledge of one's heritage is important: Her father, Charles Wilson, was one of the first black salesmen for Pepsi-Cola.
"My family is what has instilled in me being proud of who you are and that there are no limits to what you can do if you set your mind to it," Wilson-Peyton said.
She keeps at her home a manumission document from when her ancestors who were enslaved were freed by their owner, which her mother found in an old family Bible. Sometimes, she brings the manumission to the school to show her students.
"I try to remind my kids here that a lot of times, as African Americans, it's a negative light shown upon us," she said. "The world may see them, too, in a negative light."
Holding back tears, Wilson-Peyton recalled telling her sons that the world might not look upon them favorably because of the color of their skin.
"Unfortunately, you have to be 10 times better," she said. "I said, 'The world is not kind.'"
Wilson-Peyton said education is the first thing you can do to lift yourself up.
"I'm so proud of the men they've grown up to be," she said of her sons, Geoffrey, 37, and Justin, 33.
Her dad died in 2008, but Wilson-Peyton still lives in the house where she grew up on Ohio Avenue with her mother, Mary H. Wilson.
"Atlantic City's always been a wonderful place for me to grow as a person and as an administrator," she said. "This is my home. They're all my kids."
Wilson-Peyton said being an educator was a lifelong passion. She went to college at Hampton Institute in Virginia, a historically black college.
"It was either being a teacher or being a nurse," she said.
Her first job in teaching was at the West Side Complex — now the Dr. Martin Luther King Jr. Complex — in 1976. Four years later, Wilson-Peyton was pregnant with her oldest son when she resigned from the district to care for her child. After her second son was born, Wilson-Peyton enrolled in nursing school at what is now Atlantic Cape Community College. In 1989, she returned to teaching at the Brighton Avenue School, teaching kindergarten and English as a second language. There, she was promoted to vice principal and then to principal.
This is Wilson-Peyton's 18th year as principal.
"I think there's such a need for caring people who truly understand our kids," she said.
If you are going to work with Wilson-Peyton, there is one stringent requirement: "I need you to love my kids."
"Our kids are so resilient, but they need caring, compassionate people," she said.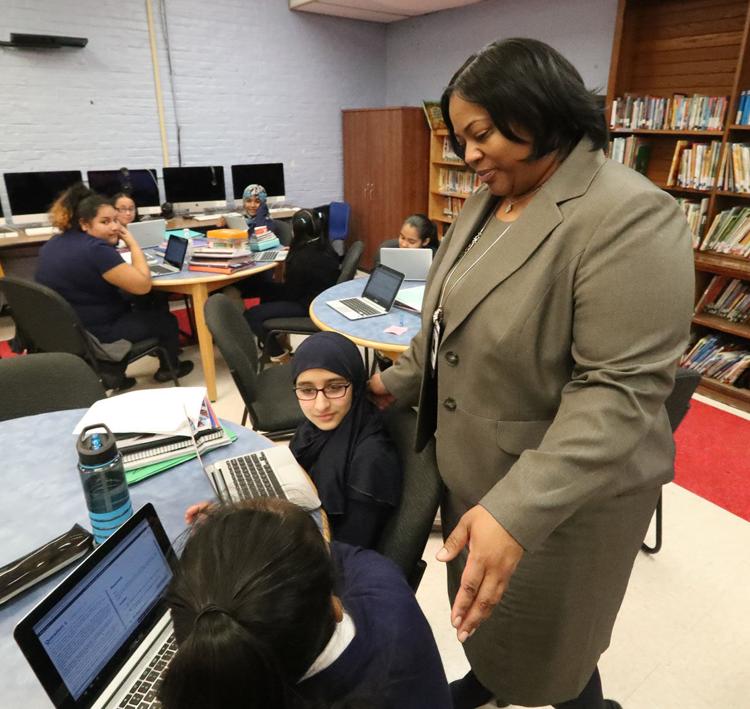 Texas Avenue School Principal Lakecia C. Hyman's mantra just might be "inspire." She became a vice principal in the Atlantic City School District at 28 years old, the youngest administrator ever appointed by the Atlantic City Board of Education.
"I was ambitious very young," said Hyman, 43. "The students inspired me. I love teaching, it's a passion."
A native of Atlantic City, Hyman said she had always wanted to become a teacher — a motivation she got from her mother, who became a parent very young. Hyman's kindergarten teacher was another major motivator for her.
"She loved me up. I think I was a teacher's pet," she said. "I felt like I belonged there."
Hyman's first administrative job was as vice principal at the Uptown Complex, which she credited to former administrator Rosetta Johnson. She taught in Pleasantville for a few years before returning to Atlantic City.
Hyman said as a leader in a school with students who come from various backgrounds and speak many languages, she strives to create a family culture and to teach students "how valuable they are no matter where they come from."
"I see myself as these children, no different than them, and if I can do it, they can do it," Hyman said.
She said it's important for children to have role models who resemble them.
"I think it provides them with real life heroes and she-roes, and what they can aspire to be," she said. "As a staff, we understand the importance of guiding children showing them everyone matters, everyone has a voice."
Hyman said she is most proud to see her students recognize their inner potential and not let their circumstances define them. She sees herself not only a mentor for students, but a counselor for families and liaison between the school and families.
She has even stepped in to help out her own students when they are in need. One student, Miesha Smith, came to stay with Hyman and her family. Now, with Hyman's support, Smith is studying at Texas A&M University.
"She's become a part of our family," Hyman said, beaming. "At Texas Avenue, the children look to me to protect them."
Hyman returned this year as principal of the Texas Avenue School after she was acquitted in August of charges of theft and official misconduct. She was accused of stealing money from the Uptown school in 2014 and put on unpaid leave.
Hyman maintained her innocence and used that time to earn her doctorate degree from Rowan University. Although she described it as a nightmare, Hyman said her faith in God and belief in herself got her through the situation.
"Stand up for yourself," she said. "I'm very grateful to be back in my element doing what I love to do most and that's serving children."
Hyman lives with her daughter, Nia Meeks, 7, and mom, Juanita Hyman, in Egg Harbor Township.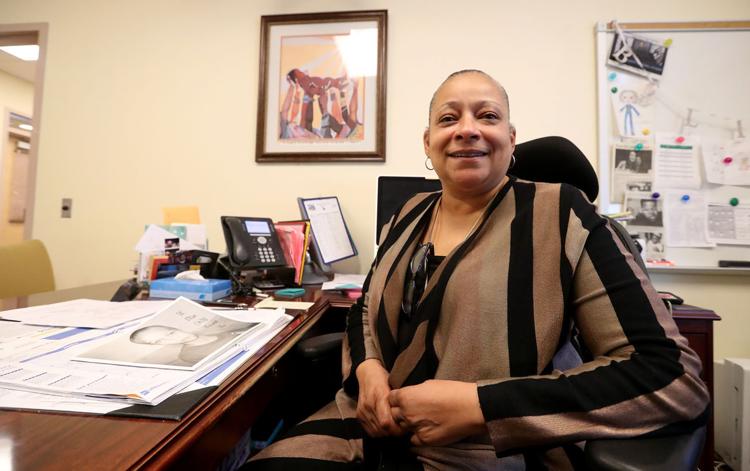 As she makes her way through the hallways of the Richmond Avenue School, Principal Shelley Williams asks students how they are feeling that day, how an assignment turned out or how an injury was healing.
Williams knows all of her students, a trait she may have picked up from her Atlantic City upbringing on Connecticut Avenue.
"Back then, teachers were like family. You saw them in the supermarket, you saw them at the grocery store," said Williams, 59, who now lives in Galloway Township.
Although the Atlantic City schools Williams attended are no longer operating, the community support she received has carried on.
"It takes a village. I can't do it alone without the support of my staff and my community. I wouldn't be as successful as I am, that's something I wouldn't forget," she said.
Williams became a teacher through the alternate route, first obtaining a degree in biology and chemistry from Upsala College in East Orange, then working in the casinos for a few years before she was laid off. She said going the alternate route gives her an outlook on life she could have never received the traditional way.
"When one door shuts, another door opens. When that (teacher) door opened, I really loved it," Williams said.
William's first teaching job was at Oceanside Charter School, until a first-grade position opened up in Atlantic City. She became Teacher of the Year at her school in her fourth year. Then, she began taking administrator courses.
"A position opened, I applied for it and I was the vice principal of Richmond Avenue (School)," Williams said. "I've never forgot what it's like to be a teacher and to touch students, that I make an impact on their life."
Because of that, every new teacher in William's school gets a book called "If Only She Knew." That book tells the stories of children yearning for their teachers to know they may have gone to school hungry, be responsible for caring for their families, or myriad other circumstances that can affect them at school.
"Every time you have a problem with a student and you don't understand, I say, 'Step in their shoes for just a little bit,'" Williams said.
She said Atlantic City has changed since she was a young girl, with more families coming and going from the neighborhoods. That has an effect on both the communities and the students, she said.
"You have to be very real and very honest with parents, and very caring," Williams said. "I think that's important that our parents know I only want the best for my kids as if they were mine."
As an administrator, Williams said she tries to bring diversity to the district's teaching staff to represent the student make up.
"They need to be able to have role models that they can touch and feel and connect with," she said.
She is very proud of the quality of work she is doing in the school.
"Richmond Avenue is probably the No. 1 school in testing and in growth," Williams said. "We have growth not only in our second language learners, in our special education department."
She said she measures her own accomplishments by those of her students.
"When a kid is successful, I'm successful because I had something to do with their life," Williams said. 
Williams has two sons, Justin, 26, and Brandon, 22.
Editor's Note: An attempt was made to contact all black administrators in the Atlantic City School District who also grew up in the city. These are the principals who replied to our request by deadline.