Saturday will be dry, though rain will arrive in the evening and last overnight and into part of Sunday. Turning toward the holiday week, Wednesday's big travel day will have the most weather issues, but it should still be smooth sailing for many.
The clouds were expecred to clear out Friday night, and as we start our morning, we'll be greeted with temperatures around 32 degrees on the mainland and 40 degrees at the shore. High pressure will be overhead, prompting plenty of morning sunshine.
The key takeaway from Saturday is that outdoor daytime plans will be good. A high blanket of clouds will fill in for the afternoon. However, no rain will fall from it. High temperatures will be around 50.
That high pressure will exit in a hurry. In it's place will be a low-pressure system that will move out of the Mid-South and into the Mid-Atlantic. It will be associated with the cold front that brought Friday's rain. It broke off from the front and will strengthen as it moves in.
The winter outlook in South Jersey appears to be one with more snow shoveling and more bundl…
Rain will begin between 7 and 10 p.m., from south to north across the area. A south wind to start will keep it all liquid for us throughout the event.
Carry the umbrella on a raw night. While unlikely, a thunderstorm will be in the realm of possibility with this system as the center of the low pass through New Jersey, offshore and into New England.
Atlantic City ranks near the top for New Jersey places most impacted by climate change.
The first hours of your Sunday will be wet. Push any outdoor decorating or exercise until as late into the day as you can. The steady rain will end between 7 and 10 a.m. After that, most of the day will be dry. However, a shower or two will be possible on the back end at nearly any point of the day. Again, though, after 10 a.m., it will not be a washout.
Rainfall totals will equal half an inch to an inch. High temperatures will be just around 50.
Sunday night will be when the sky clears out. Temperatures will bottom out to around 32 come Monday morning.
A warming trends will be seen for the holiday week. A ridge or area of higher pressure will be nearby. Monday and Tuesday will both feature plenty of sunshine on a southerly wind. Monday's highs will be seasonable for late November. However, you can go without the jacket Tuesday, with Buena and the mainland reaching 60, while Atlantic City and the shore get to the upper 50s.
Wednesday will continue the mild weather from Tuesday, as a whipping west wind blows. Highs will be in the upper 50s to around 60. A cold front will pass at some point during the day. It's a pretty dry front, so I don't anticipate much rain for the travel day, though maybe the winds will cause problems at the airports. I'm sure many travelors will be out Wednesday night. Bring the coat, as temperatures will quickly drop to late fall weather. Thanksgiving will then be bright, windy and in the 40s.
7) Nov. 22, 1989
Two days before, South Jersey Nov. 20 with afternoon temperatures in the 60s. However, as The Press archives show, strong winds swept through on Tuesday. Which, presumably, was an icy wind, enough for 1.5 inches of snow to fall Nov. 22.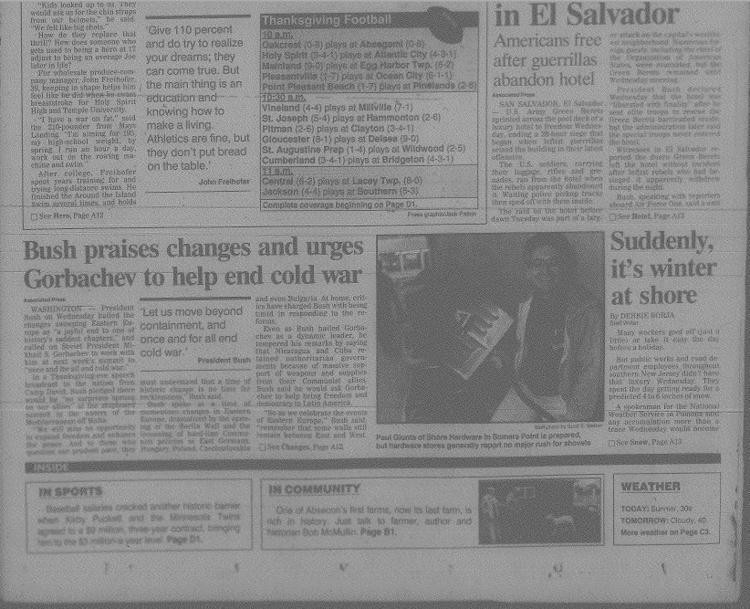 Talk about cold turkey, that snow pack and cold air lingered into Thanksgiving the following day. Both the high and low temperatures are record cold to this day, with a high of 31 and a frigid low of 10 degrees. 
6) Nov. 19, 1955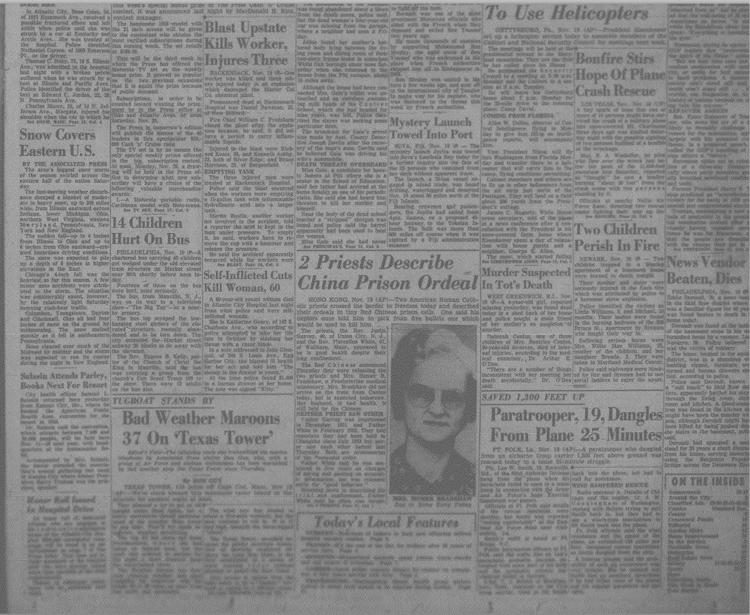 Eight people were injured, two seriously, as a mix of snow and rain fell across the region. 0.4 inches of snow fell on that cold Saturday. 
5) Nov. 16, 1936
It was only 0.1 inches, but it's enough to be measurable. 
4) Nov. 13, 1904
The earliest, by year, on the list, the 0.2 inch amount came with temperatures not even falling to freezing. 
3) Nov. 7, 2012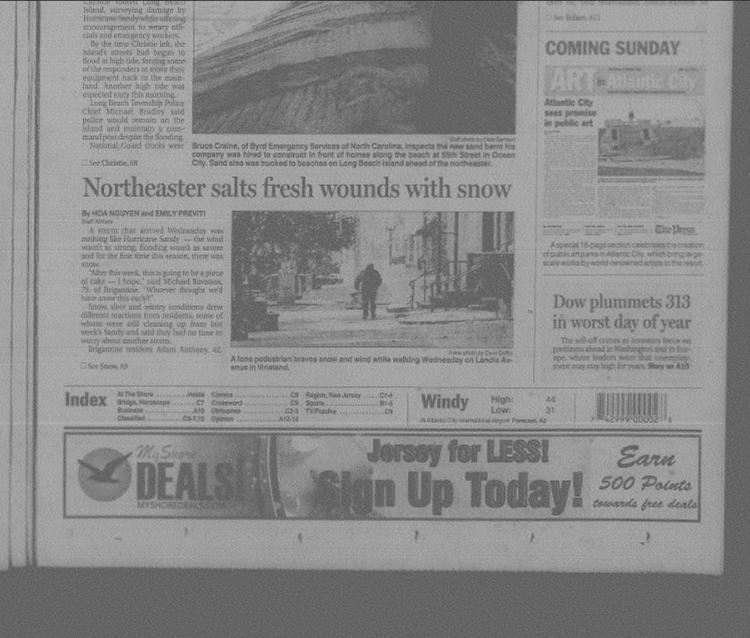 This will forever be known as the post-Superstorm Sandy snow storm. Not even two weeks removed from the destruction and devastation of the storm, 2.5 inches of snow fell on that date as rain turned to snow. 
The heavy, wet snow, accumulated on debris yet to be carried away, the National Weather Service in Mount Holly noted. 18,000 Atlantic City Electric customers were without power.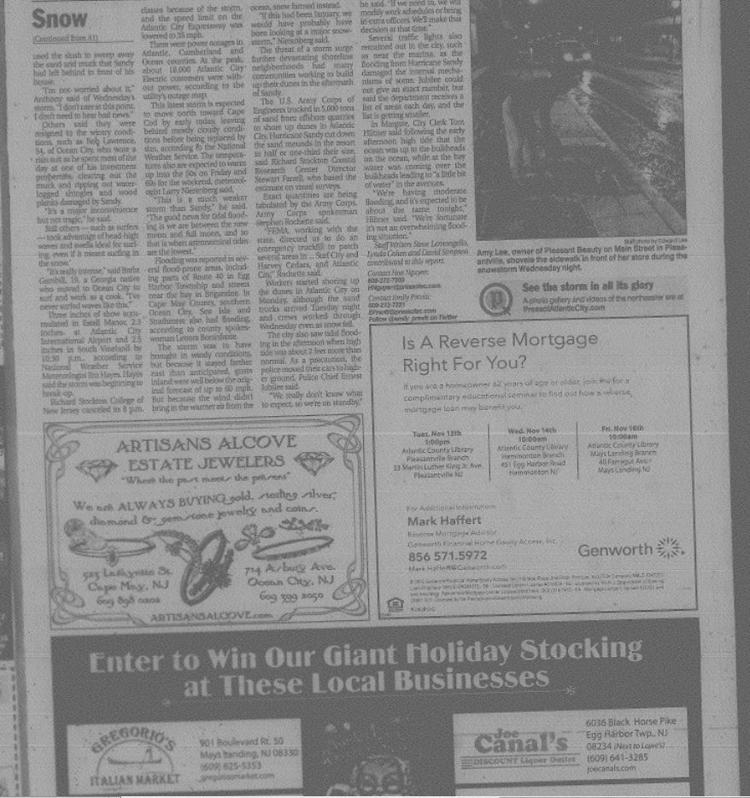 2) Nov. 6, 1953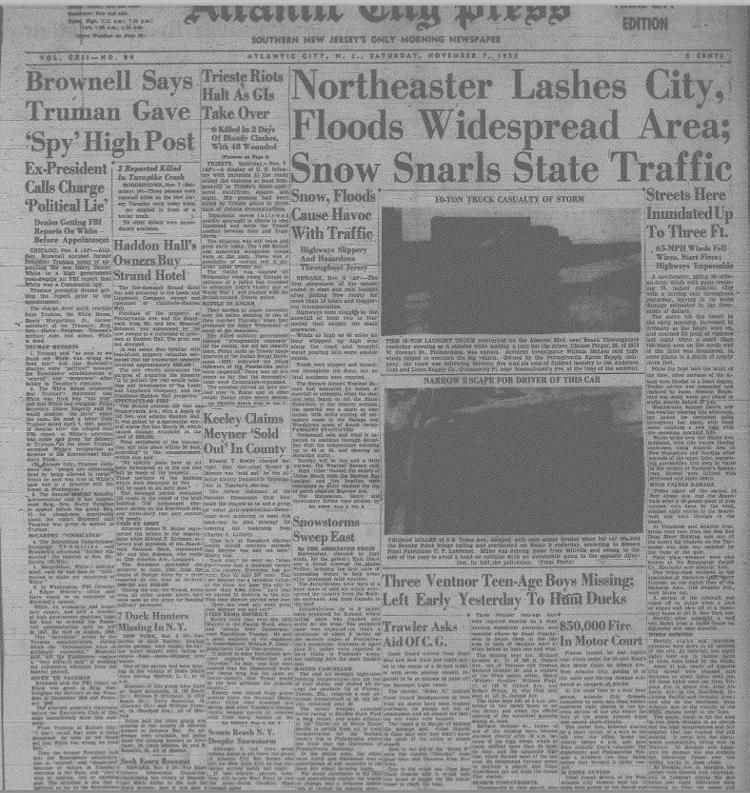 3.2 inches of snow, third for most one day snowfall on record, fell in the early part of the month at A.C. Airport. The Press archives reported on 65 mph winds and significant coastal flooding. 
1) Nov. 5, 1973
This A.C. Airport 0.1 inch amount of snow takes home the gold for the earliest measurable snow on record. Again, the temperature didn't fall below freezing for this time, either. 
However, South Jersey's seen flurries in October before
Oct. 29, 2011
One year before Superstorm Sandy struck, another unusual weather event happened in South Jersey. Unmeasurable wet snow and sleet mixed in with rain at times on this Saturday afternoon at A.C. Airport. 
Oct. 10, 1979
According to retired National Weather Service Meteorologist Jim Eberwine, light rain and snow mixed around 2 and 3 p.m. at A.C. Marina then. 
Oct. 06, 1935
Flakes have flown in South Jersey before Columbus Day. A.C. Marina reported a trace of snow or sleet on this day.
While a low temperature of 39 degrees on this day leaves some skepticism as to there was actually any frozen precipitation, there has been sleet even as warm as the low 40s before. Average lows are still in the mid-50s.
Be sure to watch Joe's daily forecast videos online. This forecast is updated Monday through Friday when Joe is in the office. For articles an…