It looks like Planet Earth isn't taking on the cue of "April showers bring May flowers."
Six out of the seven days in this forecast have some rain risk in them.
However, there will be a good amount of dry time to stop and smell the roses.
On The Road's 'April Blooms' theme saw Joe go to the Rutgers Cooperative Extension in Mays L…
If you are reading this in the morning, a shower can still linger around. Otherwise, we will be dry but with a good amount of cloud cover. I've been talking for a couple of days about a front that will snake around the mid-Atlantic. This is it. Tuesday, it brought warm weather as the front lifted to the north of us — for Wednesday, it will be the reverse.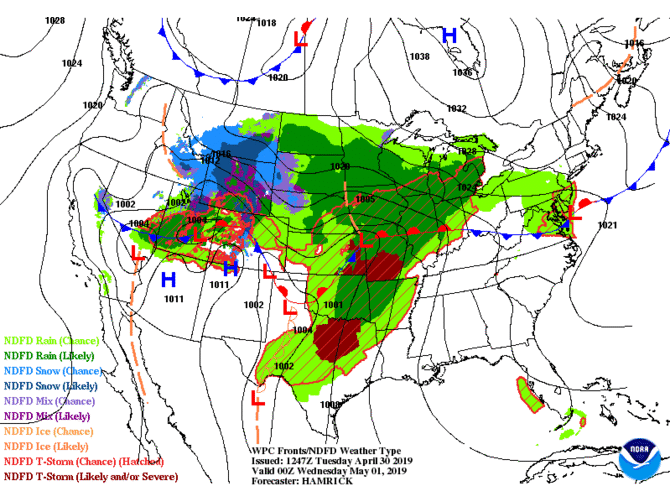 A northeast to east wind will blow. Temperatures will start out mild, in the mid-50s.
However, the cooling ocean breeze will cap temperatures in the low to mid-60s. That will be about average.
Virtually all outdoor plans or work will be OK (except for the high pollen levels). A few sprinkles will carry around during the day, but that will be all. 
After sunset, we will see showers move into the region. Showers will be light and then wrap up around 3 a.m. The dense cloud cover and the maritime airmass means little change to our overnight temperatures. Temperatures will actually bottom out in the upper 50s during the early evening, staying about steady through the night. 
As quick as that front dropped to the south of us, it will lift back to the north, and with some stream behind it.
Thursday and Friday will put us in a very summery pattern, as it feels more like mid- to late June.
On The Road's 'April Blooms' theme saw Joe go to with Dr. Kathy Sedia at Stockton Univeristy…
Both days will see a balmy start to the morning.
No jacket will be needed, and the windows can stay opened (if you're an allergy suffer, you'll want to turn on the air conditioner).
The morning will start out with some sunshine. A twinge of humidity will be present during the day, too.
High temperatures could rocket into the 80- to 85-degree range west of the parkway and away from the water.
The shore will be on pace for a good sea breeze to set in, capping temperatures in the 60s.
Both afternoons will sees showers and storms. This will be storms that pop up on the radar.
They'll be hit or miss that can bring a quick, heavy downpour. Thursday evening will see showers, too.
Lastly, I do want to go back to Monday's edition of the column. I wrote that Monday would be our first day since April 11 with a low below average. As it turns out, it was Sunday that wound up below average, too, with a low of 43.
What happened was it cooled down to below average after midnight, which was not known at the time of writing.