ATLANTIC CITY — It was a rough February for citywide gambling revenue, which was down 6.5 percent compared with a year earlier, according to state figures released Wednesday.
Total February gambling revenue was $192.1 million, compared with $205.4 million in February 2017, data show. Revenue at the city's seven casinos was down about 9 percent, bringing in about $170.1 million compared with the $186.6 million in February 2017.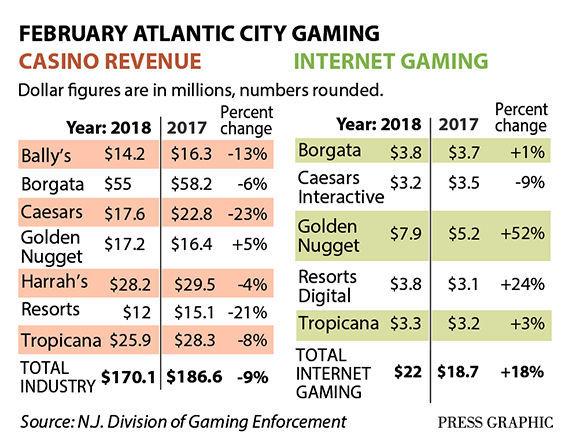 Internet gambling, however, grew about 17.5 percent, according to the figures.
"Let's face it, February was a weak month," Jim Plousis, chairman of the state Casino Control Commission, said in a statement. "I am hopeful that casinos can turn this around and start expanding the market as we move into the busier spring and summer seasons."
Christopher Glaum, bureau chief of financial investigations for the Division of Gaming Enforcement, said in a statement the numbers show a recovery but still remain behind last year's figures.
"With difficult weather conditions persisting into March, it is hard to gauge the market, but we are hopeful that the industry will ultimately experience revenue growth in 2018," Glaum said.
ATLANTIC CITY — A blizzard last month contributed to theresort's seven casinos seeing gaming…
Internet gambling revenue remained a bright spot, totaling $22 million in February — compared to $18.7 million in the prior period — and setting a record for monthly and per-day gross revenue, PlayNJ.com lead analyst Steve Ruddock said in a statement.
"This will not be the last record-setting month this year," Ruddock said. "New and expanded product lines, improved payment processing, and advancements in customer service will continue to drive organic growth."
Overall gambling revenue has declined for two months in a row. A blizzard in January contributed to a 10 percent drop in casino gaming revenue that month, according to state data.
The city's gambling revenue of more than $184.3 million in January compared to about $204.6 million in January 2017, data show.
Hard Rock Hotel & Casino Atlantic City and Ocean Resort Casino, formerly known as Revel Casino Hotel, are both expected to open this summer.