The Atlantic County Democratic Committee will meet tonight to select the replacement for state Sen. Jim Whelan, who died last month. 
Democratic state Senate candidate Colin Bell is among the favorites to fulfill the final four months of Whelan's term. Bell is running against Republican Assemblyman Chris Brown for the seat in November.
"Colin Bell had Sen. Whelan's complete faith and trust that he would serve the legacy Whelan had created, and I am confident that Whelan's trust in Colin to fill his vacancy if appointed in September would be just as strong," said Michael Suleiman, chairman of the Atlantic County Democratic Committee.
The meeting is scheduled for 6 p.m. at Teamsters Local 331 Hall, 1 Philadelphia Ave., Egg Harbor City. The committee has 35 days to name Whelan's replacement.
Keith Davis, chairman of the Atlantic County Republican Committee, questions Bell's possible appointment.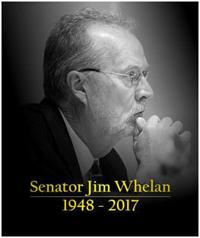 "Everyone knows the Democrats are choosing Colin Bell — who has already been rejected by voters twice — to give Bell an unearned title for the upcoming election and so Bell can collect a paycheck at the taxpayers' expense to do absolutely nothing for the next two months," Davis said.
Whelan, 68, died Aug. 22 at his Chelsea Heights section home. The former lifeguard and Atlantic City School District teacher, served as the resort's mayor from 1990 to 2001. He was elected to the state Assembly in 2005, then won a state Senate seat in 2007, winning re-election twice.
Davis questioned the Democrats' timing of the appointment.
"I'm very surprised Democrats would select a replacement for the late Jim Whelan before his memorial service is even held," Davis said.
A public memorial for Whelan is scheduled for Sept. 14 at Boardwalk Hall.
Suleiman responded, saying state law requires the party to give notice of the meeting within seven days of the vacancy.
"The unexpected passing of Senator Jim Whelan was heartbreaking for everyone in Atlantic County, and it is infuriating to see someone attempt to exploit the tragedy for a low-level, partisan hit," Suleiman said.