The sun did a great job melting snow off the roads and lawns. However, that water will freeze up in some towns overnight. 
We had plenty of sun Thursday morning and midday. It was a nice day to look at the satellite, because you could pick out the line between the haves and have nots in New Jersey. In general, anywhere that picked up six inches or more was in white! That meant only places like Greenwich, Vineland or Hammonton were covered up.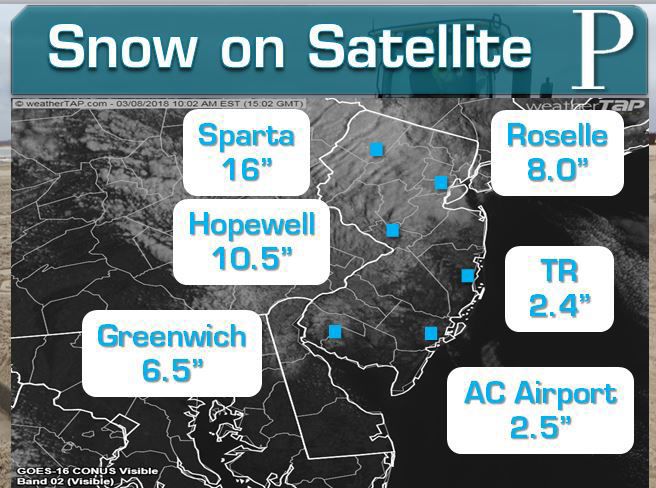 Clouds did build in Thursday afternoon as upper level energy and high low level lapse rates (temperature changing in the few thousand feet of the atmosphere) moved in. A sprinkle is not ruled out through Thursday evening, but most of us should be dry.
Snow will continue to melt into the evening, as temperatures remain above 32 degrees. However, scattered black ice will develop after midnight as temperatures fall below freezing. Helping to quell the threat are stronger winds and the fact that low temperatures range from only 27-31 degrees.
Isolated snow showers will pass through early Friday morning into the Friday morning rush. Most, if not all, of us will be dry, with just a few places ending up with a coating of snow. In general, expect a mostly cloudy sky, gusty winds and a high in the upper 40s. More snow melt is expected.
Saturday and Sunday will then be about the same as each other. With no low pressures around, we will have periods of sun and tranquil weather. Highs will be in the mid to upper 40s. As we go into the new week, we play a familiar tune.
Could we have our third nor'easter in ten days on Monday? It is still too early to tell, but there are two scenarios. 
The first scenario is one that the European model has been consistent with. Low pressure goes off the Southeast coast, and stays south. We would just have cloud cover, gusty winds and high surf, but that is all. Rain or snow would stay well south. The Euro model was the model that most accurately had Wednesday's storm track.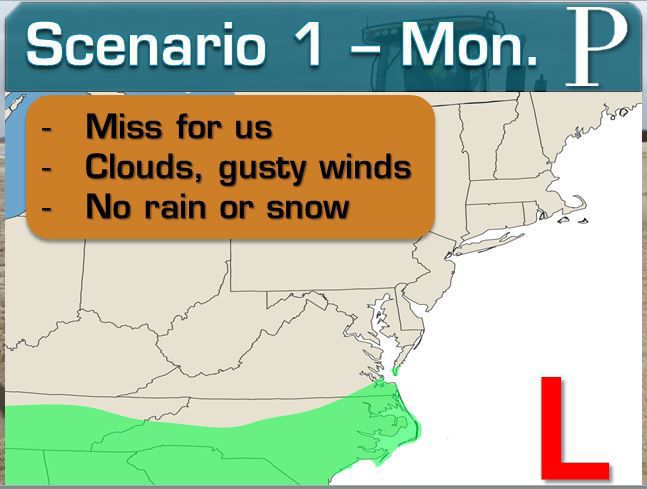 The second scenario comes a little closer to the coast. The Canadian and American, GFS, model has been pointing to this. South Jersey would wind up on the western, colder edge of the storm. Comparing it to Wednesday, we would wind up with less than the record breaking precipitation we had. However, more of that would be in the form of snow.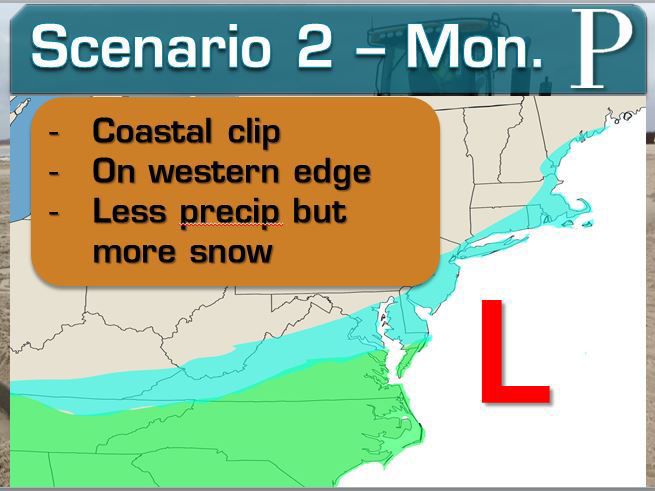 On Friday afternoon, we will know whether this bring another day of stormy weather or just a cloudy day.