Gear up for another Nor'easter, South Jersey. Another bout of rain, wind and more importantly, snow will fall on Wednesday. You can follow me on Facebook and Twitter for more frequent updates. 
The afternoon computer model runs are in and with the storm only 24-30 hours away, we can now bring details of what this coastal system will look like. 
First, let us talk about the weather leading up to the event. A mainly clear sky will take us through our Tuesday night. It is early March and that still means that winter jackets are the norm. Thanks to a clear sky and (finally) calmer winds, temperatures will vary from the mid-20s in the Pine Barrens to around freezing at the Jersey Shore.
Unfortunately, another round of coastal flooding is expected Tuesday night. It will just be in minor flood stage. Most of us are fine, but susceptible roads will be flooded and you may have to move your car one more time.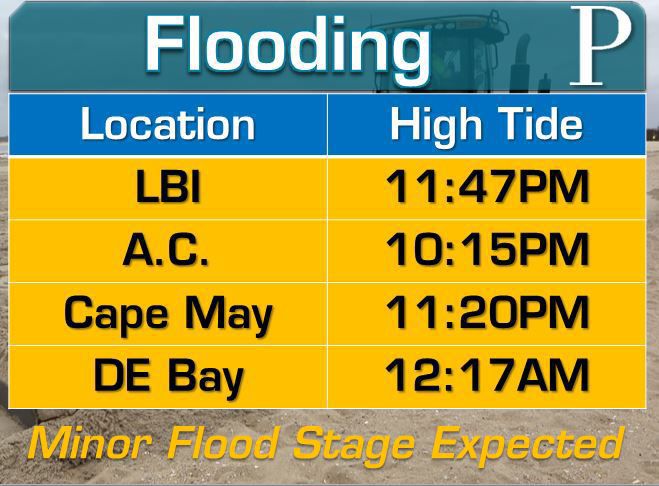 Tuesday will then see morning sun, but the sky darkens during the afternoon. Then, our storm system will begin. Here is what to expect during the storm.
Precipitation will begin between 8 p.m. to 11 p.m. on Tuesday night. It should begin as rain everywhere, with temperatures still in the 40s. As the rain becomes heavier, the atmosphere could "dynamically cool", drag down colder air from aloft and change it to snow. This would most likely happen on the Mainland.
In short, expect both rain and snow to fall. Mostly or all rain is favored along the coast and in Cape May county. The rest of the area will be in-between rain or snow, with more snow in western Atlantic and Cumberland counties. Give yourself extra time commuting. Some schools may close.  
Low pressure will full develop off the DelMarVa coast by this time. It will then move northward and parallel the Jersey Shore, strengthening as it does so. Winds intensify out of the east, which would bring in milder ocean air. The track of the low will determine how much rain vs. snow falls. The further east it is, the more northerly the wind will be, favoring snow. The vice versa is true if its close to the coast.
Wednesday afternoon / night
Winds turn to the north and northwest, sustained 15-25 mph with gusts 30-40 mph (45 mph at the shore). This will change rain to snow almost everywhere. The exception would possibly be A.C. south to Cape May and southern Cape May County.
The evening commute will be worse than the morning one and will be hazardous at times. A heavy, wet snow is expected, with 1 to 2 inch per hour rates. Even though we have a strong March sun angle, heavy snow will stick to the roads, no matter what. Whiteout conditions are not ruled out. Snow then ends during the evening.
Sustained winds will be 15-25 mph and gusts will be 30-40 mph (45 mph at the shore). This will not be as bad as last weekend's historic Nor'easter. However, it will be enough to blow snow and rain around, as well as bring isolated areas of damage.
Some trees and power lines are likely already compromised from last weekend. Wednesday will add salt to the wound. A few downed trees and isolated power outages are not ruled out. This is especially true where the most snow will fall, putting extra weight on them.
In addition, this will be a hard storm for road crews to treat. Rock salt or brine on Tuesday can wash away during the rain, leaving room for snow to accumulate. Hopefully, the snow will be light enough during the pre-dawn hours for it not to accumulate quickly.
The lowest totals, a coating to 2 inches, will be expected from A.C. to Cape May and then along the Delaware Bay shore. Totals are the highest the furthest inland, with 4 to 8 inches in northern Cumberland and western Atlantic counties.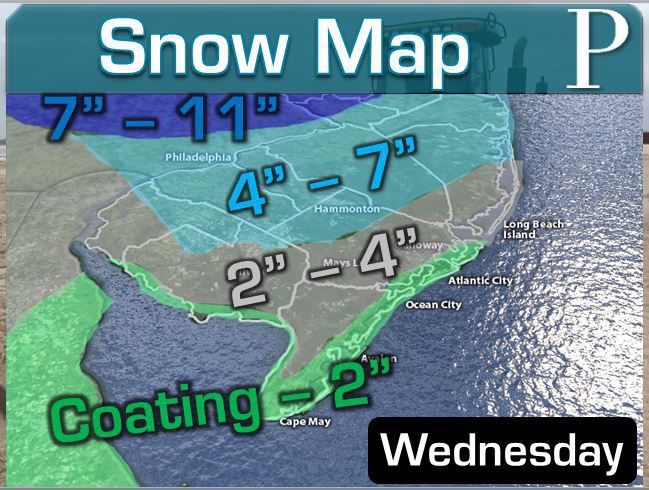 I am watching to see if a band of snow develops during the afternoon, which brings very heavy snow. This likely does not happen in South Jersey, but if it occurs just to the west or east of our area, sinking motion would bring lower totals to us.