Four nor'easters hit New Jersey in March, disrupting everyday life, flooding coastal streets and forcing some island residents to find higher ground or risk being stranded.
The rain had stopped March 25, yet Suzanne Leary Hornick found herself warning members of the Ocean City NJ Flooding Facebook page tidal flooding was again making 30th Street impassable.
Rising sea level is turning small storms into big problems for island and coastal communities, and creating nuisances on days when the sun may be out.
A warming climate is responsible for most of that rise, causing ocean water to expand and glaciers to melt. Whether that warming is man-made or not, the consequences are unavoidable.
The March nor'easters were insignificant compared to some historic storms, particularly the March 1962 nor'easter that decimated New Jersey's shore, Thomas Harrington, director of Monmouth University's Urban Coastal Institute, wrote in a recent blog post.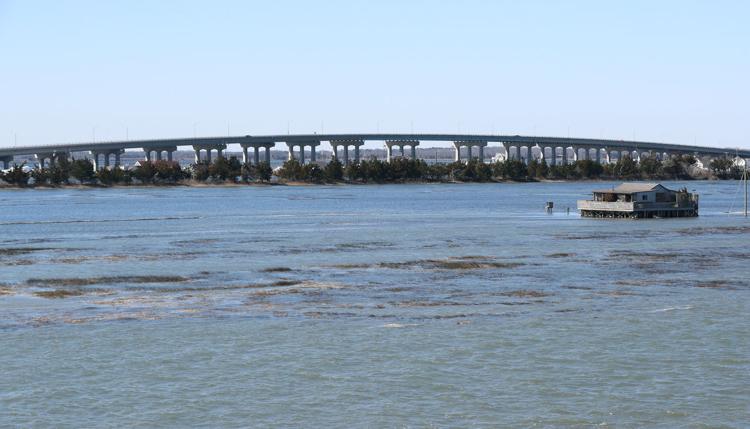 Yet the recent storms caused much more flooding than they would have in 1962 because of sea-level rise, Harrington said.
Now, imagine if the sea level rises just 9 inches in another 56 years — which is less than expected. Last month's small nor'easters would then drive waters to a major flood level in 2074, Harrington said.
And coastal residents will have to either live with the flooding, or leave.
With hundreds of billions of dollars worth of coastal real estate in New Jersey, leaving doesn't appear to be much of an option. Ocean City alone has $11.6 billion in taxable real estate, according to the Cape May County Board of Taxation.
The increasing rate of flooding doesn't seem to deter shore homebuyers, who are driving up the cost of barrier island real estate faster than mainland properties.
And nothing seems to be deterring the rise of ocean waters. In fact, the rate of sea level rise appears to be quickening.
"The rate of rise is greater than in any preceding century in at least 2,800 years," Robert Kopp, director of the Rutgers Institute of Earth, Ocean and Atmospheric Sciences said to the state Assembly Environment and Solid Waste Committee on March 22.
Global average sea levels are up 7 to 8 inches since 1900, and half of that has happened since 1993, Kopp told the committee, which was considering bills on managing stormwater and wanted to hear from New Jersey climate experts on what the state will face in the future.
Sea level in New Jersey is rising faster than the global average — particularly along the shore — because of geological conditions, according to Rutgers University. It has risen 12 inches at bedrock locations such as Bayonne, Trenton and Camden and 16 inches along the shore from Sandy Hook to Cape May.
It's worse at the shore because the land here is also sinking due to geological forces that first exerted their influence during the Ice Age.
Sinking land and rising waters mean more days of flooding, at higher levels, Kopp said.
"In Atlantic City, tidal flooding occurs about 10 times more frequently than it did in the 1950s," Kopp told the committee.
The increased presence of water in our streets prompted the National Weather Service in October 2012 to raise the water level that would trigger a coastal flood advisory. It went from 6 feet at Atlantic City and 6.7 feet at the Cape May Ferry Terminal — the levels at which minor tidal flooding begins — to 6.3 feet and 7 feet, respectively.
The service wanted to avoid "warning fatigue," it said.
The frequency of advisories had increased to the point it was afraid people would start ignoring them. Later that month, Hurricane Sandy hit the coast, serving as a reminder of the vulnerability of coastal communities.
Tidal flooding now occurs about 30 times a year on Absecon Island, up from about five times a year in 1970, according to a report by the Union of Concerned Scientists.
The group predicts that number will increase to 240 times a year by 2045, based on a mid-range prediction of just over a foot of sea level rise.
"And because sea level will be higher, more floods will be extensive, posing greater risks to people and property," the UCS report said.
And 27 years from now — within the span of a typical mortgage — it's no longer a problem our grandchildren will have to handle. It's one that will land in the laps of today's young adults.
Residents of the Mid-Atlantic coast should pay particular attention to what is happening with the western Antarctic ice sheet, Rutgers University professor Benjamin P. Horton said.
"The Mid-Atlantic coastline is the hot spot for melting of Antarctica," Horton said at a speech to the Delaware Estuary Environmental and Science Summit last year. "The greatest sea level rise (from Antarctica's melting ice) will be felt in the Delaware Estuary and the Chesapeake Estuary."
He was met with loud moans from the hundreds of scientists, teachers and others attending the summit, held every other year by the Partnership for the Delaware Estuary.
"As ice mass shrinks, sea level rises greater in areas far distant," Horton explained. Ice sheets are huge and pull water toward them, he explained. "You reduce the mass, and water moves away."
Because of ocean currents, water from Antarctica will mainly move to the Mid-Atlantic coast, he said.
Conversely, if the Greenland ice sheet melts, sea-level rise will be greater in Florida than in New Jersey, with less effect farther north.
Despite the growing evidence of a surging ocean, coastal living still calls many of us.
Even as members of the Ocean City NJ Flooding Facebook page post about their troubles, they field questions from people who want to move to the island. Prospective homebuyers ask about frequency of flooding at specific addresses.
And members talk about why they live at the shore.
"And then we have beautiful nights like this! It all evens out for me! Good days, bad days, wet days, dry days. Love island living," posted Margaret DeFelice on the Ocean City NJ Flooding Facebook page April 1, with a photo of a beautiful Ocean City sunset.
"Let's hope the last nor'easter has passed and tomorrow's snow will be light and at low tide," she said.
But scientists say it will take more than hope for coastal life to remain sustainable for our children and grandchildren.
It will take a plan, funding and a willingness to make tough choices about where to build, rebuild or eventually abandon.