BRIDGETON — The Bridgeton High School football team will be dressed for success this season.
The Bulldogs received 80 new game jerseys for the upcoming season on Tuesday, courtesy of Ron Jaworski's Jaws Youth Playbook foundation.
"This really means a lot to our team," Bulldogs senior quarterback James Smith said. "And I think the new jerseys look great."
The quest to get new shirts started a few months ago, when coaches and officials realized that approximately a dozen of their jerseys from last season needed to be replaced, but discovered there was not enough money in this year's budget.
Upon learning of their plight, former Millville High School football and baseball coach Tony Surace, who does work for Salmon Ventures consulting firm, reached out to Jaworski's foundation for help.
JYP responded with a $10,000 donation.
Although Jaworski, the former Philadelphia Eagles quarterback, was unable to attend the ceremony, representatives of his foundation looked on while Bridgeton Athletic Director Cyndy Wilks and varsity coach Steve Lane distributed the new uniforms to the players.
"I'm really glad I was able to help," Jaworski said Tuesday in a phone interview. "If you look good, you play good."
Jaworski's relationship with Bridgeton began in 2012. Bridgeton's concrete football stadium was beginning to fall apart. Surace and some other local Cumberland County officials sought to raise funds for a new stadium and held a dinner to kick off the plan with Jaworski as the guest speaker.
"Ron is always fired up and he really got the people excited," Surace said with a laugh. "Then he announces that he's going to get things started by donating $10,000 to the project."
A slew of other donations, including $1 million by a prominent Bridgeton businessman, led to the completion of Jim Hursey Memorial Stadium at the Robert C. Thompson Family Sports Complex.
Tuesday's jersey ceremony was the latest in a series of projects Jaworski's foundation has sponsored in Atlantic, Cape May and Cumberland Counties in recent years.
In 2013, JYP donated $30,000 to the Ventnor Pirates of the Atlantic County Junior Football League to help the team rebuild its snack bar and replace equipment in the aftermath of Hurricane Sandy.
"My wife (Liz) and I started the foundation 35 years ago in the hopes of helping kids," Jaworski said. "And that hasn't changed in 35 years. To be able to help the kids in Bridgeton and Ventnor and other places is very fulfilling."
Players sat in the bleachers of the stadium on Tuesday and listened as Wilks explained some of the tradition behind Bridgeton's football team.
The Bulldogs won South Jersey Group II championships in 1997 and 1999, respectively, despite having fewer than 20 non-freshmen on those squads. Running back/defensive back Mike Bartley, running back/defensive end Lamus Rhett and quarterback/linebacker Terrin Walker led the '97 team to a 9-2 record under coach Bob Bernado. The Bulldogs went 11-1 in '99 under coach Dave Ellen, running back David Days, quarterback Ed Cruz and fullback/linebacker Bryan Hagan.
"They were a small group, but they were mighty, just like you," Wilks told players. "I was watching a documentary about (Oakland Raiders coach) Jon Gruden and one of his quotes really stuck with me. He said, 'You can lead the league in effort because it doesn't take talent.' Effort makes you always walk away a winner.'"
Wilks and Bulldogs coach Steve Lane designed the new jerseys.
They have 40 maroon shirts with white numbers and 40 white ones with maroon numbers. All the jerseys also have a 'B' on the sleeves that matches Bridgeton's helmets.
"Looking good has a little bit to do with playing good," Lane said. "But the most important thing is that every one of these players earned the jerseys they're going to wear this year."
Bridgeton receives news football jerseys
New Jerseys for the Bridgeton Bulldogs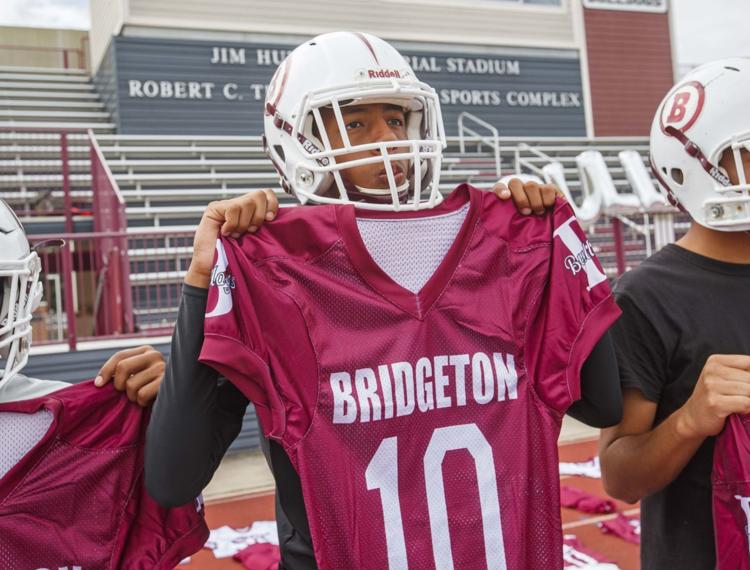 -- HIDE VERTICAL GALLERY ASSET TITLES --
New Jerseys for the Bridgeton Bulldogs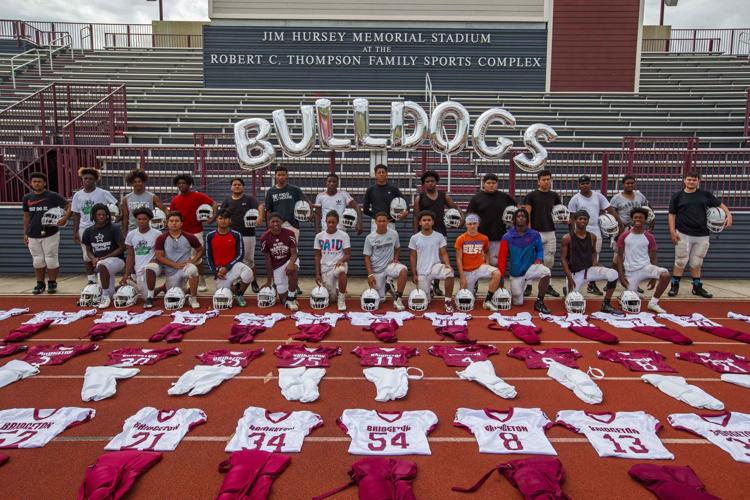 New Jerseys for the Bridgeton Bulldogs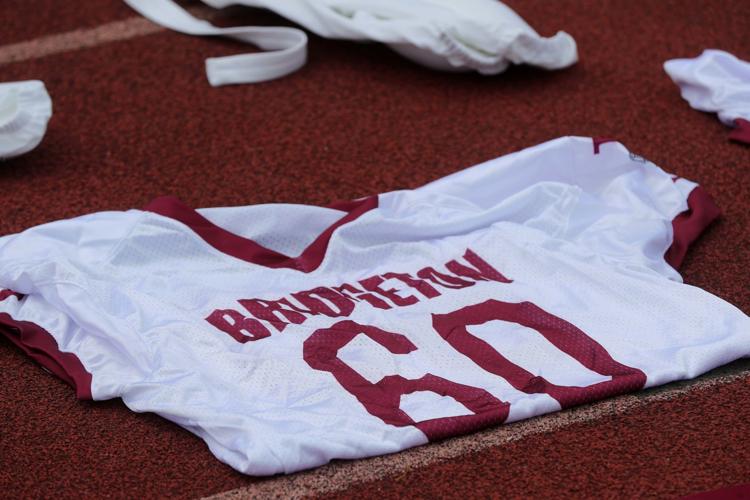 New Jerseys for the Bridgeton Bulldogs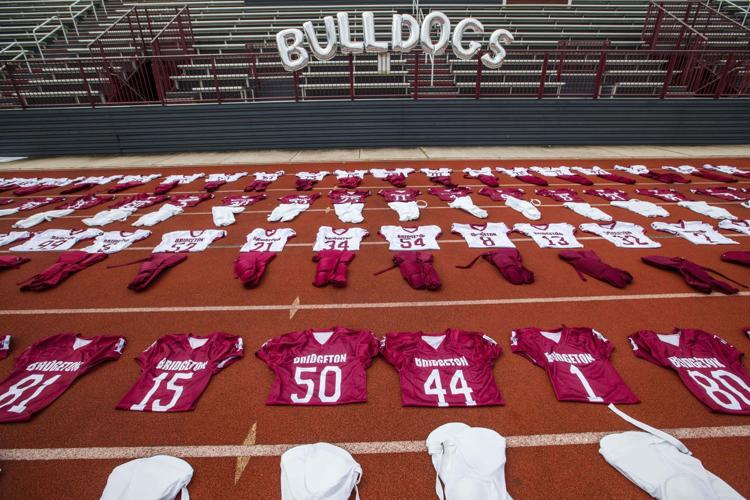 New Jerseys for the Bridgeton Bulldogs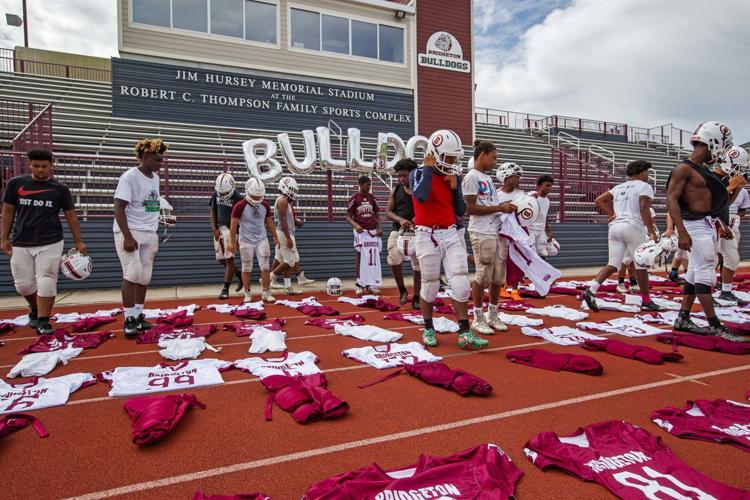 New Jerseys for the Bridgeton Bulldogs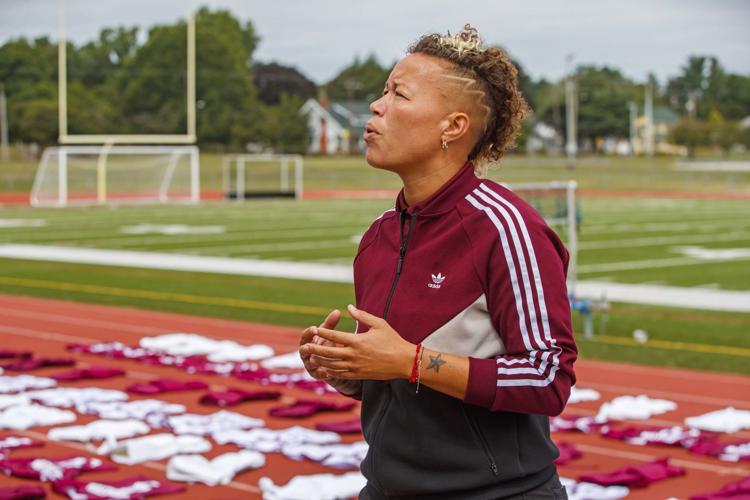 New Jerseys for the Bridgeton Bulldogs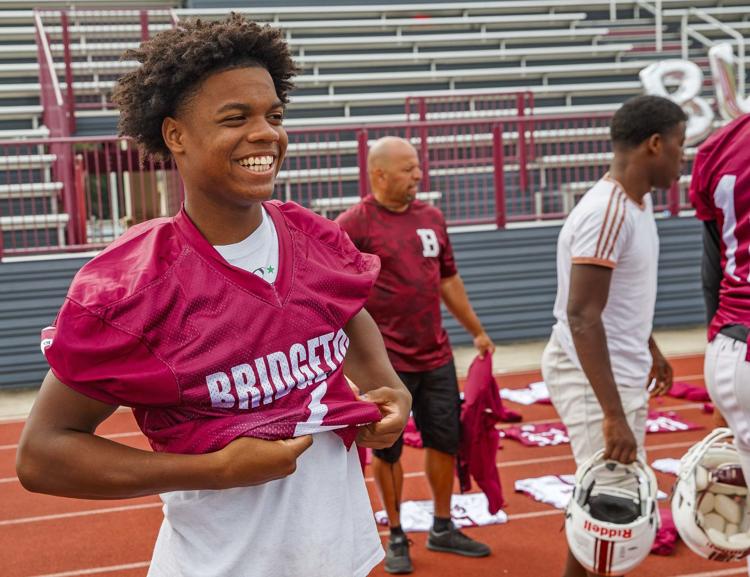 New Jerseys for the Bridgeton Bulldogs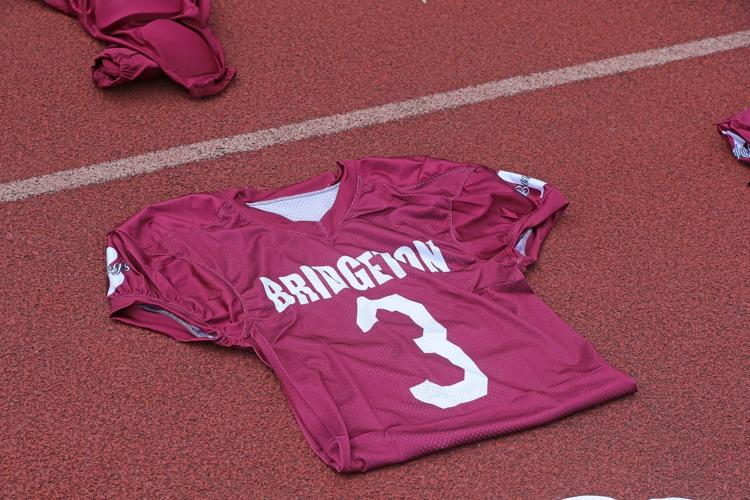 New Jerseys for the Bridgeton Bulldogs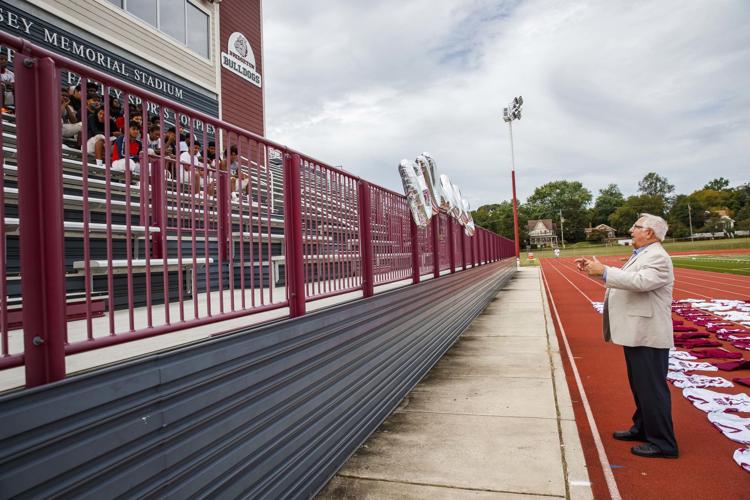 New Jerseys for the Bridgeton Bulldogs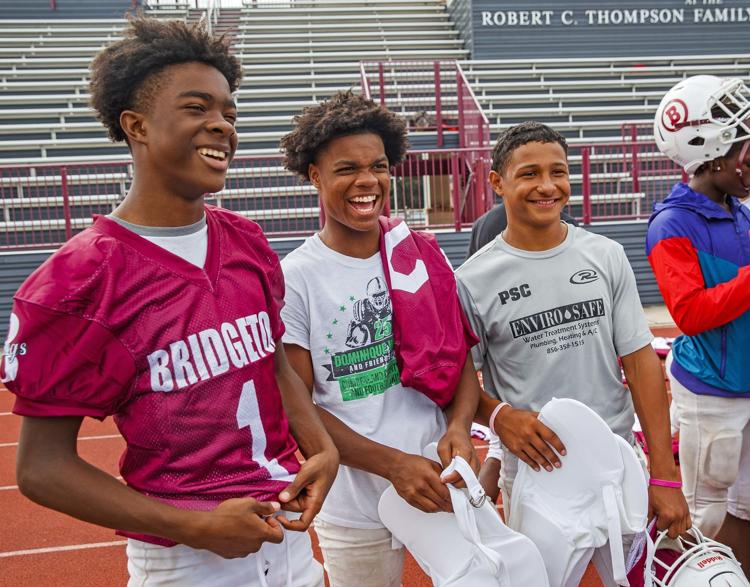 New Jerseys for the Bridgeton Bulldogs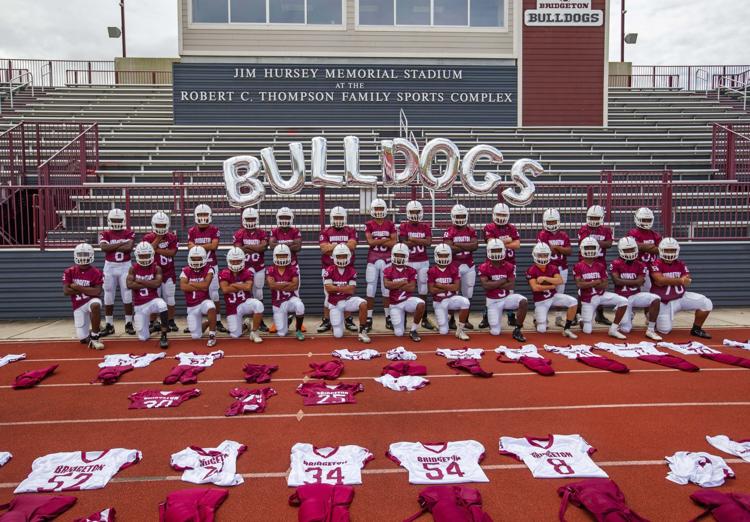 New Jerseys for the Bridgeton Bulldogs