MAYS LANDING — A Snapchat video that spread online over the weekend showing a man urinating on a memorial for a boy who died from cancer has rallied neighbors in a tight-knit community.
The clip emerged Sunday, showing Egg Harbor City's Bryan Bellace urinating on a plaque dedicated to a Mays Landing boy, Christian Clopp, who died from cancer in February 2012.
Bellace's friend Daniel Flippen, of Hammonton, recorded the act while laughing. Both were drinking alcohol, police said.
Less than 24 hours later, authorities charged the pair, and Bellace lost his job at his father's plumbing company, which had been fielding an influx of angry calls.
The memorial was created in 2014 at Underhill Park off Old Egg Harbor Road for Clopp, a former Cub Scout who died in 2012 at age 9 from an inoperable brain tumor.
It didn't take long for the community to rally behind the Clopp family.
On Sunday, Mays Landing Lakers football program commissioners and coaches Paul Burgan and Desmond Walker disinfected the memorial, which is placed outside the township athletics facility where teams practice and games are played.
Others came out to do the same, they said.
"Those people are amazing," said Christian's father, Mark Clopp, a retired Hamilton Township police sergeant. "It's wonderful to see that they're coaching and teaching kids. I don't think we could find a better example if we tried."
The father wrote in a Facebook post that his initial reaction was to "find you and beat you senseless in defense of my son's honor." Ultimately, though, he said he hopes it's a teaching moment for Bellace.
Bellace was charged with lewdness, disorderly conduct, criminal mischief and having an open alcoholic beverage in a park, police said. He was released on a summons.
"I had to remove him from employment," Bryan's dad, Bruce Bellace, said. "We apologized to the family. ... I'm sorry for his actions. I'm not proud of him."
His son, one of three people employed by the small family business, was "probably drunk," he said. Bruce Bellace took part of the blame.
"Ultimately it's my fault," Bruce Bellace said. "Maybe we didn't teach him right."
In an interview with WPVI-TV, Bryan Bellace said it was a big mistake, that he was intoxicated and that he has reached out to the family to apologize.
"I didn't know what I was doing at the time. When I came to my senses the next day, I realized I made a huge mistake," he said in a story on the ABC Philadelphia affiliate's website. "I wish I could take it all back and make things right, but it happened. The only thing I can do is move forward from here."
Flippen was charged with having an open alcoholic beverage in a park, authorities said.
The community, meanwhile, worked to counter their mischief.
Burgan and Walker spent about 30 minutes cleaning the plaque and granite boulder it is set in. They felt it was the right thing to do.
"As a single parent of two healthy kids, I couldn't imagine myself being in that father's situation where you lost a boy and then something dedicated in his honor ... someone's desecrating it," said Walker, the varsity squad's head coach, on Monday by the memorial. "And I got choked up. I called (Paul) immediately and I said, 'We gotta go down there and clean it.' He said 'I'll meet you in five minutes.'"
Burgan said their goal is to make it clear such behavior is not tolerated in the community.
"I think they should come out," Burgan said of Bryan Bellace and Flippen. "If they're man enough to do this, they should be man enough to apologize."
At the Mays Landing Lakers' first home game on Sept. 7, Walker and Burgan said the team will present a football jersey with Christian Copp's name on it to the family.
"It's not about us," Walker said. "It's about that young man and his family."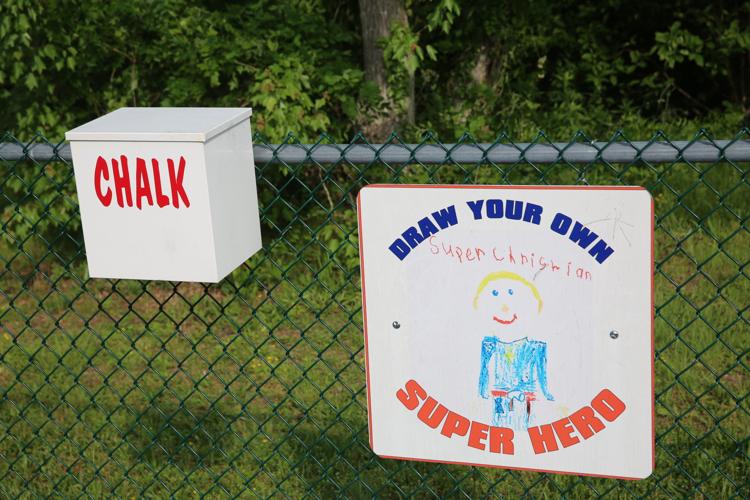 Mark Clopp said Monday the outpouring of support from neighbors mirrored the outpouring from 2012 as his son battled cancer.
"It's overwhelming at times," he said. "When my son was sick, the community rallied around us then, and they still continue to. It's wonderful to have that where you live."
Christian Clopp was diagnosed with cancer at 8, and spent about 150 days at Children's Hospital of Philadelphia. He was a student at the George L. Hess Educational Complex.
"My son was special in that he was the happiest kid you'd ever want to meet," said Mark Clopp. "All he did was smile. Didn't have a care in the world. Never complained once. And people really took a liking to him."
When Christian Clopp died, the Hamilton Township Committee passed a proclamation to name the first day of school in Clopp's honor. The Township also worked to create the all-access park with help from a local Boy Scout Troop, No. 126.
Troop leader Maria Williams said her son, Mark Ruddy, helped with the park as part of the Eagle Scout project when he was 14.
She said the park is important to Mays Landing and her family as well. When her own nephew succumbed to brain cancer at 5, she said Mark Clopp supported them.
"Hopefully the people will come to justice and possibly have some community service where they can turn around and help the community," Williams said.
Mark Clopp wrote on Facebook that he hopes to handle the matter in the courts. He said the family does not personally know the individuals involved in the video.
He said Monday he's "not interested in ruining the lives" of Flippen and Bryan Bellace.
He also started the Christian Clopp Community Fundraiser Facebook page to raise money to beautify and possibly expand the park.
"Rather than respond negatively, which is commonplace nowadays, I just thought it was better to turn it into a positive and set an example," Mark Clopp said.
Staff Writer Amanda Auble contributed to this report.