DEVELOPING STORY
Watch arrest video of husband of April Kauffman, slain Linwood veterans advocate

Video courtesy of Ted Greenberg of NBC10 Philadelphia @tedgreenbergNBC @NBCPhiladelphia
EGG HARBOR TOWNSHIP — Investigators from the Atlantic County Prosecutor's Office, FBI, and local police departments arrested Dr. James Kauffman with a handgun Tuesday morning after executing a search warrant at his medical office here and at his Linwood home.
Kauffman, 69, was married to April Kauffman, who was found shot to death in 2012 in her Woodstock Drive home in Linwood.  Atlantic County Prosecutor Damon Tyner said the arrest was not related to April Kauffman's death, but other criminal activity. 
May 10, 2012: Around 11:30 a.m., veterans advocate, businesswoman and radio host April Kauffman, 47, is found shot multiple times, alive but u…
April Kauffman's daughter, Kim Pack, contacted by The Press of Atlantic City via text message, had no immediate comment but said she was aware of the arrest.
When the investigators arrived early Tuesday at Kauffman's office he displayed a handgun described as a Ruger 9 mm; the standoff took about 45 minutes, requiring a hostage negotiator from the Atlantic County Prosecutors Office to get Kauffman to hand over the weapon.
He was taken out of his office shortly after 7:30 a.m. and is now in the custody of the Psychiatric Intervention Program for monitoring, Tyner said.
Kauffman was charged with unlawful possession of a weapon, possession of a weapon for unlawful purpose, possession of hollow point bullets and obstruction of justice.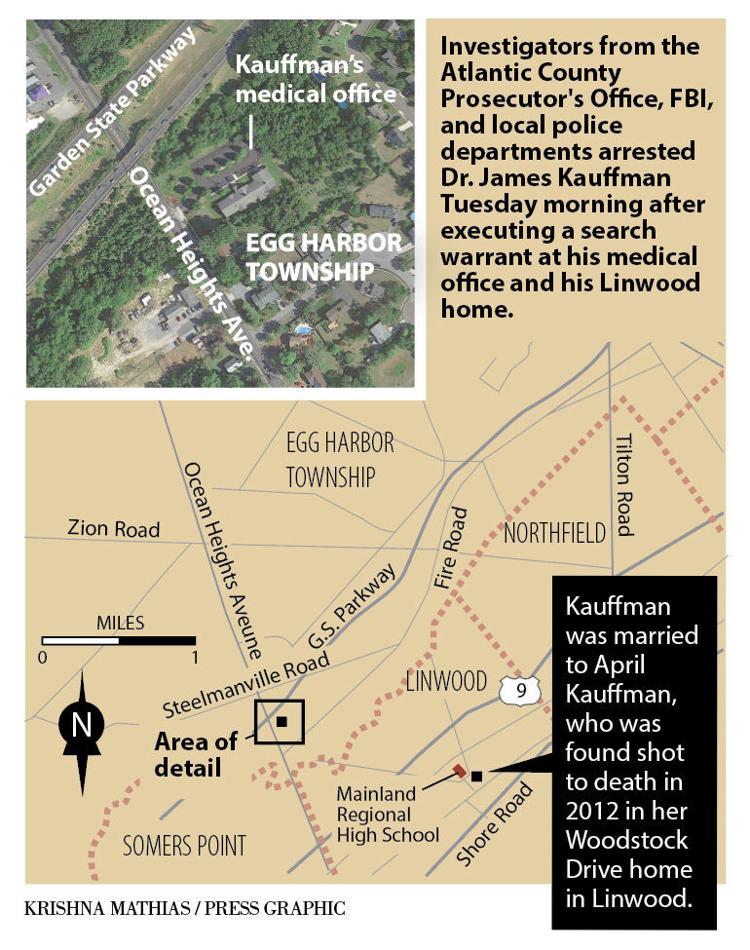 Crime scene tape surrounded the Ocean Heights Avenue office of Dr. James Kauffman Tuesday morning as investigators from the Atlantic County Prosecutors Office and the FBI continue to investigate Kauffman.
Tyner said he will eventually be transferred to the Atlantic County Justice Facility. Kauffman's medical office is closed as he is a sole practitioner. Tyner expects that it will be closed for the foreseeable future pending the charges and outcome of the ongoing investigation.
Tyner recently tried to obtain a DNA sample from Kauffman in the homicide of April Kauffman. The ruling on the decision is being kept sealed.
The investigation is ongoing and Tyner will not comment further on this matter as of now. 
PHOTOS from stories about the April Kauffman homicide
Dr. James Kauffman practices osteopathy in Egg Harbor Township. He first got license under the New Jersey State Board of Medical Examiners on August 4, 1978, according to the state Division of Consumer Affairs. He has an active license set to expire in 2019 and his state record shows no board actions, meaning there are no public records of actions against his license since he has been practicing in New Jersey.
This story is developing. Check back for more details.