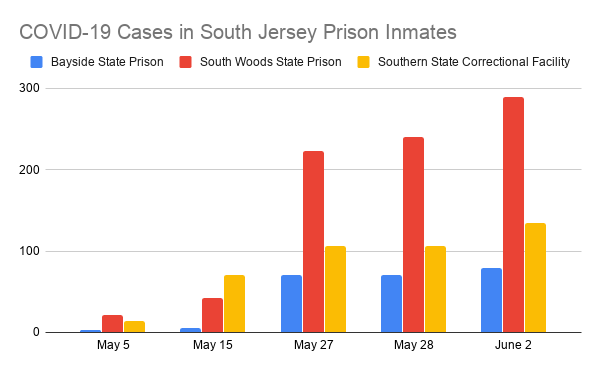 BRIDGETON — A fifth inmate at a South Jersey prison has died from COVID-19 as cases at facilities continue to grow, state data show.
The facility recorded its first inmate death attributed to the pandemic in April.
In the beginning of April, Patrice Clemons got a call from an administrator at Southern Stat…
Asked for the identity of the inmate and details of their incarceration, Matthew Schuman, spokesman for the DOC, said due to medical privacy reasons, he could not disclose a specific individual's personal information.
There are three DOC facilities in South Jersey, all in Cumberland County. In addition to South Woods, there are Southern State Correctional Facility and Bayside State Prison, both in Maurice River Township.
The number of cases in state facilities continues to rise.
South Woods has the highest number of inmates who have tested positive for the disease with 289, according to state data. Thirty-one staff members have also tested positive.
BRIDGETON — The number of South Jersey prison inmates testing positive for COVID-19 continue…
Southern State has recorded 134 cases in inmates and 79 in staff, while Bayside has reported 79 and five cases, respectively.
Neither Bayside nor Southern State has recorded a fatality.
South Woods has a total of 3,343 inmates, while Bayside and Southern State have 1,423 and 1,650, respectively, according to state data.
As of Saturday, all inmates at state DOC facilities have been tested, with a number of lab results still pending, according to the dashboard.