MILLVILLE — Bullet shells lay scattered on the hallway floor leading to the gymnasium of Lakeside Middle School Friday morning. Inside, staff and students took turns getting their faces airbrushed and sticking latex bullet wounds to different parts of their bodies.
This was all part of a concerted effort to make the full-scale, countywide active shooter drill appear as real as possible for area emergency officials.
"I'm very big on training realistic," Millville police Detective Anthony Loteck said. "God forbid if we ever did have a realistic event, a catastrophic event, it's not going to be so much of a shock-and-awe to them because they've experienced this training."
More than a year ago, Millville police Chief Jody Farabella had tasked Loteck with staging a drill for just their department. But he saw it as an opportunity to form a partnership once he realized that in a real active-shooter event, law enforcement would ultimately rely on mutual aid from nearby departments.
"In any real-world scenario like this — if it should happen in, God forbid, Vineland, Millville, Bridgeton — nobody's going to stop at the border and say, 'We're not coming to help,'" Vineland police Chief Rudy Beu said. "Everybody's coming to assist. So having something like this where all the agencies get together and work together on one issue is fantastic."
Meeting regularly for more than a year, the Millville Police Department partnered with police and fire officials from neighboring Bridgeton and Vineland, the Cumberland County Sheriff's Office, the county Prosecutor's Office, State Police, the FBI Crisis Response Unit and Inspira Health Network EMS to conduct two training simulations Friday.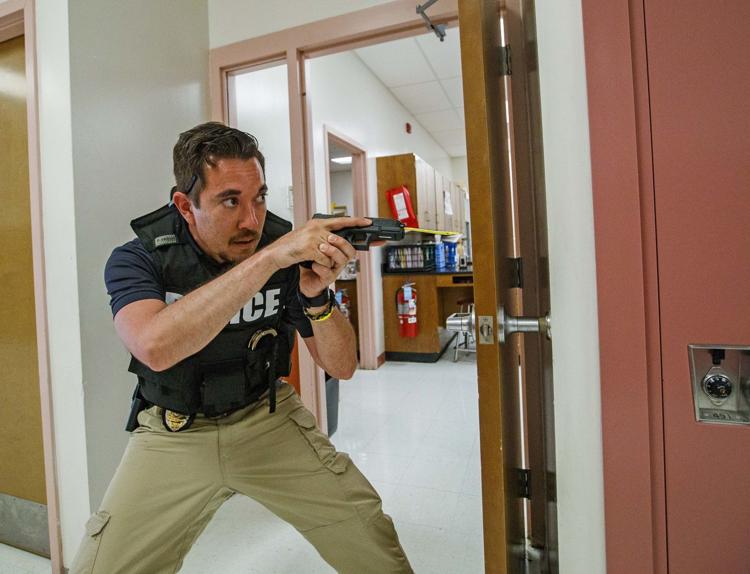 The drills used 150 actors and 30 victims ages 16 and older who volunteered to be moulaged, a process in which mock injuries are applied for the purpose of training emergency response teams and other medical and military personnel.
The victims also were given papers with their specific injuries written on them so EMS would know how to proceed.
The drill — held weeks after mass shootings in El Paso, Texas, and Dayton, Ohio, killed a total of 32 people — was designed to train law enforcement officials to work more closely with EMS and firefighters to form Rescue Task Forces.
"We've learned through Columbine and we've learned through other active shooters throughout the country that some people have actually bled out when they could be taken care of right away," Farabella said.
He said the training is another way law enforcement is changing its approach to active shooters.
"We would stop and wait until the SWAT team came. We can't do that anymore," Farabella said. "We have to eliminate that threat as quick as possible, and we have to treat these people who are injured as soon as possible."
Law enforcement and local leaders watched the drill on four television monitors inside the school's video center as a call for a student acting out escalated into an active shooting.
The actor posing as school Principal Spike Cook collapsed on the screen after two shots rang out and the fire alarm was activated.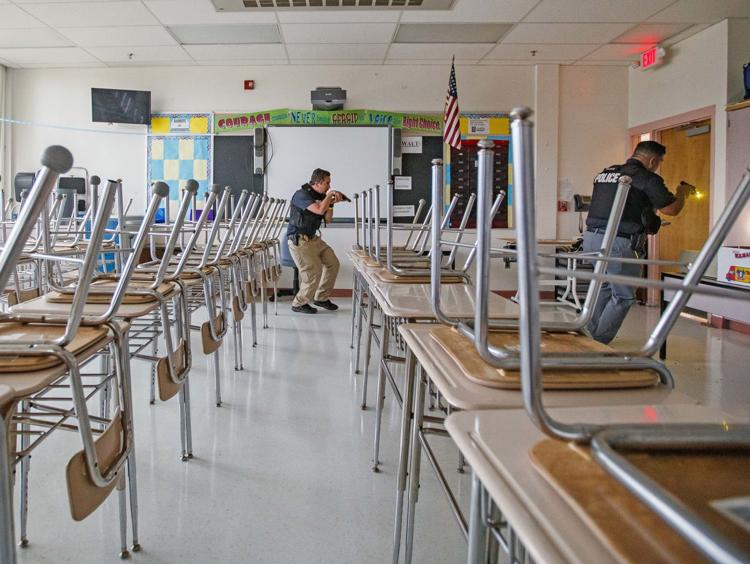 Those working in the video center flipped through different screens following police as they rushed through smoke-filled hallways to address what would become a two-person active shooting.
Both shooters were subdued within the first 10 minutes of response. Police then focused on searching classrooms and creating safe passageways for EMS to treat victims.
The last student volunteers were evacuated with their hands above their heads less than an hour after the drill started.
"It was educational and frightening all at the same time," Vineland Mayor Anthony Fanucci said.
Afterward, all participants met in the school's auditorium to discuss areas where they felt they could use improvement. Most critiques centered on improving communication, as different command centers got organized and dispatch was flooded with calls and radios and cellphones experienced spotty connections.
"I'm extremely, extremely pleased. With all the agencies and all the officers and all of us working together, it went better than I expected," Farabella said.
As participants filtered outside to grab lunch before getting ready for another drill later that afternoon, Farabella said he hoped the training could continue. Loteck said video recorded during the drills will be used for future training.
"We're going to have deficiencies. That's what we're going to work on," Farabella said. "Until you do this type of training, you don't know."