A building ridge of high pressure aloft and a train of low-pressure systems at the surface will bring a little bit of heat and a little bit of humidity to the seven-day forecast. However, no washouts are expected.
Patches of fog will again begin Friday. Temperatures will be in the low 70s, about where they have been for the past couple of mornings.
An onshore flow will continue throughout the day. This will put the lid on excessive temperatures while keeping the atmosphere humid, but not overly sticky. High temperatures will be in the low to mid-80s everywhere.
In terms of rainfall coverage, I would not cancel outdoor plans, unless your risk tolerance for rain is low. Isolated morning showers and evening storms will be present.
Cloud coverage will generally be mostly cloudy. However, if we have a good p.m. break in the clouds, severe weather will be a concern. Damaging winds will not be ruled out, with just a very, very slight risk of a tornado.
The fog will roll back in near the shore Friday night.
However, no major weather issues are expected. Temperatures will fall through the 70s at night, bottoming out at or just above 70 early Saturday morning.
Winds will flip to the south for the weekend. This will break up any fog from the overnight hours and keep us fog-free through the weekend.
A piece of energy will scurry through during the day. Can this spark up a storm? Sure. Would it be widespread? No.
It'll be a similar day to Friday. Outdoor gardening, lawn cutting or cooking all look good. Just be prepared to run inside in the unlikely chance your town sees a storm. Highs will stay in the low 80s at the shore, with upper 80s on the mainland.
It'll be a balmy and dry Saturday night to have some fun outside! Sunday and Monday look to be twins of each other — hot and sultry. Bermuda high pressure is at its maximum extent here. That'll keep us rain free.
VENTNOR — Meet Press meteorologist Joe Martucci as hurricane season kicks into full gear Aug…
On a south to southwest wind, highs will peak at or above 90 degrees west of the Garden State Parkway. A sea breeze will bring shore relief, where it'll sit in the mid-80s. If you factor in the dew points around 70, it'll feel like 100 on the mainland both days. We should be just below heat advisory criteria.
So we'll give the shore weekend a B+. There have been a lot of high marks given out this summer!
UPPER TOWNSHIP — Koy Connors spends his days in a bathing suit, hat and orange sunglasses wi…
Taking a step back, spotty minor coastal flooding will continue to be present during the evening high tides. Friday and Saturday will both carry this risk. The most likely areas to see issues will be in Cape May County and along the Delaware Bay, where anomalies will be the highest.
Only the most sensitive areas will flood. However, if you see water on the road, turn around.
Joe's 7 Day Forecast
104 degrees - July 3, 1966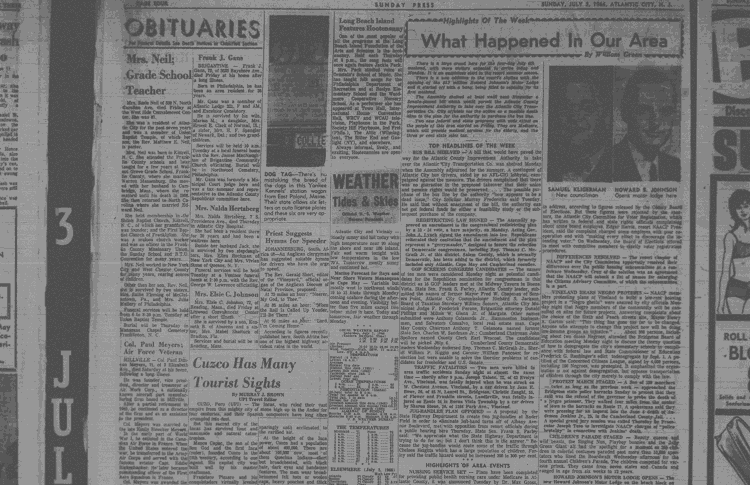 105 degrees - July 22, 2011
105 degrees - July 23, 2011
106 degrees - June 28, 1969
Weeks before the history Atlantic City Pop Festival in early August at the Atlantic City Race Track, the region broiled with a 106 degree thermometer reading. 
As of 2019, the reading still beats the next highest temperature by nine degrees. 
How does that number stack up to the rest of New Jersey?
The 106 degree reading is about as sweltering as it gets in the Garden State. It's near the top of the list for hottest days in recorded history.
Note the list is only taken from official climate stations, with the exception of the top spot, which is verified by the New Jersey State Climatologist. 
Old Bridge - 110 degrees (Official hottest location in New Jersey on July 10, 1936)
Newark Liberty International Airport - 108 degrees 
Atlantic City International Airport - 106 degrees
Trenton - 106 degrees (twice)
Millville - 103 degrees