By winter's standards, Friday will be a comfortable day for outdoor activities.
However, a stagnant low-pressure system will finally tumble into South Jersey for a wet start to the weekend.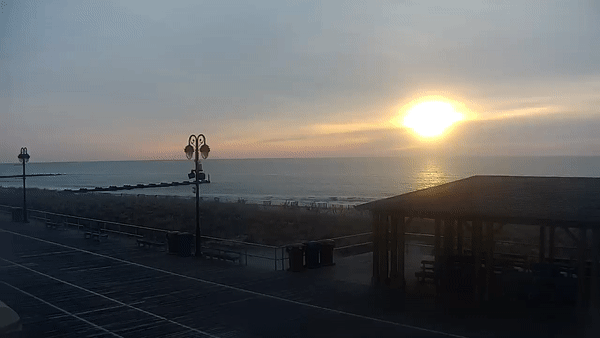 High clouds has overspread the region. It make for some beautiful sunrises. filtered sunshine will be present for the morning, despite what your phone app may say the current conditions are.
It's 6:00 a.m. on Wednesday and if you look at your phone, you'll see that it says we're und…
We'll see afternoon clouds thicken, but the dry weather will hold on. Highs will be above average, in the low 50s on the mainland and upper 40s at the shore.
Cape May missed out on the "South Jersey Snow Special" on Dec. 5. They were also a little ov…
As they say, though, all good things must come to an end, especially in this extremely wet pattern. Rain will slowly work itself in from the shores of the Delaware Bay to Long Beach Island between 8 and 11 p.m., as a mature low pressure moves in from Texas. Bring the umbrella if going out. Rain will be steady for much of the night as winds begin to pick up after midnight. Southeast winds around 15 mph will be the case. In any embedded heavier bursts of rain, gusts in the 30s would occur. 
This story was updated to include all of 2018's numbers. 
In the early Saturday morning hours, a warm front will pass north. That will be our cue to go from steady rain to showers, which will continue through the day Saturday as the low pressure pulls away. It now looks like Saturday morning will be the drier part of the state. Over 50 percent of the morning does look dry. Minor stage coastal flooding will be likely though, so move your cars if you need to.
The afternoon should feature a blend of hit or miss showers. You could try to take down those holiday decorations or spend time outside if you really wanted to, bu the morning will be best. Highs will be around 50. 
The rain will end just after sunset Saturday. Then, we'll see a clearing sky. Lows will be in the upper 30s, staying higher as breezy conditions prevent the colder air from settling in.
We'll then yield plenty of sunshine for Sunday as a new high-pressure system comes in. Winds will be around 15 mph from the WNW, but there'll be no real punch of cold air. So, highs remain in the low 50s.
Some colder air will then settle in starting Sunday night. Lows will dip below freezing on the mainland. Monday will then be a "calm before the storm" day. Morning sunshine will fade behind p.m. clouds, with highs seasonable, in the low-40s. 
MIDDLE TOWNSHIP — Meteorologist Joe Martucci will speak at an AARP event Wednesday and you a…