Sunday will be nothing more than a steamy repeat of Saturday. And it looks like Monday will extend the heat wave to a seventh day, which might have many of you thinking, when will "regular" summer weather come?
What was most impressive to me about Saturday's heat was the lack of a sea breeze for most of the shore. At 12:30 p.m., it was 95 degrees in Egg Harbor Township and Atlantic City. It was 95 in Toms River and 92 in Seaside Heights. Only Long Beach Island really escaped the full brunt of the heat, but it was quite steamy there as well. Of course, that only tells half of the story, as the heat index regularly stayed 105-115.
There's nothing worse than stepping on your blacktop driveway on a hot summer day, right? We…
We're going to have more of the same Sunday. We're starting off with temperatures at or just above 80. That is about 15 degrees above average. Our record maximum low temperature is 77, and we should have no problem breaking that record.
So, we're going to do Saturday all over again. Stay in the air conditioning. Short amounts of outdoor time will be OK, but bring water and make sure your pets are off the blacktop. Highs will flirt with 100 again, with the shore in the mid-90s.
If you are on the sand, water temperatures will be in the 60s, as a result of upwelling. It will feel like 105-115 again, especially with the full, blazing sun.
Sunday night will plant the seeds for our break in the heat wave. A couple of thunderstorms, the same as the ones that tore through the Great Lakes on Saturday, will come close. While unlikely, the potential for a line of thunderstorms with severe weather will not be ruled out. Otherwise, it will be steamy and balmy. Temperatures will stay in the 80s during the evening and bottom out at 75-80.
Monday morning will feature a mix of sun and clouds, with a low risk for a thunderstorm. However, as a low-pressure system and its pattern-breaking cold front sit overhead, storms will fire up. Expect scattered coverage during the afternoon and evening, not enough to cancel outdoor plans, but plan big outdoor projects or work toward the morning. Isolated areas of wind damage will be likely. Highs otherwise will touch 90 on the mainland, which would make it a seven-day heat wave, which we did see last year.
Then, if you want the relief, you will get it.
High pressure will dry us out and cool us down, all while keeping the sunshine around from Tuesday through Friday.
We'll have a sunny to partly-sunny sky. High temperatures will be in the 80s during the afternoon, rising slowly from the low 80s on Tuesday to the upper 80s on Thursday. Lows will be cool enough to leave them opened at night, in the mid-60s inland to 70 at Margate and the shore.
Heat advisories are in effect for some of the area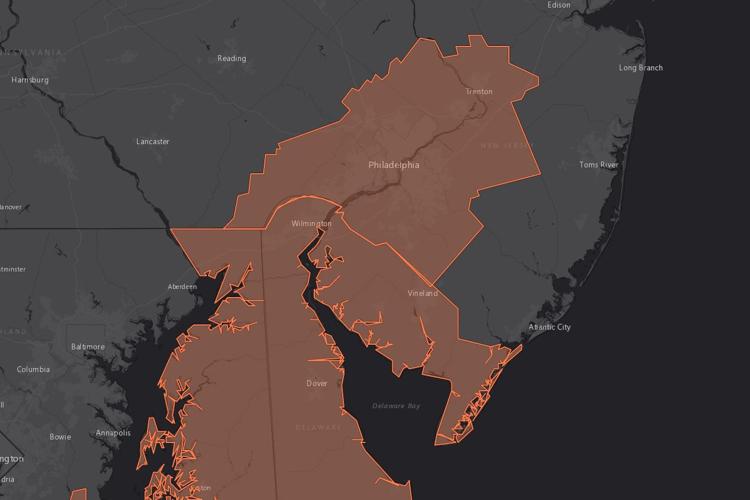 It will feel similar to Friday outside on Monday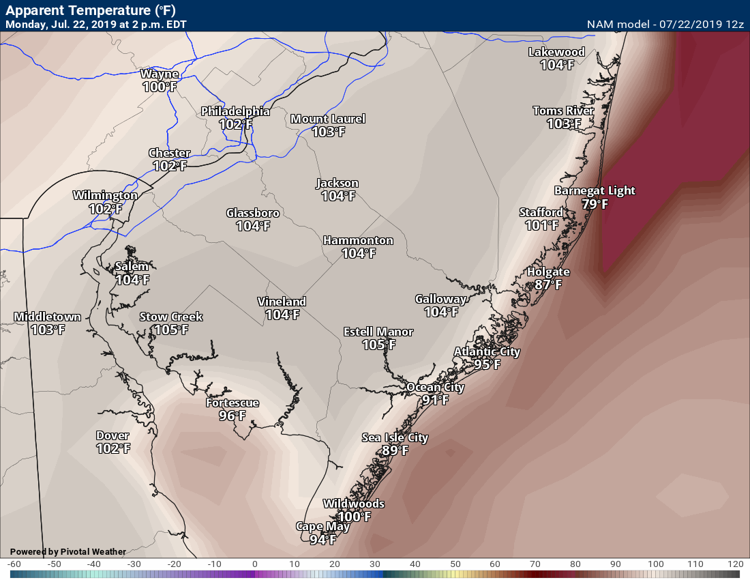 Sunday broke two heat records, bringing us to five since the heat wave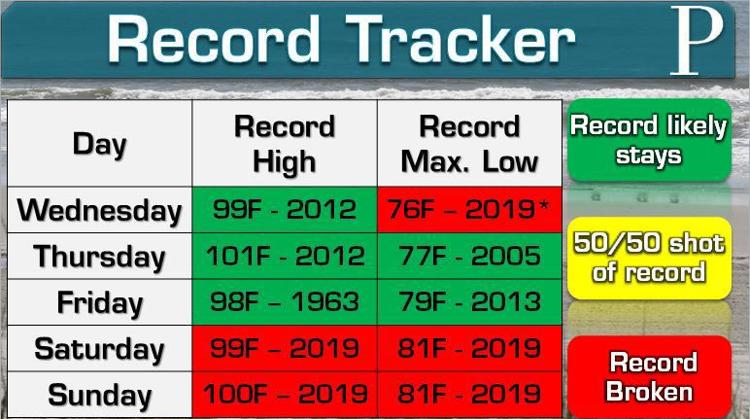 South Jersey did something Sunday morning that never happened in recorded history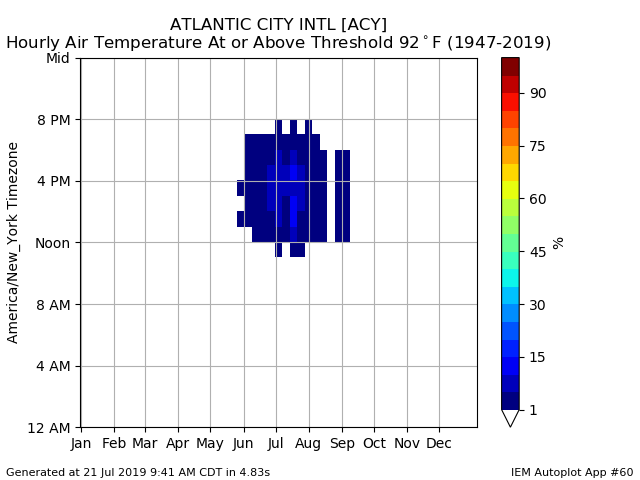 Six to seven day heat waves are becoming more common
Watch where you walk your pets during a heat wave
There's nothing worse than stepping on your blacktop driveway on a hot summer day, right? Well, if it's too hot for bare feet, it's too hot for bare paws, too. 
Using just a temperature gun and the grounds at The Press building in Pleasantville, the surface temperature of the blacktop, sidewalk and grass was measured on Wednesday.
The blacktop recorded a temperature of over 145 degrees during the afternoon. That is enough to burn both your feet, as well as your pooch's paws. The black base of our staute in front was a couple of degrees below that. Meanwhile, the white sidewalk saw a drop of nearly 30 degrees! 
The reason for the swing in temperature has to do with something called albedo. Albedo is the reflective of a surface with respect to incoming radiation. Darker objects, like a driveway or many parking lots, absorb more radiation. Therefore, that heat stays within the surface, turning hotter.
Meanwhile, lightly-colored surfaces, such as a sidewalk, do a better job of reflecting radiation from the hot sun. This is not due to albedo but due to another factor called heat capacity The grass, which was the coolest of the three, holds water in the soil. This water makes its ability to heat or cool down much slower than the other objects. 
Up-welling has occurred in parts of the shore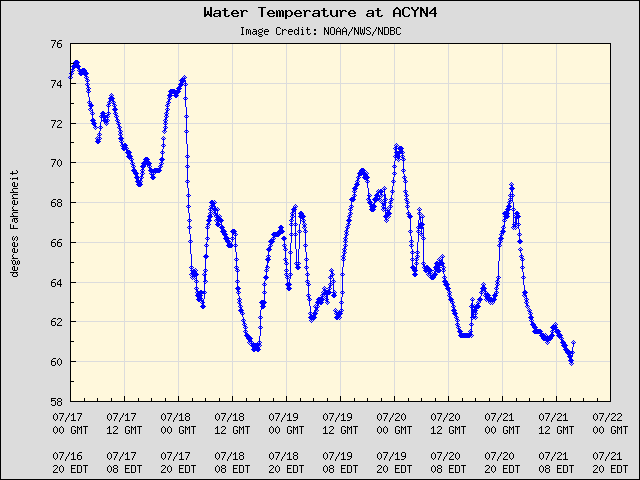 The biggest risk may be the heavy downpours, though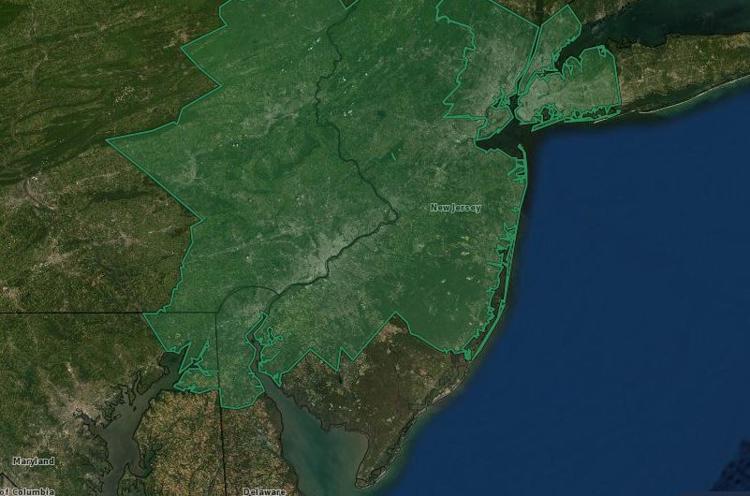 A flash flood watch is in effect as we track heat breaking storms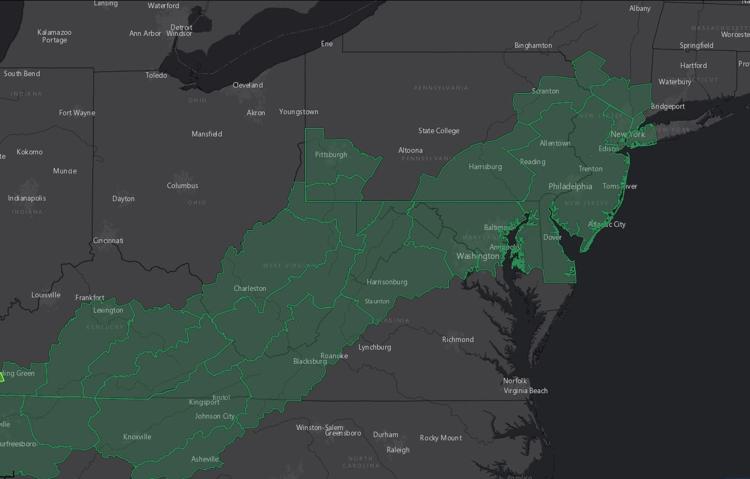 How much rain can we see?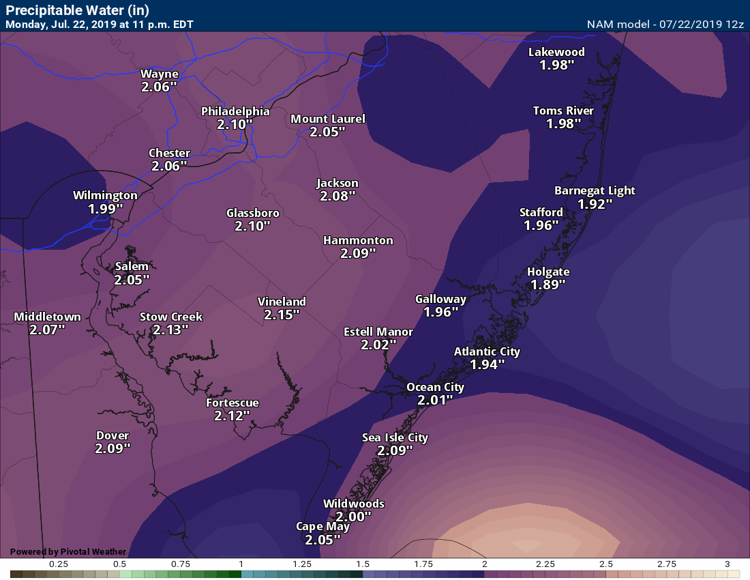 Plus, we're in a level 2 of 5 risk for severe weather.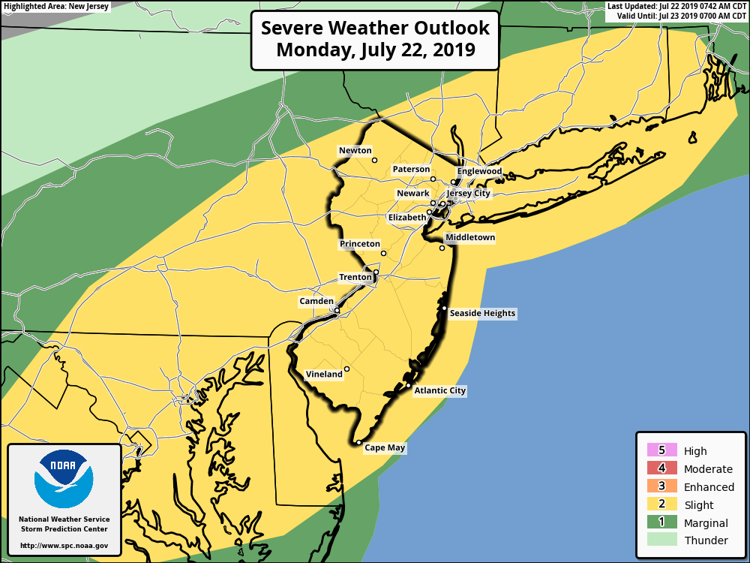 Understanding Severe Thunderstorm Risk Categories