Ask people between the ages of 65 and 75 to name the music event that defined their tie-dyed generation, and most will answer, "Woodstock."
Fifty years ago, two weeks before Woodstock happened in August 1969, a sellout crowd of more than 120,000 showed up at Atlantic City Race Course in Mays Landing for the three-day Atlantic City Pop Festival.
On Aug. 1-3, Philadelphia-based Electric Factory Concerts staged an event that featured 30 acts ranging from A (Airplane, Jefferson) to Z (Zappa, Frank). In between, fans watched artists like Janis Joplin, Santana, Creedence Clearwater Revival, Joe Cocker and Iron Butterfly.
"It was a pretty amazing scene, with hippies and everyone else," said Ocean City's Mike "Monk" Monroe, 67, who was at the concert. "And the music was incredible."
The concert happened in part because Herb Spivak decided to take a trip to the shore one winter day.
Spivak, who had created Electric Factory a year earlier with brothers Jerry and Allen, Shelley Kaplan and Larry Magid, was cruising on the Black Horse Pike toward his vacation home in Ventnor in early February 1969 in a white Cadillac convertible he had bought for his wife.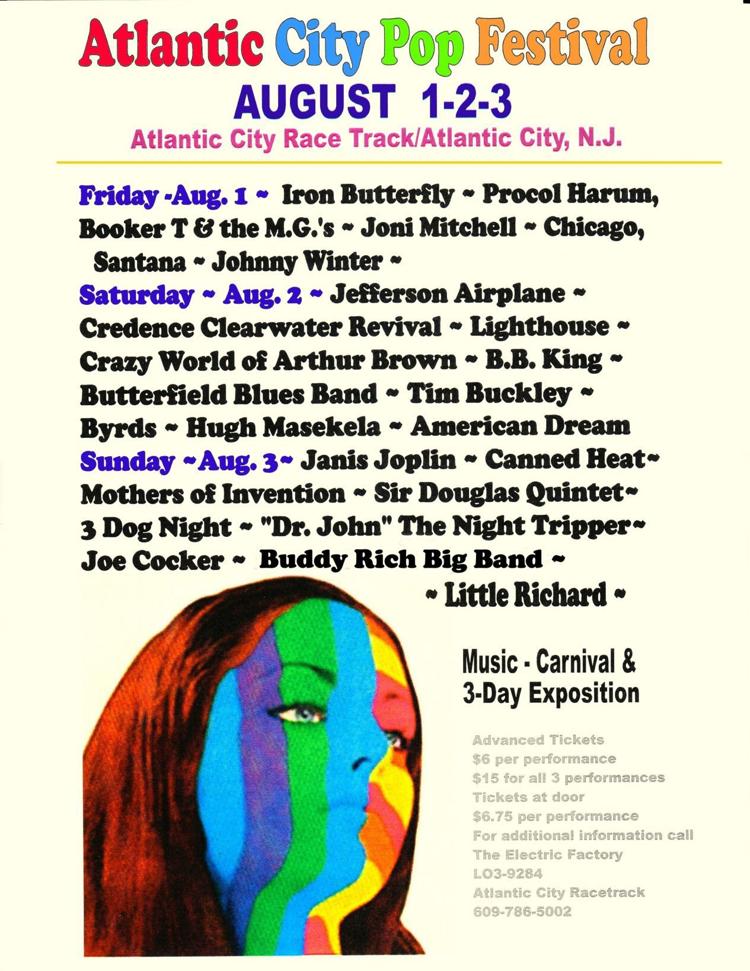 Magid, who owns a home in Longport, had come up with the idea of an outdoor festival for South Jersey. When the racetrack appeared off to the side, Spivak veered off the road.
"I had no intention of going there when I started driving," said Spivak, 87. "But there had been an outdoor festival at a racetrack in Miami, and that was on my mind when I saw the race course. I said to myself, 'You know what? Let me pull in and talk to some people.'"
Track owner Robert Levy happened to be there that day, and Spivak pitched the idea of a three-day music festival.
Levy initially turned him down, thinking the track had no open dates that summer, but another track official walked by and mentioned the track would be closed for the first weekend in August as it started to prepare for a harness-racing meet.
"Mr. Levy asked me how much they would get and I told him 17.5% (of the gross)," Spivak said. "He said, 'You got a deal!' I told him my lawyer would get in touch with his lawyer to work out the details, and he said, 'I don't need any lawyer. Let's just shake hands on it.' So that's what we did.
"We didn't have much of a budget back then. I borrowed money from my attorney's father and started rolling. It was a very grassroots kind of promotion."
A woman who was a spectator at several Electric Factory Concerts served as the model for a poster, which has since become a collector's item. Manager David Kasanow and another employee grabbed some posters and tickets and traveled up and down the East Coast in his mother's Volkswagen Beetle, hanging posters in windows and giving away tickets on radio stations.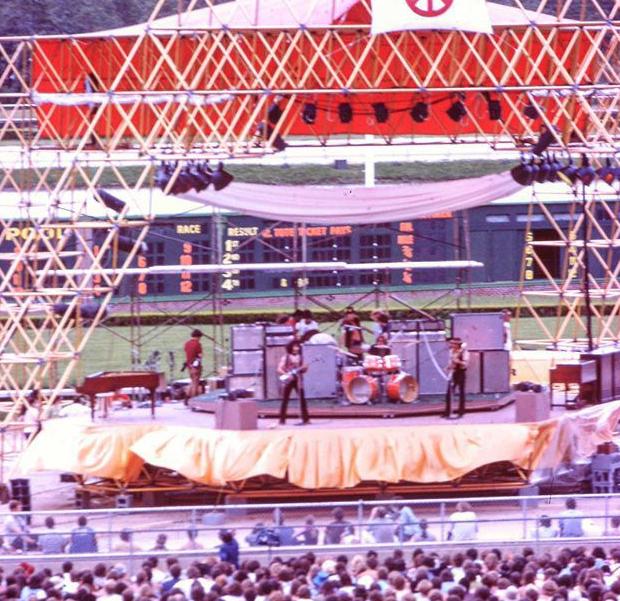 Spivak said he booked Joplin, paying her $20,000 and two cases of Southern Comfort. Magid went to work on booking the rest of the acts. He filled the schedule with an interesting variety of music that included jazz drummer Buddy Rich; blues guitarist B.B. King; folk artists Tim Buckley, Joni Mitchell and Crosby, Stills and Nash; pop artists like Creedence and 3 Dog Night; and rockers such as Cocker and Little Richard.
"We had the idea of having a festival that was different than any other," said Magid, 76. "We had a few different genres. And we tried to keep the flow going, so it would be compelling and the people would want to see every act."
To accomplish the feat, organizers used a revolving stage. One performer would play while the other set up behind them. When one was done, the stages were rotated by hand so there was only a 15-minute break between acts.
The strategy worked. Lured by the list of performers and low ticket prices — $15 for all three days or $6 for one day — fans poured into Hamilton Township from all over the country. Traffic on the Black Horse Pike was crammed. Hotels, motels and nearby campgrounds were filled.
In Ocean City, almost a dozen surfers skipped the waves on 16th Street, piled into Monroe's red van, relaxed on the shag carpet interior and took off for the racetrack.
"I was only 14 years old and my mother was livid, but she let me go because my brother, Pete, was going," said Sandy Ordille, 64, who lives in San Diego. "I remember Barbie (Belyea) and I were sitting on the grass inside the gate at one point, and this big school bus with a hippie flower pulls up. People were climbing onto the roof and then jumping the fence to crash the festival.
"Some guys were trying to pick us up, and we took off. I ran down the dirt horse track and wound up behind a bunch of huge trucks. Jefferson Airplane was on the stage and one of the guards pulled me up and let me stand to the side. I was 15 feet away from Grace Slick and just stood there in awe."
The organizers sold 120,000 tickets — 40,000 for each day — but more than 5,000 people found a way to get inside without paying.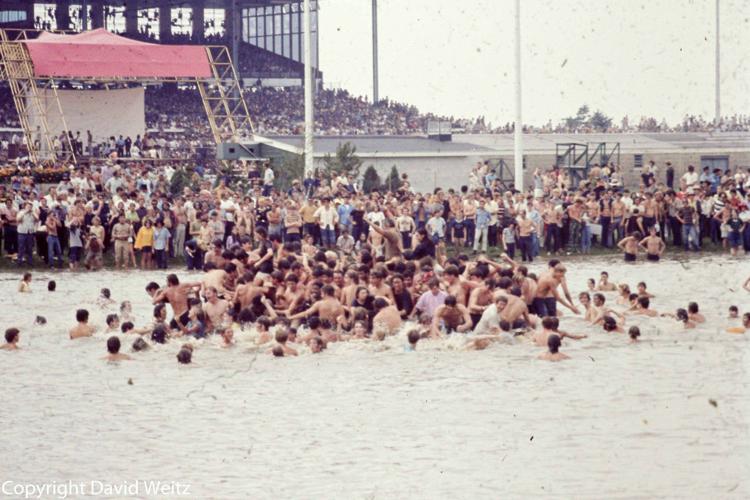 They found a camping area on the far reaches of the track. In the morning, they would jump the fence and run down to the infield. Because of the heat and humidity, they would also jump into the lake on the infield to cool off. Track workers helped out by spraying water from fire hoses into the crowd.
"We called the area where they were staying 'Ripple Hill' because that's what those kids were drinking," Magid said with a laugh at his Longport home.
Local fans got their first experience with the hippie culture.
Atlantic City resident Barbara Brown, who was 15 at the time and getting ready for her sophomore year at Oakcrest High School, attended the first day of the festival Friday and quickly realized she had to make some wardrobe changes before she returned Sunday.
"On Friday, I felt too straight and looked too clean and out of place with so many hippies around me," Brown said on Facebook. "On Sunday, I wore scruffier bell bottom jeans and a wrinkled flower-child looking top. I walked around our yard barefoot before we left so I would have dirty feet. My hair was long and straight, and I purposely didn't wash it. I added some beads and a headband. I felt less out of place, and I had more fun."