After three and a half months of South Jersey Snow Specials, the South Jersey Snow Sweepstakes is now complete.
Our Dec. 1 to St. Patrick's Day sweepstakes period could be seen as a relative of March. In like a lion, the first week of the sweepstakes in December brought in snow that hugged the Atlantic City Expressway and the Expressway only. Then, as we rounded out the last few weeks of March, quiet weather followed with little to no snow. In between, came four events that made the southern half of the state kings of the snow, giving way to a seasonal total just around the average, while the rest of the state stayed well below. 
UPPER DEERFIELD TOWNSHIP — Lynn Maun heads outside her home each and every morning to a gree…
During the last week of the contest, March 11 to March 17, no measurable snow fell in any of the six South Jersey Snow Sweepstakes sites: Lacey Township, Upper Deerfield, Hammonton, Atlantic City International Airport, Woodbine and Wildwood Crest. In fact, it was a rare dry week, with only a few rain showers on Friday night from a broken line of thunderstorms. With that being said, here's the look at the final standings.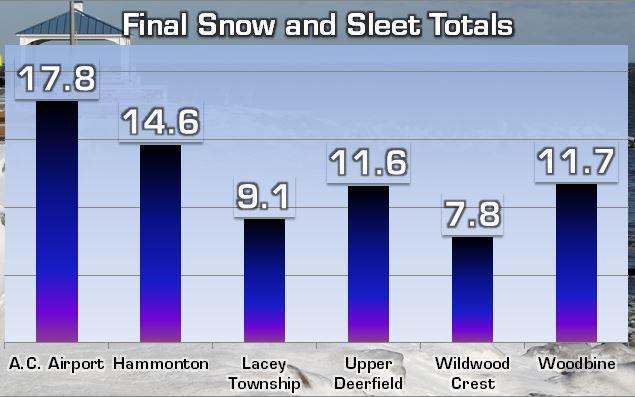 With a clean sweep of the Sweepstakes Period, Atlantic City International Airport takes home The Press' of the golden snowglobe. However, the airport does not win the opportunity of a personalized forecast, you do. 
For the third week in a row, Lisa U-B leads the South Jersey Snow Sweepstakes and earns a personalized forecast for taking the top spot during the most important week. Per the rules, the top contestant would guess the correct location first and then be the closest to the total. Lisa picked Atlantic City International Airport to receive 18.5 inches of snow. There was one person who picked 18 inches, but it was for Hammonton. Congratulations, Lisa! You might have a career in weather ahead.
A.C. Airport was not the most picked spot. It came in second place at 27 percent. Hammonton took the top spot at 40 percent. Like picking your NCAA Tournament Bracket, Hammonton was the "chalk" pick, with 18.1 inches of snow on average, the highest of the sites. 
Nice job to Lisa again! Thank you to everyone for playing. If you missed out, don't worry, we're looking to come back next winter (which, hopefully will be a long, long ways away). This year was a kind of test run, so expect a bigger and better contest next season.
Well before winter, when the beaches bustle with activity and the boats buzz around the bays…