9:00 a.m. update: The rain and thunderstorms are over. As a result, the flood advisory has been cancelled. An area of rain will be moving into South Jersey around 9:30 a.m. However, this is of the light to moderate variety, and should not cause any issues.
Heavy rain from early Monday's thunderstorms, as well as continuing rain after the storms passed has prompted the National Weather Service to issue a flood advisory.
The urban and small stream flood advisory, in effect for all of South Jersey, will be in effect until 8 a.m. on Monday. Between a half to one inch of rain has fallen throughout the region, most in a short amount of time. 0.18 inches of rain fell near Egg Harbor Township in 5-minutes around the 5 a.m. hour. No coastal flooding will occur with this.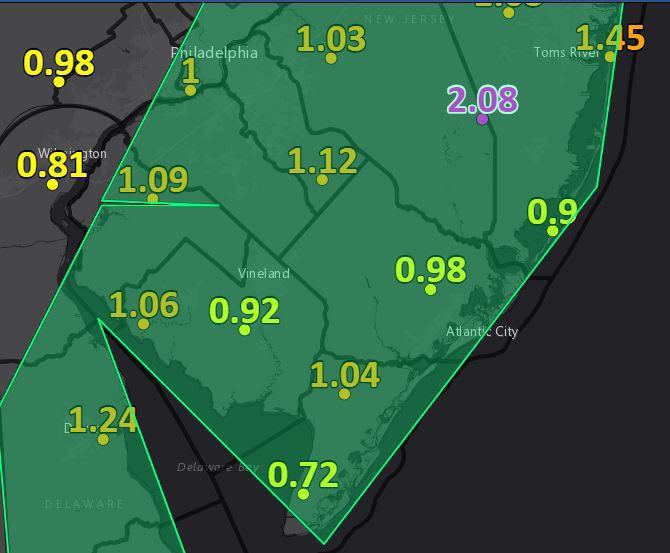 As of 6:30 a.m., the Absecon Creek is Absecon is in minor flood stage. Water look to keep rising into the morning hours. Flooding begins on the White Horse Pike in Absecon in minor flood stage. Shore Road and New Road in Absecon may see water as well.
Give yourself extra time on the roads for the Monday morning commute. While rain ends by 7:30 a.m., issues can linger beyond when the rain stops. 
Lingering power outages will be present through the morning. In addition, a wind advisory will be in effect from 12 p.m. to 10 p.m. on Monday as the cold front leaves the coast. 
The thunderstorms, tornado watch and severe thunderstorm warnings are over. The rain will ta…
Power returned to homes in Atlantic City Monday morning after thunderstorms caused outages f…