Later in the week, Hurricane Florence will likely make landfall on the East Coast or stay just nearby. Some impacts to South Jersey are anticipated, but the direct impacts likely will stay to the south.
As of Sunday afternoon, states of emergency have been declared in Virginia, North Carolina and South Carolina ahead of the storm.
Florence will continue to only pose hazards to mariners over the next couple of days. It will move west-northwest through the open Atlantic, passing between Hispaniola and Bermuda on Tuesday. With water temperatures well above the 80 degrees needed to strengthen a storm, it will develop into a category 4 storm, a major hurricane.
From there, it makes a move never seen before in recorded history since 1851. Instead of making the common turn to the north and then east, spinning harmlessly out to sea, it will continue west-northwest past Bermuda, taking aim for the East Coast.
For South Jersey, a direct landfall is looking less and less likely. However, it is not out of the cards yet. Sunday was the day to tell whether Florence would turn out to sea or make it toward the East Coast. The science supports an East Coast landfall or at least a close brush by.
To help you plan your week ahead, here is what is known about South Jersey impacts from Florence:
The National Hurricane Center has its cone of uncertainty somewhere between South Carolina and Virginia on Thursday night into Friday. This keeps South Jersey outside of the cone. There is the potential to shift.
A powerful high pressure is causing Florence to steer into the East Coast, though hurricanes do want to move north, as it transports heat from the lower latitudes. If high pressure is weaker, it would give the ability for Florence to move north. Again, this is unlikely.
The National Hurricane Center has another pocketful of improvements to help you this hurrica…
... Even still, indirect impacts likely
Regardless of a direct landfall, South Jersey can see Florence's effect as early as late Wednesday. Coastal flooding, which has impacted the region since Friday, will return for the end of the week and into the weekend. Strong southeasterly winds will cause nuisance flooding, if not more. It is also possible to see tropical storm-force winds along the shore sometime between Thursday and Sunday. High surf and deadly rip currents are almost a guarantee during this time, too.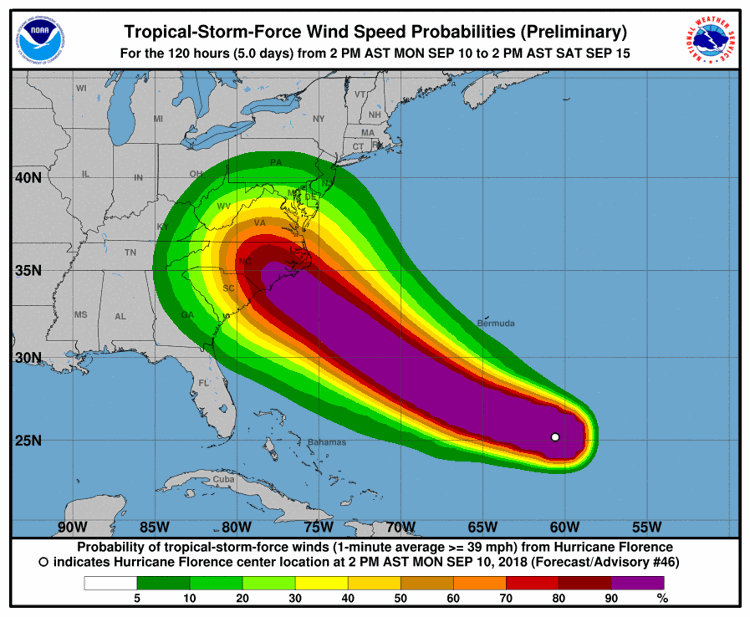 Think about an action plan
Check to make sure that you have gas for a generator, extra batteries, non-perishable food and drinking water. A hand-crank radio is helpful as well. There is no need to run out for them just yet, but think about what you made need. If you have a second home at the shore, make sure it is prepared for coastal flooding and gusty winds.
When flooding rains, driving winds and coastal flooding are ready to come to New Jersey rest…