Capt. Wesley Starn's life was one of relentless adventure.
Held back by dyslexia as a child, he went at the world with an "I'll show you" attitude and an inexhaustible bucket list, said his daughter Dorlynn, of Philadelphia.
A member of the Starn family that owned supermarkets across South Jersey, "Wes" conquered land, sea and air as a paratrooper, pilot, motorcycle enthusiast, unicycle hobbyist, hunter, rescue diver and boat captain.
Dorlynn compared him to Theodore Roosevelt and Ernest Hemingway, a rugged individualist, or Renaissance man.
"I've always thought my dad was born a hundred years too late," she said. "He was kind of a little bit of a black sheep. Because he wanted to be his own man."
The Pleasantville native died of complications from Parkinson's disease on Dec. 27 in Port Salerno, Florida. He was 82 years old.
The 13th of 15 children, Starn's family owned grocery stores in South Jersey that are now ShopRite locations owned by Village Super Market, Inc., including current stores in Somers Point and Absecon.
He met his wife, Ruth B. Starn, 76, in the early 1960s when she was a meat wrapper and he was a butcher at the family's original Pleasantville store. He eventually served as CEO. The company's sale in the 1980s allowed him to retire early.
He suffered from dyslexia as a child at a time when the condition was often mistaken for stupidity, Dorlynn said.
"That was very crushing to him, like all of his life," she said. "He never really got over that."
It did, however, push him to challenge himself and others' idea of him, Dorlynn said.
Starn left Pleasantville High School in 9th grade and, with his parents' permission, enlisted in the Army. He was a paratrooper stationed in Germany. He didn't leave parachuting in his military days, though. He began skydiving again later in life and did his last leap when he was 81 years old.
He bicycled from Atlantic City to his home in Florida in 10 days in 1991. He rode his motorcycle in 1975 from New Jersey to Alaska, a trip that took 33 days and spanned 12,000 miles.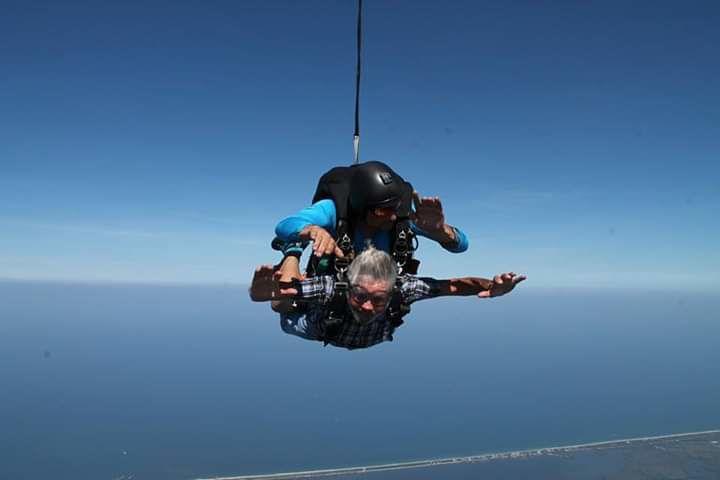 He rode BMW motorcycles as a young man but mostly stuck to his Honda Gold Wing when he was older. He crossed every state in the Continental United States, Alaska and every Province in Canada on bikes, motorhomes, cars and trucks. He liked to tell people that he had been within 100 miles of every city in America, Dorlynn said. He was a "goal-oriented person."
"He just had this huge, huge list of cool things ... that he wanted to do," she said. "And he did them, he pursued them. And it helped that he was a pretty solitary person."
He had a litany of aviation licenses, and could fly gliders, single-engine planes, multi-engine planes, commercial aircraft and helicopters, almost every type of flight craft besides balloons, Dorlynn said.
He wasn't limited to the skies. Wes' father taught him to sail, and he rode motorboats and went water skiing as an adult. He spent many days rowing with his wife Ruth in retirement and became a rescue diver with his son Wesley, who died in 1995 in a boating accident.
The urge to prove himself remained intense throughout his life. Starn's uncle was Captain Clarence Starn of Captain Starn's restaurant in Atlantic City. Decades after their uncle died, Starn's younger brother said he was the last "Captain Starn" in the extended family. In an act of one upmanship, Starn — then in his 70s — entered Chapman School of Seamanship and earned his "Masters-100 Ton, Near-Coastal with Sail Endorsements license," according to his obituary. He was, from then on, a "Captain Starn" himself.
Ruth said he was an avid hunter, a "fantastic shooter" who "loved his guns" and tagged bears, caribou and elk, and always returned with stories from his expeditions in Alaska. And though he didn't excel in school, he was smart and insatiably curious, Ruth said. Anywhere they traveled, he needed to visit local museums and soak up any information he could, she said.
"He loved to do that," Ruth said. "If he was interested in something, he found out about it."
Asked what she'll miss most about him, Ruth said, "Just him. Period."
"All I know is he was always there for me when I needed him," Ruth said, "and as a father, he was a very good father to the children. He really was."
He kept a distinct style, sporting a handlebar mustache before it was trendy and always keeping his shirt sleeves turned up "just right," Dorlynn said.
Dorlynn will remember his character as much as his can-do spirit and personal flair.
"He always lived by his own code and he was a very honest man, like his father," Dorlynn said. "He was a truthful person, which is a nice thing to be able to say about your father."