For many, the end to the heat wave that comes Monday will be a much-needed break. However, to get from record breaking to a calmer summer weather pattern, we'll need the assistance of a powerful cold front that may bring flooding rain and strong storms.
Let's go back in time before we go forward, though. Saturday broke all kinds of temperature records in South Jersey. At Atlantic City International Airport, our official climate station in southeastern New Jersey, the thermometer stayed just a shade shy of 100 degrees, at 99.
While an excessive heat warning is in effect for South Jersey this weekend, local businesses…
However, that was still enough to break the daily temperature record, which was 97 degrees in 1991. Meanwhile, it is the overnight heat that is the worst for those without air conditioning. We only dropped to 81 degrees Saturday into Sunday. That also broke a daily record. Not only that, it was the sixth warmest night, since records started in 1943.
Other climate sites in South Jersey also broke records. Cape May broke a pair of records Saturday in the hottest day on record, at 96 degrees, as well as the warmest overnight low, at 78 degrees. Cape May's observational history stretches all the way back to 1894, making the record even more impressive.
Millville Executive Airport did not reach a record high, but did break the daily maximum low temperature, also at 78 degrees. That was the 10th warmest night of record keeping that runs back to 1947.
ATLANTIC CITY — Some evenings inside Ida Lee Corchado's School House apartment were so hot i…
The official numbers for Sunday were not in yet at the time of writing. However, we had our first 100-degree day since 2012. This also broke the daily record high temperature of 99. I also imagine the record for the warmest overnight low temperature will be smashed from the 77-degree mark set back in 1991.
This won't be publicized in any records, but the temperature near 10 a.m. was 92 degrees. According to Iowa State University, never before has the temperature been that hot at A.C. Airport, that early, which is a testament to how hot the nights have been during this weather pattern. I hope everyone found plenty of cool time and no one suffered.
OK, back to our forecast. We'll get the heat out of the way first. My high is 90 degrees for Monday. Assuming we get there, we'll extend our heat wave to seven days (we had an eight-day heat wave last year). Longer heat waves are becoming more common. According to Climate Central, the average length of the heat wave has increased from four to six days since 1970 in the region.
The day will start out with sunshine. However, a cold front will encroach upon the region. Behind it is seasonable, drier Canadian air. With it, are showers and storms. Compared to Sunday's edition, the timing did need to be moved back, encroaching in on Tuesday.
Rainfall activity will begin between 3 and 5 p.m. This won't be everywhere. In fact Cape May County looks to be relatively dry for the day.
Where it does rain, though, it will have the potential to be heavy. Flooding rain will be possible, mainly away from the Pine Barrens. The shore towns, as built up as they are, will also be vulnerable. Remember to turn around when you see water on the roads.
Not only that, but the clash of hot and cool air will bring the potential for severe weather. A damaging wind gust can't be ruled out into the evening.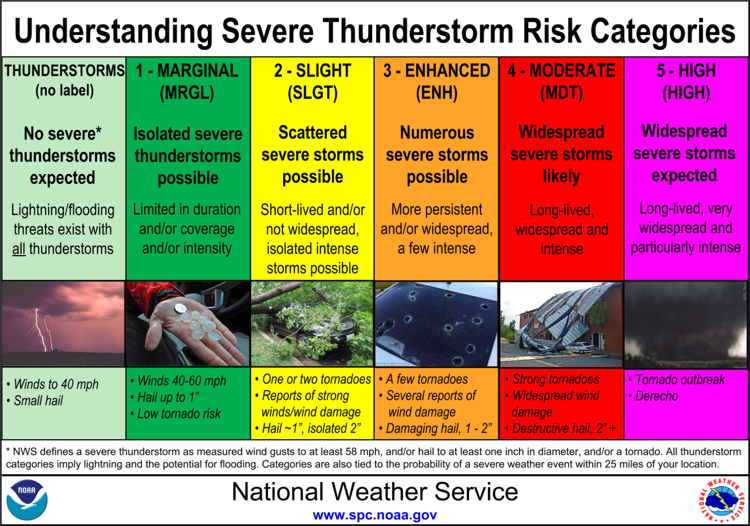 It should be a gusty evening and night regardless as the cold front, and its associated low pressure system, work through. It'll be from the southwest, then north, then northwest, working in that drier air around 15 mph.
We look to have a little break from the rain during the predawn hours of Tuesday. Then, another round of rain will bubble up from the South. Expect periods of rain from between 4 a.m. and 7 a.m. and 10 a.m. and 1 p.m.
Due to the morning timing, heavy storms will not be likely, but you'll want the rain gear for your trip out the door. Watch for roadway flooding still, though.
The afternoon will then see slowly increasing sunshine and slowly increasing comfort. You might want a jacket on with a high temperature only around 80 degrees. Tuesday night will then be the first time in a while you can leave the windows open. Morning lows Wednesday will be 65-70 degrees.
We'll then be left with a much-needed benign pattern for the remainder of the week, and into part of the weekend. With Canadian high pressure in store, expect highs in the 80s on the mainland and the shore. Dew points will sit in the "touch humid" 60-65 degree range. However, given where we've been, it'll feel dry. Overnight lows will generally be 65-70. Overall, a comfortable stretch for late July.
Finally, one last note. Thank you all for sending in your observations and being a part of the community on our website and especially on social media. The numbers showed that The Press is a trusted place for weather. I'll be putting out forecasts from the green screen and on location all week long as we track the end of the heat, storms and refreshing weather to come.
While an excessive heat warning is in effect for South Jersey this weekend, local businesses…