6:20 a.m update: Good morning! The day is here and we have two National Weather Service hazards to let you know about.
A flood watch will be in effect from 10 a.m. Thursday morning into the evening. Rainfall totals of 1.25 to 2 inches across South Jersey will promote a higher than usual amount of flooded roadways. This is especially true due to the leaf-clogged drains in some areas. Flooding shouldn't occur until late in the afternoon and evening, though, as the heaviest lifts through.
As we mentioned earlier, Cape May, Atlantic and Ocean counties will be in a wind advisory from 1 p.m. to 11 p.m. Isolated power outages are a threat. 
Timing, Impacts and Original Story
Our second coastal storm of this week will bring rain, damaging winds, a round of coastal flooding and the first taste of wintry weather to South Jersey Thursday. A quiet weekend will then be in store.
It will look like the calm before the storm on Thursday morning. We will have a cloudy sky with a cold, damp feel to the air.
Temperatures on Thursday morning will start out in the upper 20s west of the Parkway, with mid-30s at the shore.
Even though the turkey hasn't been put on the table yet, snow season, and the winter of 2018…
These temperatures will be important. Even though we will have an onshore, northeast wind blowing, temperatures will not rise all that much throughout the day.
For those along and east of the Parkway, plus all of Cape May County, all rain will be expected, beginning between 9 a.m. and noon. To the west of there, the first sights of winter will come as the cold air will not fully escape just yet. Expect sleet to fall at the onset, before mixing with and changing to rain by 1-2 p.m. Little (less than a half inch) to no accumulation will be expected. Regardless, take it slow driving.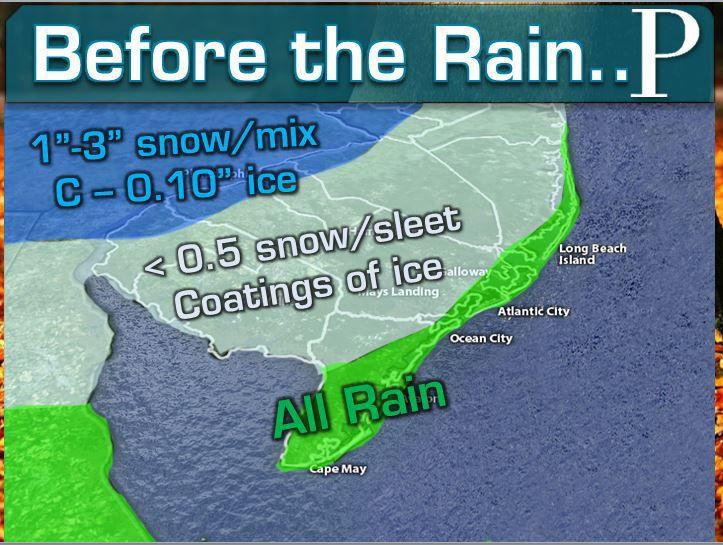 It will be remembered as a storm with heavy rain and strong winds. However, for some in Sout…
Then, the afternoon will see a wind-driven rain. Sustained winds of 20-30 mph will be likely. At the shore, the winds may be the biggest issue. Gusts in the 40s can knock off tree branches and down power lines. Isolated power outages will threaten.
A wind advisory will be in effect from 1 to 11 p.m. to account for the winds.
Otherwise, it will be a raw, raw day. High temperatures will stay in the 40s, highest at the shore. Wind chills will make it feel like the 30s. Dress warmly if you will be outside.
The rain will continue through a messy evening commute as the heaviest rain comes during this time.
Rain will continue into the evening. The center of the low will pass very close to us overnight Thursday. This will bring a dry and warm slot of air. Temperatures will rise overnight as the rain slows down after midnight. However, we will watch for another phase of the coastal storm to impact us, coastal flooding.
Coastal flooding will always be a concern, and that concern has steadily increased in recent…
Minor coastal flood stage will be possible during the early morning Friday. Move your cars if you need to and prepare for additional water on bayshore roadways.
There are many different types of flooding products put out by the National Weather Service.…
For those in Cape May and Cumberland counties, this may be it for the rain. The winds will diminish everywhere. For the rest, a shot of rain showers (possibly mixing with snow) will finish it off during the Friday morning commute.
Rainfall totals of 1.25 to 2 inches will be likely when all ends. Pockets of roadway flooding will be likely through the storm. A strong northwest wind will blow Friday morning, drying us out and clearing us out. The afternoon will see sunshine as highs rise into the mid-50s, a quieter end to the week, with a calm weekend to go with it.