We continue to be high and dry for the next several days as a large area of high pressure keeps filling into the region.
Plentiful sunshine will continue to be around for the morning. Temperatures started out in the low to mid-30s around sunrise. As high pressure continues to expand into the area, the morning does start off breezy likely Monday. Northwest gusts to 30 mph will be likely at times.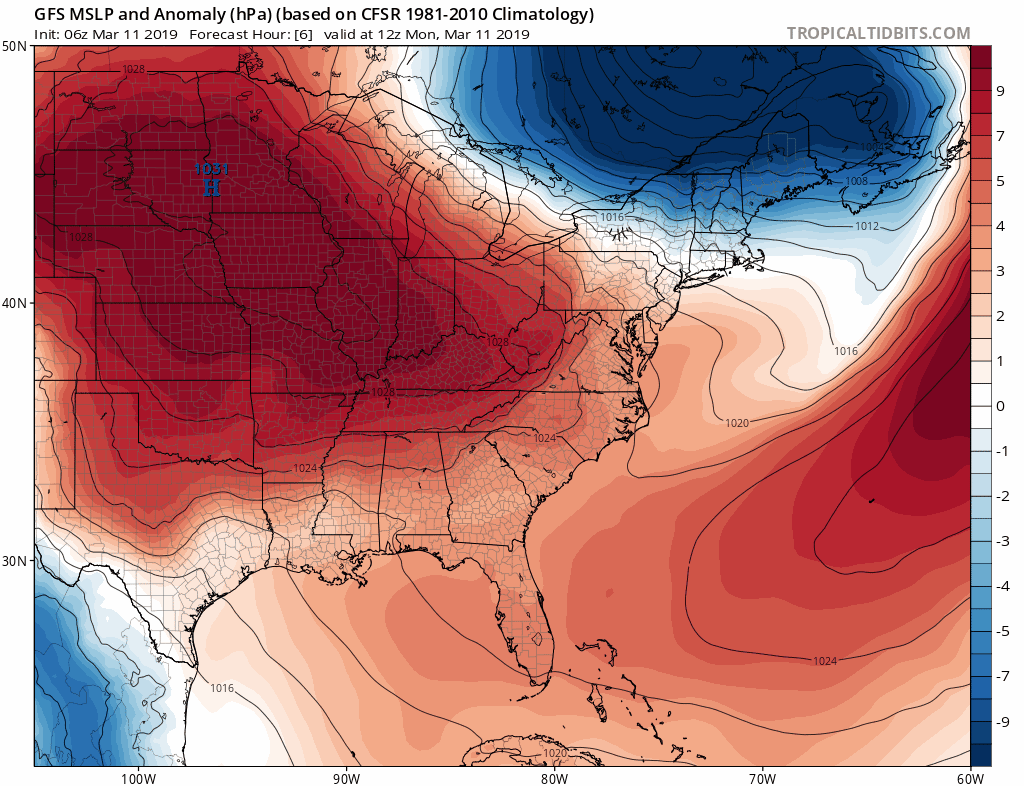 The winds will diminish at the center of high pressure comes closer. Highs will be in the mid 40s for the afternoon. We will be on the eastern side of a ridge of high pressure. Given the clockwise flow of the high, that means northwest winds for us and cooler air. However, it will be short-term pain for long-term gain.
With a clear sky and calm winds, temperatures will fall fast Tuesday evening, sliding through the 30s.
By sunrise Wednesday, it will be jacket weather. Lows will be in the upper 20s or around 30 degrees.
MAYS LANDING — During Hurricane Sandy, cultural hubs like libraries turned into places of co…
However, the sun will be the great equalizer.
A slight southwest wind and the ridge then sitting overhead will pop temperatures back around 50 degrees. Morning sunshine will be plentiful. Then, a thin blanket of mid-level clouds will filtered out the sun. Event still it will feel even warmer with the sunlight. The heat will not have to work as hard Wednesday night, as temperatures bottom out to seasonable levels.
High pressure will then slide offshore Thursday.
This sets up a "return flow," meaning southerly winds.
It comes at the expense of some extra cloud cover, but it will still just be partly sunny.
Afternoon temperatures will feel like spring is just sitting around the corner. We'll rise up to around 60 on the mainland! The shores will be in the mid-50s. Overall, a comfortable day for outdoor work.
Annual Oratorical Contest at Atlantic City High School
The Atlantic City Schools District Oratorical Contest was held on Thurs., Feb. 28, 2019 at the A.C. High School Auditorium. 
The contest challenged students to explore and attempt to answer the questions What does it mean to be an active citizen in the 21st century?
Students were judged for content, vocal performance, speaking ability and more. Ages were broken down in grades K-2, 3-5, 6-8 and High School for 3rd, 2nd and 1st place winners. 
Meteorologist Joe Martucci was selected as one of the contest judges. He was joined by Mr. Damon Tyner, Atlantic County Prosecutor, and Ms. Patricia Weeks of Stockton University. James Knox, Principal of New York Avenue School, served as the Master of Ceremonies.  
We are still monitoring the only wet part of our forecast, a cold front passing through Thursday night into Friday.
My thoughts have not changed much since Monday's column — a complete washout isn't expected.
However, hit or miss showers during the day will be expected. The afternoon looks wetter than the morning hours at this time. 0.50 to 1.00 of rain will be expected. Areas of roadway flooding will not be ruled out. 
Expect a strong south wind, with highs topping out around 60 on the mainland. You'll probably notice a smidge of humidity, too.
South Jersey will then cool down behind the cold front.
Saturday will see a breezy northwest wind around 10 mph sustained.
That'll bump temperatures back to reality. With increasing sunshine, highs will stay around 50.