Wednesday's nor'easter brought up to nine inches of snow and broke the record for most precipitation at Atlantic City International Airport. Totals did vary across Southeast Jersey though, with a tight gradient setting up.
Compared to the rest of the New Jersey, our corner of the state was sparred from the brunt of the piling snow. However, snow did fall across South Jersey twice on Wednesday.
Snow fell early on Wednesday morning. The rain/snow line pushed as far east as Millville and Hammonton. During by the morning rush, a nose of warm air aloft, thanks to easterly winds, changed any snow over to rain. As it did, we had thunderstorms and even the elusive thundersnow! Rain fell during the morning. However, between 11:30 a.m. to 2:30 p.m. the rain/snow line crashed from the New Jersey Turnpike all of the way to the coast as winds flipped to the north and brought colder air back in.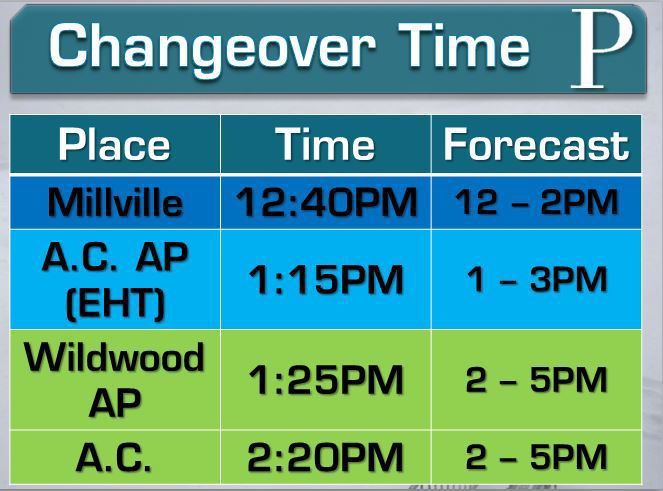 Snow was moderate at first. Not all of the snow was sticking to the roads. However, many capped the storm off with a bang. Strong upward motion created a heavy band of snow. This band passed through our region (save most of Cape May County), with 2 to 3 inch per hour rates and whiteout conditions. Snow ended between 4 p.m. to 7 p.m., lingering a little later in Ocean County.
Soak this loop in. You'll be hard pressed to find the radar light up red for #snow. 2"-3" per hour rates are in this band. Brigantine and LBI will accumulate quick. Whiteout. 😲 #NJwx pic.twitter.com/w8aUdoqomz

— Joe Martucci (@ACPressMartucci) March 7, 2018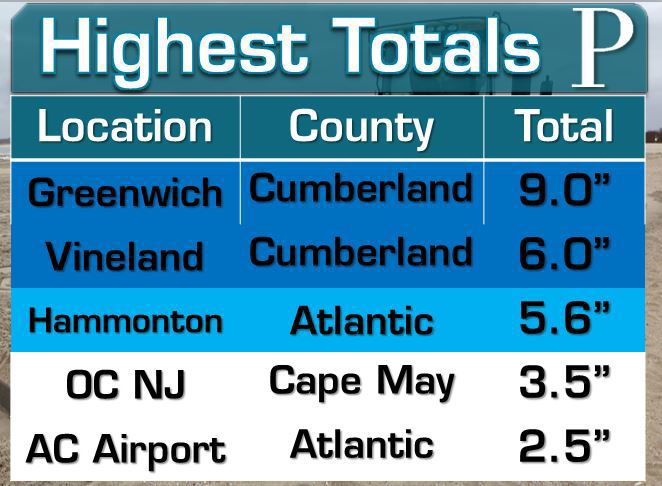 Springtown, part of Greenwich Township in Cumberland County, took home the top spot with 9 inches of snow. The Delaware Bay community also had 6.5 inches of snow in another part of town. Vineland received 6 inches of snow, with similar numbers along the Route 54 corridor.
Two to four inches of snow fell in most of Atlantic and Ocean Counties west of the Parkway, as well as in northern Cape May county. Atlantic City International Airport officially measured 2.5 inches of snow. Even Ocean City reported 3.5 inches of snow, in addition to the coastal flooding they received.
East of the Parkway and southern Cape May county had the short end of the (snow) stick. Only up to two inches fell, including 1.6 inches at The Press office. 
2.11 inches of rain and melted snow fell at Atlantic City International Airport from Wednesday's system. This breaks the old record of 1.65 inches back in 2008. It is a testament to how strong the storm was. It is just an addition to what has been one of the wettest starts to the year on record.