MAYS LANDING — During Hurricane Sandy, cultural hubs like libraries turned into places of comfort, providing power and assistance to emergency workers who came to towns' aid.
Now, the New Jersey Cultural Alliance for Response is coming to the aid of community leaders to better prepare their financial assets when disaster strikes.
An NJCAR Disaster Planning 101 Meeting was held Wednesday at the Atlantic County Library in Mays Landing. NJCAR was founded to prevent and mitigate the loss of cultural and historic resources in the event of a disaster.
For many local historic and cultural establishments in the region, the lack of full-time staff or large volunteer efforts means places like historical societies and art galleries are often at a loss when disasters damage assets that thread together the cultural fabric of a community.
"You're depending on volunteers who may not be able to get out to events like this," said Kimberly Brown, administrator of the Atlantic County Office of Cultural and Heritage Affairs.
The meeting assisted attendees in writing a disaster plan, strengthening bonds with emergency management officials and getting their voices heard.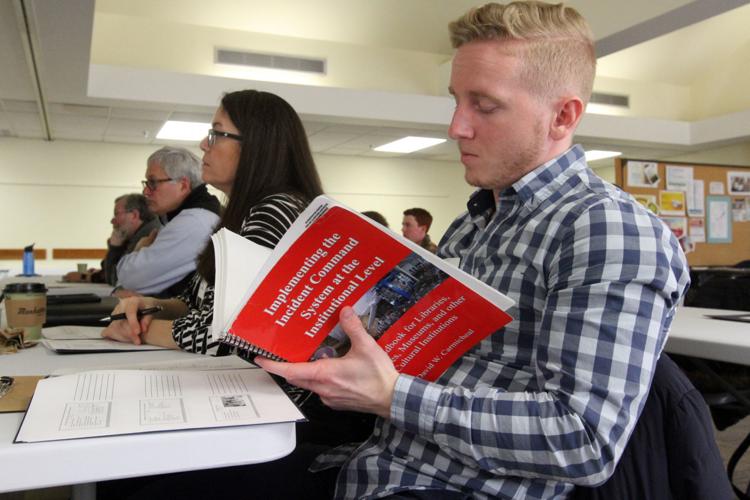 "Ideally, we want emergency management officials just to know us. We're holding the cultural heritage of the whole country. If there's an HVAC leak on the Constitution, that is a natural disaster," said Samantha Forsko, preservation specialist at the Conservation Center for Art and Historic Artifacts. Forsko led the discussion and travels across the country helping institutions.
According to an analysis by TIME magazine, South Jersey ranks at the top of the charts when it comes to natural disasters. Ocean County is the most dangerous county in the nation, based on the magazine's Disaster Index. Cape May County came in third place.
A Code Blue alert, intended to assist municipalities in protecting vulnerable citizens durin…
"Flooding is the No. 1 disaster," Forsko said.
If something such as an old school high school photo becomes damaged, it can be restored by bringing it to a conservation center. However, "at the end of the day, we only have limited resources and we can only protect the most important things," said Izzy Kasdin, executive director of the Historical Society of Princeton.
For small historical societies and cultural centers that may not have the funding, digitization is highly recommended, in case a worst-case disaster scenario unfolds.
"We provide the tools and resources for these places without the funding to digitize everything," said Michele Stricker, deputy state librarian and preservation officer for the New Jersey State Library.
During Sandy, libraries became a focal point for some communities. Stricker said it was a place for citizens to charge their electronics and find out how to fill out insurance paperwork. Furthermore, some librarians were out with Federal Emergency Management Agency officials with paperwork. That was a turning point for NJCAR to be recognized as a vital part of the community.
"It was a recovery hub," Stricker said.
A $7,500 Performing Arts Readiness Grant through through Lyrasis, a nonprofit organization of library networks, is helping with this. The results have been seen over the years.
"We had no seat at the ROIC (Regional Operations and Intelligence Center) before Sandy," Stricker said of the state multi-agency information-sharing program. "Now, NJCAR has a seat at the table."