The first nor'easter of the season took a large bite out of area beaches as it meandered a few hundred miles offshore during the past week.
Higher and more-powerful-than-usual waves created sand cliffs 10 to 12 feet high up and down the coast. In Strathmere, there was a breach in the town's dune system.
On Monday morning, Cape May County Office of Emergency Management officials had a conference call with the state to talk about the damage along the shoreline. It's possible the Federal Emergency Management Agency will declare a disaster, which would open up federal funds to replenish beaches.
"The crews are going to be out on the beaches probably Monday and Tuesday doing natural assessments on how much beach was lost. We then take those assessments and turn them in to the state OEM. The state OEM will evaluate them, and if you come up to a certain threshold of damage and loss, they'll submit it to FEMA and request a declaration of a disaster," said Martin L. Pagliughi, county Emergency Management coordinator.
The coastal storm moved quickly up the East Coast last Tuesday. On Wednesday, the storm parked itself south of Cape Cod and east of the Delmarva Peninsula.
From there, it barely moved until Saturday. It did move slightly westward Friday when it became Subtropical Storm Melissa. When Saturday came, the high pressure system that blocked the storm from exiting to the open Atlantic Ocean moved out and the storm followed the high pressure out to sea.
The result was days worth of powerful waves crashing ashore. Significant wave heights, the average of the highest one-third of waves that occur in a given period, were modeled around 6 feet for Thursday and Saturday and 8 feet on Friday. The larger the waves in a storm, the larger the beach erosion.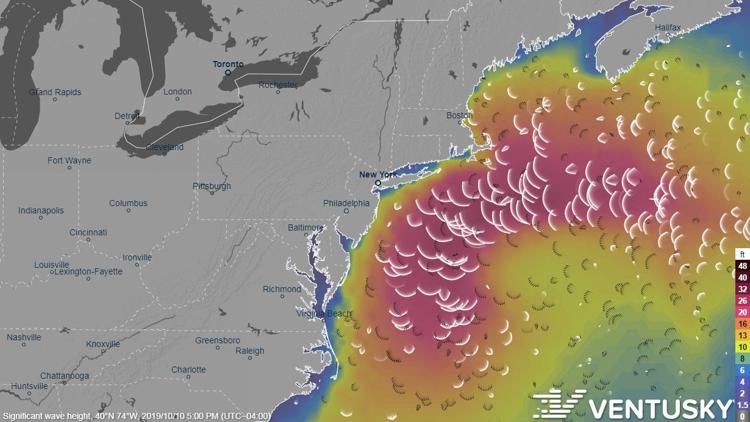 "We had major erosion in the north end of Strathmere, the north end of Avalon and the north end of North Wildwood. ... We knew it was going to last 3 to 4 days. ... That's where the beach erosion comes in," Pagliughi said.
In Strathmere, there was a breach in the beach. Water rushed through the opening in the dunes at Seaview Avenue due to the coastal flooding. At the Ludlam Thorofare tide gauge in Sea Isle City, the seven high tides between the Wednesday evening cycle and the Saturday evening cycle were in flood stage.
Three of those, the Thursday evening, Friday morning and Friday evening high tides, were in moderate flood stage. Up and down the shore, moderate flood stage was seen, the first widespread flood event that severe since Oct. 27, 2018, which was a Top 10 event in recorded history for Cape May, Ocean City and Barnegat Light.
Note: An error was made in Cape May in regards to the tide level. The tide height was 8.39',…
"We are having sand brought in Tuesday to temporarily fill the breach," said Scott Morgan, Office of Emergency Management coordinator for Upper Township, which includes Strathmere.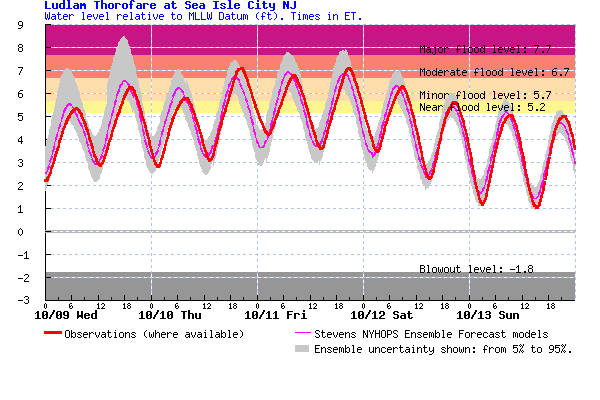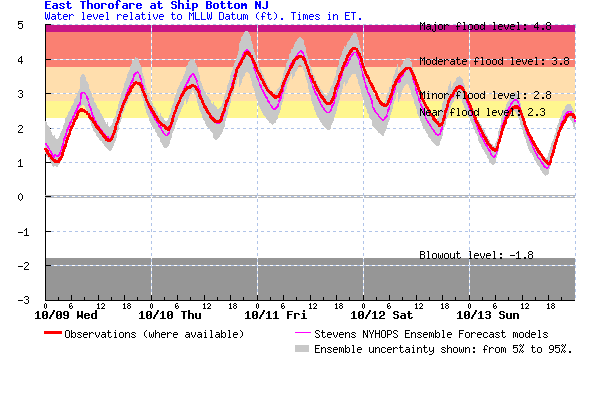 However, it is very early in the process and a disaster declaration is not a guarantee.
"We're a ways to even know if we'd have any federal money to replace it. ... It could take up to a month and it could take up to six months. It depends on how much additional detail survey work they would want," Pagliughi said.
Pagliughi, who is also mayor of Avalon, did not have an estimate Monday on how much beach was lost in the borough.
Pagliughi said it's tough to just look out at the vast cliffs of worn-down beach to know how much sand was lost.
There is a stroke of luck for some of the shore towns battered with the October storm, as more beach replenishment has been scheduled.
"Our next Army Corps (of Engineers) replenishment is tentatively scheduled for December and January," Morgan said.
In Avalon, construction equipment was already out near Ninth Street.
"We're a little bit more fortunate because we're starting to see the equipment mobilize for a mobile beach fill. ... We ought to have that done by December," Pagliughi said.
Mostly sunny
Mostly sunny with an isolated p.m. storm. that will linger overnight.
Partly sunny. Happy 4th of July!
Mostly sunny
Morning sun with a few afternoon clouds. An isolated p.m. storm will be around.
Mostly dry, with an isolated p.m. thunderstorm.
Morning sun mixes with just a few p.m. clouds.