GALLERY: Photos from Sunday's snowstorm
Update: Atlantic and Cape May counties have been upgraded to a winter storm warning by the National Weather Service, following in the footsteps of Cumberland County Sunday morning.
The warning, in effect through, 4 a.m., keeps the same timing as the previous winter weather advisory.
A winter weather advisory is in effect for Ocean County, still.
Dry air has seeped into the northern half of the state, cutting snow from a line Philadelphia to Toms River on north. Southern Ocean County will get into the dry air, too, this afternoon, cutting of the snow.
Meanwhile, those in the warning area can expect to see light to moderate snow continue into the afternoon and evening. Snow will not add up quickly, but the long duration event does make for travel issues. 
Update: Here are some snow totals across the region so far.
3.5 inches - Egg Harbor Township
3.5 inches - Mays Landing
3.7 inches - Egg Harbor Township
Update: Missed the Facebook Live held on The Press' Facebook page? Not to worry, it's here again for you. Over a dozen of your questions were answered as we gave out the current snow totals, where we're at and where we're going with this storm. 
Update: Cumberland County is now placed in a winter storm warning, an upgrade by the National Weather Service. In addition, the winter storm advisory has been extended.
The winter storm warning will remain in effect until 4 a.m. on Monday. The upgrade was warranted here because parts of Cumberland County likely see the most amount of snow with this storm, 4 to 7 inches.
A winter storm warning is put into effect when 
"Severe winter weather conditions will make travel very hazardous or impossible. If you must travel, keep an extra flashlight, food and water in your vehicle in case of an emergency".
In addition, the winter weather advisory has been expanded for Ocean, Atlantic and Cape May counties until 4 a.m. on Monday. This is likely to account for the slow end to this system. The last flakes likely do not leave Cape May county until close to midnight. 
Update: Good morning. Light snow fell overnight and this morning sees us transition from phase 1 to phase 2 of the storm. Phase 2 will bring heavier snow to places generally south of Route 40 throughout the day. 
Here are some totals as of 8:45 a.m.
Estell Manor - 2.5 inches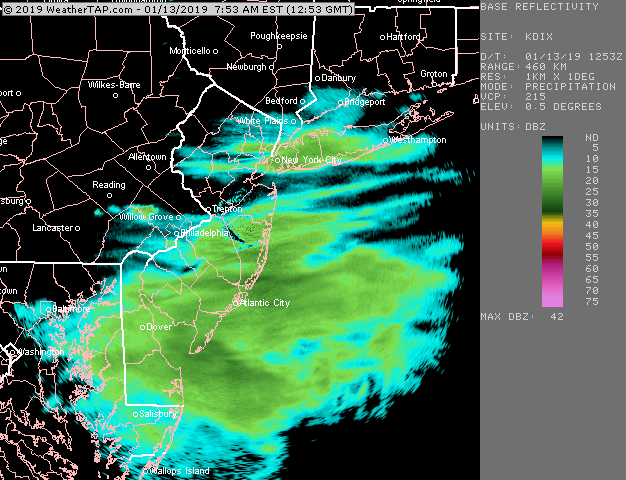 Snow is sticking to untreated roadways and surfaces. With temperatures staying in the upper 20s, they will continue to do so during the morning.
Also, for one reason or another, people find this a great time to go for a jog! Here is a video of one in Atlantic City. 
Update: Thank you to everyone who came to tune into our Facebook Live on The Press' Facebook account. We answered questions, talked snow totals and gave the full timing of the storm. If you missed it, you can view it here.
Update: I made a few tweaks to the snow map.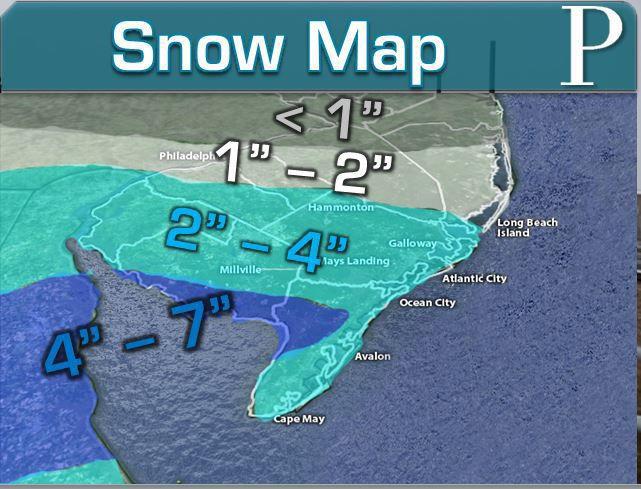 First, I increased the area that would see 4 to 7 inches to include roughtly the southern half of Cumberland County. This is because more precipitation will be expected in this area, which will fall as rain.
I also moved the 2 to 4 inch line about 10 miles north. This is not a huge jog, but with the more zonal, west to east path of the system, this lines up better.
Also, that dry air in northern New Jersey will be stubborn, so I moved the up to 1 inch line further south. 
A Facebook Live will be coming up on The Press' Facebook account soon. 
Update: The snow is falling in pockets of South Jersey, but not everywhere. Here's why. 
Update: Good evening! After days of anticipation, snow is developing in South Jersey. A two-part snow system will put southeastern New Jersey in the top spot when it comes to totals in the state.
Snow will be falling everywhere by around midnight. Then, expect a light, powdery snow to fall for the rest of the overnight. At some point around sunrise, the snow we see will transition, falling from a developing low pressure system off the North Carolina coast. 
Light to moderate snow will fall for the morning and into the midday. The heaviest will be in Cape May County, eastern Cumberland County and southern Atlantic County. Then, snow will very slowly taper off, from northwest to southeast, during the p.m. hours. Snow will wrap up around Cape May by midnight.
Here is a look at forecasted snowfall totals across the region.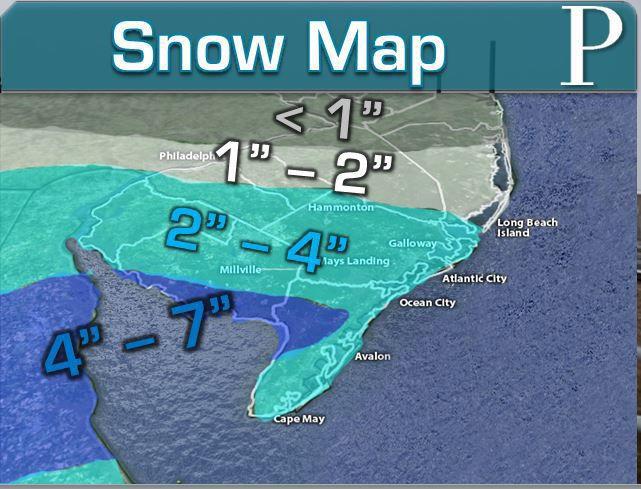 No coastal flooding will be expected with this storm. Additionally, winds will remain light. Atlantic City Electric is monitoring the storm. 
A two-part snow system will put southeastern New Jersey in the top spot when it comes to totals in the state.
As the sun rises Saturday, it will barely feel like snow will fall. A partly sunny sky is expected on a very cold morning. Low temperatures bottom out in the mid-teens in places like Mullica and Hopewell. The Garden State Parkway corridor will be in the upper teens, with mid 20s on the shore.
The center of the low pressure system that will bring us the wintry weather will be in Oklahoma on Saturday morning. While the center of it is so far away, a lobe of snow will extend out well to the east. A winter storm warning is in effect from the eastern suburbs of Kansas City out to Cincinnati.
Clouds will thicken as the afternoon goes on. High temperatures will be at or just above freezing.
A Code Blue alert, intended to assist municipalities in protecting vulnerable citizens durin…
Snow will develop between 8 and 11 p.m., due to that eastward lobe. You can consider that phase one of the system. Snow should have no problem sticking to untreated surfaces, as temperatures largely will have held below freezing since Thursday night.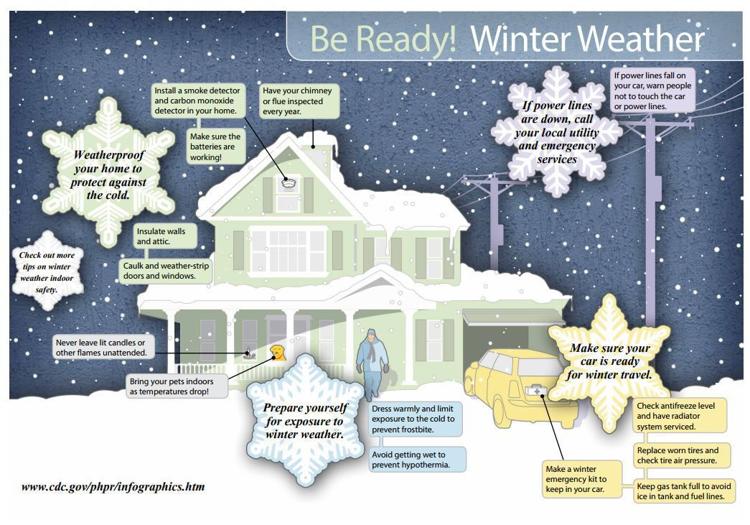 The snow Saturday night will be light and spread throughout the region. Take it slow driving, but you should be fine otherwise. Low temperatures will be in the mid to upper 20s.
Then, we will shift from phase one to phase two of the system. That lobe of snow will pass offshore. In its footsteps is a coastal low that goes off of the Virginia coastline. As has been said for a few days, this will not make a turn up the shoreline. Rather, it will track in a east-northeast fashion out to sea.
Model consensus came to the conclusion that snow does get thrown back into our coverage region Sunday. However, the snow may not make it everywhere. Those north of the White Horse Pike will see the least amount of snow during the day. Meanwhile, Cape May will see the most. Moderate snow will be possible in eastern Cumberland and then all of Cape May counties. No mixing will be anticipated.
Snow will end everywhere by 3 to 6 p.m. In terms of snowfall totals, expect 1 to 2 inches north of the White Horse Pike, with to 2 to 4 inches to the south. A winter weather advisory will be in effect from 7 p.m. Saturday to 7 p.m. Sunday. Fortunately, winds will be under 15 mph, so it should not blow around much.
Furthermore, coastal flooding will be held to a minimum. Only spotty, minor flood stage coastal flooding will be had during the high tides Monday.
UPPER DEERFIELD TOWNSHIP — Lynn Maun heads outside her home each and every morning to a gree…
Re-freeze is likely Sunday night, as temperatures dip into the low to mid 20s again. Dry weather will then be expected for the week.