New Jersey health officials say the number of deaths associated with the coronavirus in the state now tops 11,000.
The state health department posted information Saturday indicating that there were more than 153,100 confirmed positive cases of COVID-19 and a total of 11,081 deaths were associated with the virus.
Gov. Phil Murphy said Saturday the state had 443 new confirmed positive cases but had lost 96 more New Jersey residents.
But the governor said in a Twitter post that "a significant amount" of electronic laboratory reports haven't yet been processed "and may be affecting today's number of new cases."
For most people, the virus causes mild or moderate symptoms that clear up within weeks. Older adults and people with existing health problems are at higher risk of more severe illness or death.
___
Atlantic County health officials on Saturday reported 25 new cases of COVID-19 and 14 additional deaths.
The fatalities, related to complications from the new coronavirus, were identified in nine men and five women, all with pre-existing conditions and seven of whom were residents of long-term care facilities, according to a news release from county spokeswoman Linda Gilmore.
The nine men included four Pleasantville residents, ages 51, 62, 70 and 80; three Hammonton residents, two 66-year-olds and an 88-year old; and two Linwood residents, ages 80 and 88, according to the release. The five women included a 71-year-old from Absecon, an 86-year-old from Atlantic City, a 73-year-old from Egg Harbor City, a 91-year-old from Galloway and an 83-year-old from Ventnor.
Additionally, there were 25 new cases confirmed among 12 men, ages 27 to 71, and 13 women, ages 26 to 81, according to the release. Six new positives were found in both Atlantic City and Egg Harbor Township and three in both Hamilton Township and Pleasantville. Absecon, Buena Vista Township and Galloway all had two new cases and Somers Point had one.
So far, Atlantic County has reported 1,975 confirmed positives with 144 deaths and 712 residents cleared from quarantine. Cape May County has added six new cases for a total of 568 active cases with 47 deaths and 276 designated off quarantine. Cumberland County has reported 1,806 cases and 61 deaths.
For most people, the new coronavirus causes only mild or moderate symptoms, such as fever and cough. For some, especially older adults and people with existing health problems, it can cause more severe illness, including pneumonia.
Atlantic County will continue to provide COVID-19 testing next week, however, the testing location has been moved to Northfield, behind the county's Public Works facility at Route 9 and Dolphin Avenue, according to the news release. The new location provides greater protection from the elements in the event of inclement weather.
Testing will be available on Wednesday and Thursday from 10 a.m. to 1 p.m. for symptomatic county residents with a doctor's prescription, proof of residency and appointment confirmation.
Appointments can be made on the county web site at www.aclink.org. Those who are unable to keep their appointments are asked to cancel so others may have an opportunity to be tested.
—
On Memorial Day, Monday, May 25, the Atlantic County Veterans Services Office, in cooperation with local veterans organizations, will be providing a vehicle parade to express thanks to the healthcare workers and staff at Meadowview Nursing and Rehabilitation Center in Northfield as well as the 10-member VA Strike Team, which has been sent to supplement and assist the facility in its efforts to mitigate the spread of Covid-19, according to a news release.
The parade will include a Northfield police cruiser, fire truck and ambulance in addition to the vehicles of family members of residents and employees at Meadowview.
"I think this is a wonderful way to express our appreciation for the healthcare workers on the front lines who have worked tirelessly over these past three months under extremely challenging circumstances," County Executive Dennis Levinson said. "We are also grateful for the VA team that has offered to assist our efforts to mitigate the spread of Covid-19 among those in our care. It will also be a special treat for the residents who have been unable to see their loved ones."
Anyone from the public who would like to participate may do so by meeting in the parking lot of the Stillwater Building at 201 S. Shore Road in Northfield at 11 a.m. to form the parade line.
The parade will proceed down Dolphin Avenue and into the Meadowview facility. Parade participants are encouraged to decorate their vehicles and/or display messages of thanks and appreciation.
—
Atlantic City officials announced on Friday beach safety practices and city beach restrictions in an effort to mitigate the spread of COVID-19.
To inform and encourage compliance, all digital signs on the Boardwalk will display safety practices, according to a news release. Also, city personnel, police officers, and other ambassadors will be working to help keep public beaches open and safe and will be present to remind people to follow the rules and do their part to protect the public health of all beachgoers.
Beachgoers and boardwalkers are asked to honor this hard work by being respectful of the guidance city staff share.
"We are incredibly proud of our beautiful beaches and are urging everyone to responsibly enjoy them during this pandemic," said Mayor Marty Small Sr. "The City will be complying with the State of New Jersey's beach restrictions so that people can experience summer on our beaches without jeopardizing the tremendous progress we've made in slowing the spread of the virus. Being responsible together like this is the surest and fastest way back to normal."
To promote public health safety, it will be necessary to limit physical interactions on the beaches and boardwalk this summer season. To do this the city will, until further notice:
Require that members of the public practice social distancing;
Prohibit special events such as festivals, fireworks, and concerts and organized activities such as sports;
Limit the number of people on the beaches at any given time in order to assist with social distancing;
Limit occupancy in public restrooms;
Demarcate six feet of spacing in areas where the public may form a line;
Keep closed all playgrounds, rides, arcades, games, water fountains, pavilions, indoor recreational facilities, and water play equipment;
Remove or block all outdoor seating such as benches and tables from use; and
Sanitize high-touch surfaces frequently.
Boardwalk restaurants will be open for takeout and delivery only.
While the State's beach restrictions do not order people to wear a face covering while in public on the beach or boardwalk, the State and City are strongly encouraging people to do so, especially during busy times. The Centers for Disease Control and Prevention (CDC) has emphasized the importance of using cloth face coverings to help prevent the spread of COVID-19.
—
Ventnor beaches reopen for swimming and sunbathing Friday.
—
Swimming at state-owned ocean and lake beaches this weekend will remain closed, state officials said Saturday, but visitors are welcome to enjoy passive recreation while maintaining a 6-foot social distance from others and wearing face masks or coverings.
As part of the continued phase-in of park operations, the State Park Service is actively preparing for the summer swimming season, according to a news release from Department of Environmental Protection Commissioner Catherine R. McCabe.
"We recognize that some visitors to our beautiful beaches and lakes may be disappointed that swimming is not yet permitted, but we remind the public that there are many other wonderful passive recreation opportunities to enjoy with their families," McCabe said. "New Jersey's parks are great for hiking, birdwatching, riding bicycles and much more."
When visiting a State Park or Forest this weekend visitors are reminded:
To bring a face covering to wear if needed. Visitors should wear face coverings whenever it is difficult or impossible to maintain the social distance of 6 feet.
Grills and picnic areas cannot be used at this time and personal grills may not be brought to parks or beaches. However, visitors are welcome to bring cold lunches for picnicking on blankets.
To regularly check the New Jersey State Parks Facebook page for status updates on the phased re-opening of operations within parks including restrooms and swimming operations as they become available.
State Park Police and parks staff will be out to enforce the no swimming restriction and parking rules, which will remain at 50 percent to maintain proper social distancing.
—
The Senate will establish a special committee to investigate a range of issues related to the coronavirus crisis, working to identify immediate and long-term remedies to the social and governmental problems caused by the pandemic, Senate President Steve Sweeney and Senate Republican Leader Tom Kean, Jr. announced Saturday.
The bi-partisan "Review and Recovery Committee" will investigate the surge of COVID-19 fatalities in the state's long term care facilities and prisons, the breakdown of the unemployment system, the multi-year challenges to state and local government and other consequences of the biggest public health crisis in a century, according to a news release.
"This is the biggest public health crisis in more than a century with consequences on the lives and livelihoods of so many sectors of society," said Sweeney (D-Gloucester/Salem/Cumberland). "It has created crises for a range of communities and exposed social and governmental failures that need to be addressed. This panel will work to rectify immediate problems and to make systemic reforms to prevent them from happening again. This is about getting answers and making improvements, not about casting blame."
"Senate Republicans called for the formation of this committee to improve transparency and accountability and provide important oversight of the administration's response to COVID-19," said Senate Republican Leader Tom Kean. "It's clear that mistakes were made and important lessons can be learned to improve the State's response as we move forward. It's our sincere hope that this bipartisan review will save lives and help New Jersey to recover with strength and resiliency."
The Senate will vote on the enabling resolution creating the committee in the coming weeks, according to the release.
The committee's fact-finding hearings will work to identify governmental and social problems caused, exposed or made worse by the pandemic, and make recommendations to address the immediate problems, prevent them from reoccurring and to develop long-range improvements.
—
The Cape May County Board of Chosen Freeholders, along with Cape Assist, Cape May County Healthy Community, P.R.I.D.E., Join Together Atlantic County (JTAC), and Atlantic Prevention Resources, are hosting a COVID-19 Parenting During a Pandemic seminar to provide parents with strategies help build resiliency in children and themselves.
The seminar will be held on May 29 and conducted through a Zoom conference call that can be available for those who have audio only or those who have video capabilities, according to a news release. There will be two sessions for participant convenience. Interested participants can register at www.capeassist.org/parents1 for the 2:30 - 4 p.m. session; or www.capeassist.org/parents2 for the 7- 8:30 p.m. session. Upon registering, Zoom details and links will be forwarded prior to the seminars. For questions, contact Natalia by email at Natalia@capeassist.org.
"COVID 19 has impacted us all in many ways and it is extremely important that we learn how to manage the stress and stay healthy for our families. Our overall mental health will make a huge difference when this is over. Children are feeling the stress and it is more important than ever for families to learn strategies to reduce stress for everyone," said Freeholder Jeffrey L. Pierson, liaison to the Department of Human Services.
—
State officials have not planned a COVID-19 briefing Saturday.
What South Jersey beaches will have lifeguards this Memorial Day weekend?
Atlantic County
Atlantic City
The following beaches are open:
Caspian Avenue
New Hampshire Avenue
Connecticut Avenue
States Avenue
North Carolina Avenue
South Carolina Avenue
Kentucky Avenue
Mt. Vernon Avenue
Martin Luther King Boulevard
Ohio Avenue
Michigan Avenue
Missouri Avenue
Mississippi Avenue
Florida Avenue
Texas Avenue
Brighton Avenue
Chelsea Avenue
Montpelier Avenue
Albany Avenue
Lincoln Place
Annapolis Avenue
Bartram Avenue
Montgomery Avenue
Brigantine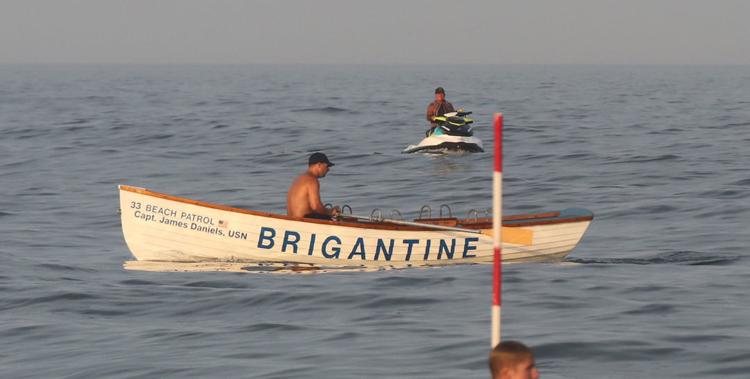 Effective Friday, all beaches will be open for recreational activities, swimming and sunbathing. Normal Social distancing procedures and masks should be worn by all. Families are permitted to congregate in groups, up to 10 in size and couples may sit together. Swimming is permitted at guarded beaches only.
For the preseason weekends, lifeguards will be on the beaches at Roosevelt Blvd., 16th Street, 26th Street and 38th Street only.
Longport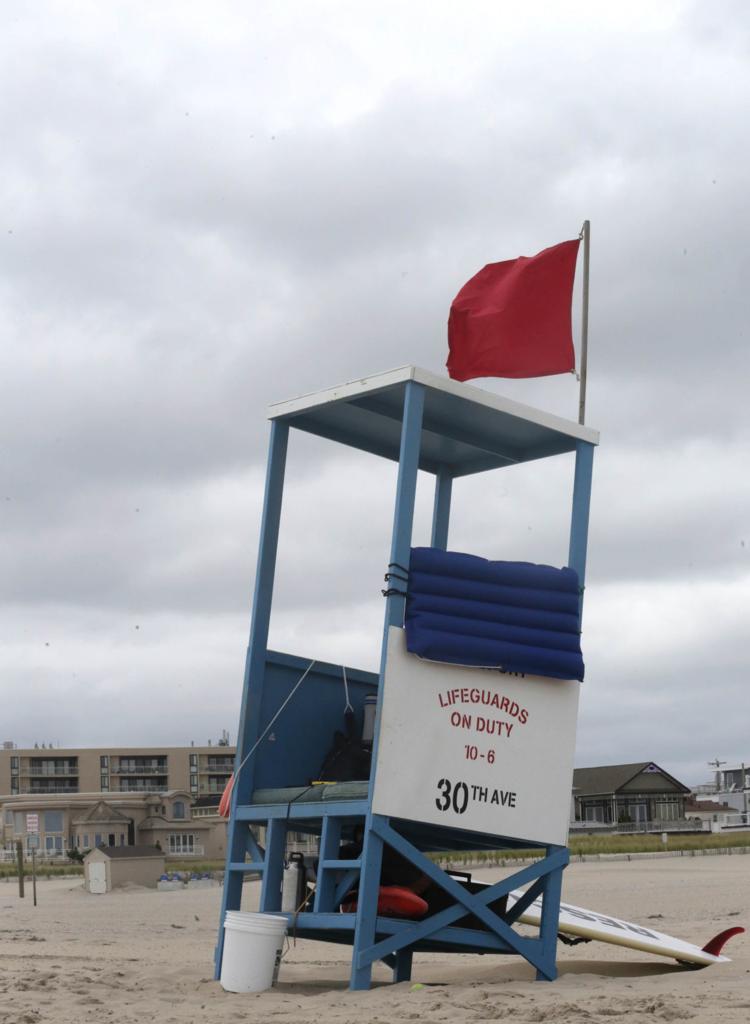 Swimming is currently prohibited on city beaches, but passive recreation and sunbathing is allowed. 
Margate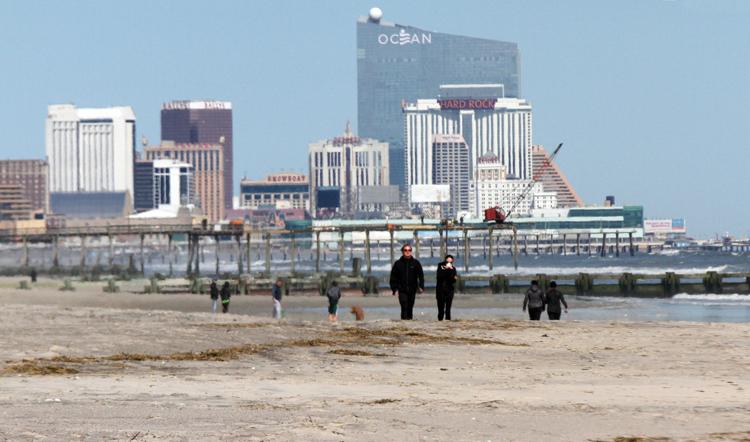 Beginning Memorial Day weekend, the following beaches will be protected from 10:00 a.m. to 6:00 p.m. over weekends.
Beaches:
Clermont Avenue
Huntington Avenue
Thurlow Avenue
Washington Avenue
Ventnor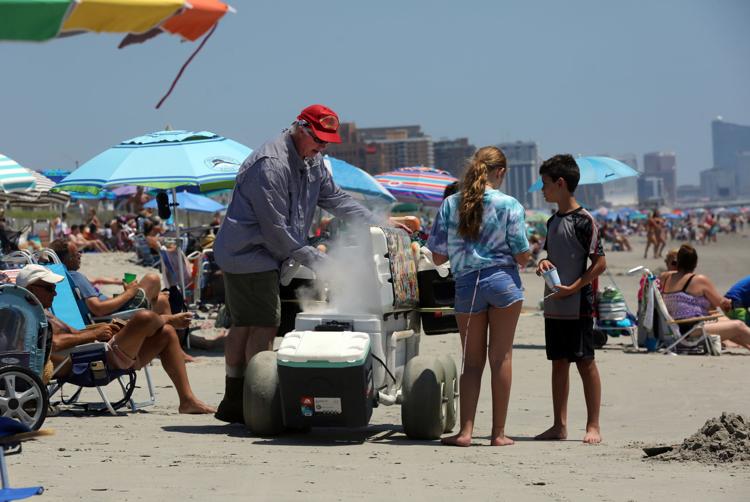 The city provides guarded beaches between Memorial Day and Labor Day) at the following locations:
Vassar Square
Austin
Frankfort
Suffolk
Dorset
Sacramento
Surrey
New Haven
Buffalo
Lafayette
Washington
Lifeguards are on duty from 10 a.m. to 6 p.m. daily. The beaches that our lifeguards are on duty vary during the beginning and end of the summer. Call the Beach Headquarters at 609-823-7948 to ascertain which beaches are guarded.
Cape May County
Avalon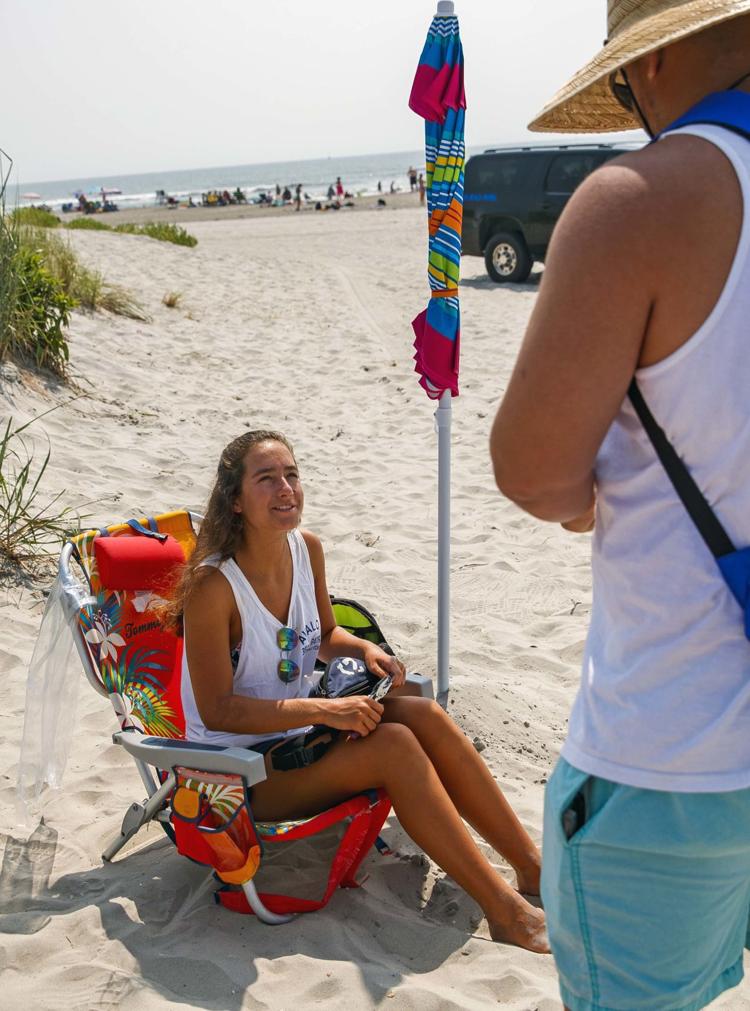 As of May 22, the beach will be open for sitting, using social distancing rules.
Cape May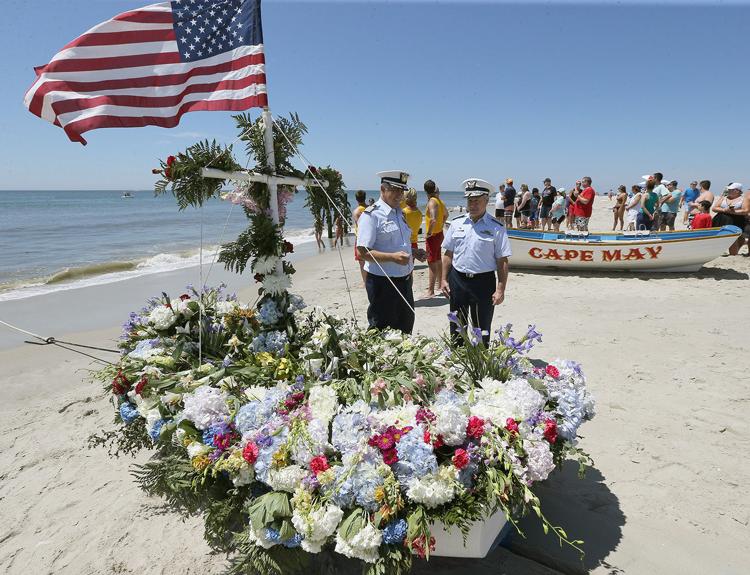 The Cape May Beach Patrol protects the beaches from The Cove to Poverty Beach from 10 a.m. to 5:30 p.m. from July 1 through Labor Day
Ocean City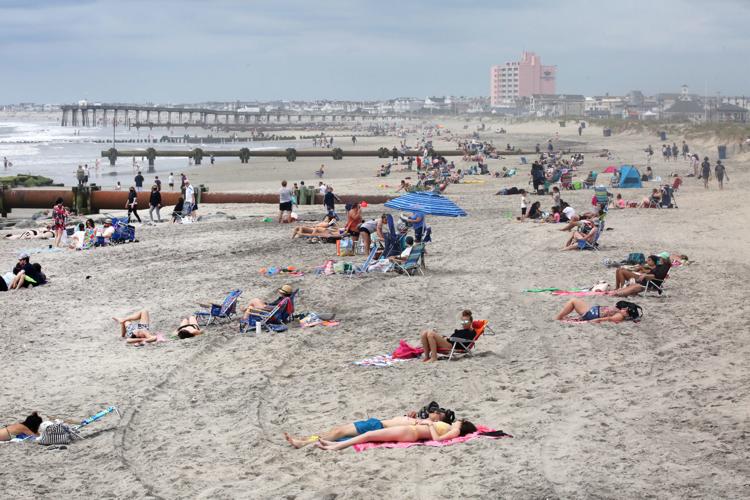 The Department of Fire and Rescue Services announces that the Ocean City Beach Patrol will be guarding the following beaches for the 2020 Memorial Day Weekend. Beaches are guarded from 10 a.m. to 5:30 p.m. weekends and holidays and from 10 a.m. to 5 p.m. on weekdays.
Beginning Saturday, May 23, the following beaches will be guarded:
St. Charles Place
12th Street
Brighton Place
26th Street
8th Street
34th Street
9th Street
58th Street
10th Street
11th Street
As per governor's guidelines, please maintain six feet of space between strangers when using the beaches. Avoid groups of 10 or more. Masks or face coverings are recommended. Tents and canopies will not be permitted on the beaches between First Street and 10th Street. On other beaches, they will be limited in size to 8 feet wide by 6 feet deep by 6 feet tall, and they must be placed at the back of the beach within 10 feet of the seaward side of the dunes.
Thank you for helping to keep Ocean City safe. The Ocean City Beach Patrol strongly urges bathers to swim only at guarded beaches. If you have any questions, please call 609-525-9200. For information on guarded beaches, visit www.ocnj.us/ocbp or view the Ocean City Government Access Channel 97.
Sea Isle City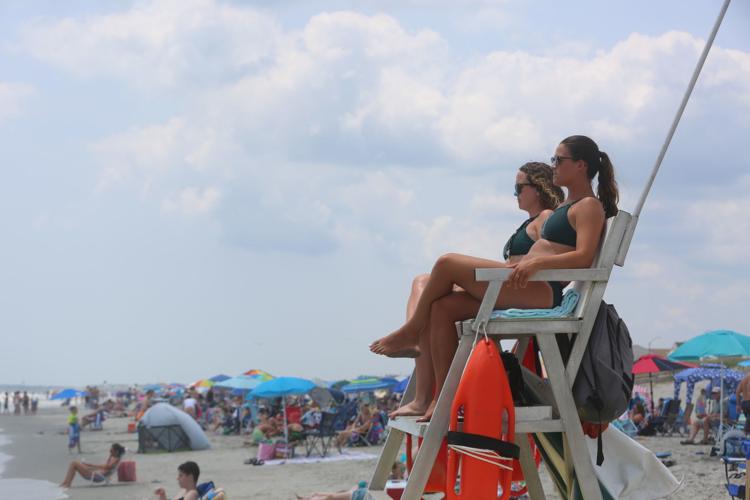 Beach Patrol Headquarters
44th St. & Beach
(609) 263-3655
Lifeguard Duty Hours
Monday to Friday, 10 a.m. to 5 p.m.
Saturday and Sunday, 10 a.m. to 5:30 p.m.
Bathing Beaches
24th, 28th, 32nd, 34th, 38th, 40th, 43rd, 45th, 49th, 51st, 54th, 56th, 59th, 61st, 64th, 68th, 71st, 75th, 77th, 81st, 84th, 86th, 89th and 92nd streets
Stone Harbor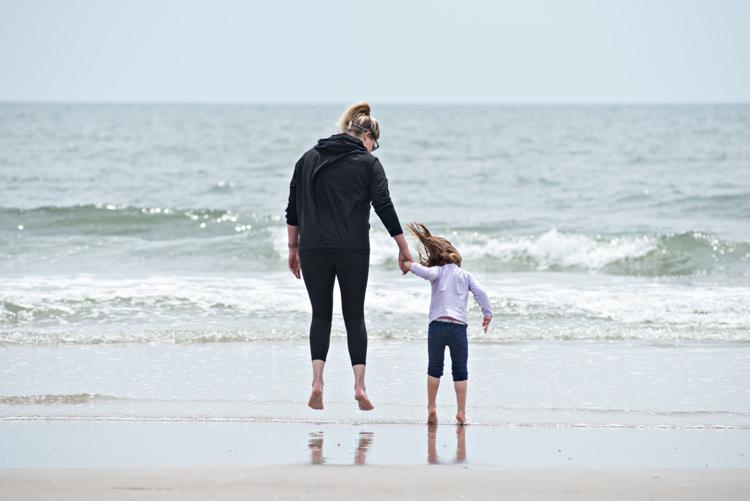 Protected bathing beaches are 81st, 83rd, 86th, 87th, 90th, 93rd, 94th, 95th, 96th, 100th, 102nd, 103rd, 105th, 108th, 110th, 112th, 113th, 116th, 117th, 120th and 122nd.
Swimming, rafts, and surfboards are permitted at designated beaches only. Swimming and rafting beaches are all designated beaches except 81st, 86th, 105th, 110th, 112th, and 122nd Streets. The use of surfboards (with leases attached) are permitted at the beaches at 81st and 110th Streets only. Kayaks are permitted at 122nd Street through 126th Street only, and life jackets must be worn at all times while in the water.
Wildwoods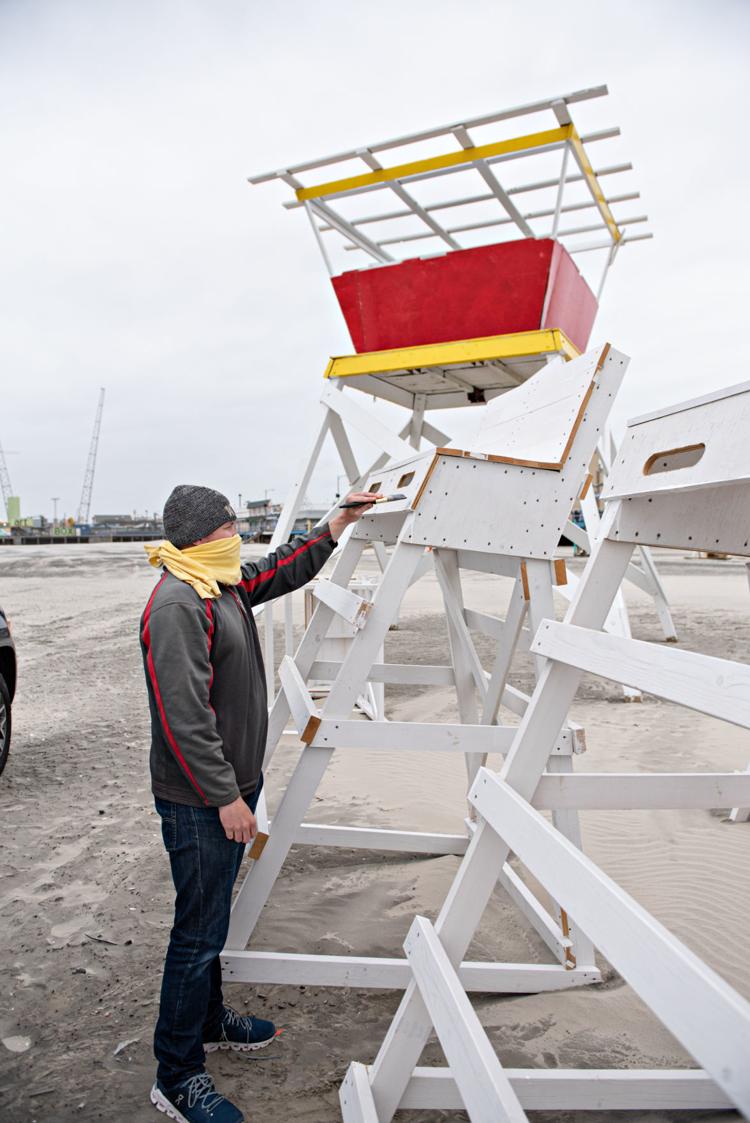 The Wildwoods beaches are guarded by expert Lifeguards from Memorial Day through Labor Day, 10 a.m. to 5:30 p.m. daily. Handicap access is available by contacting the beach patrol for the corresponding area.
North Wildwood: 609.522.7500
Transport via surf chairs at First Aid Station at 15th Avenue
In Wildwood, lifeguards will be on duty 10:00 a.m through 5:30 p.m. Saturday through Monday of Memorial Day weekend at Cresse, Leaming, Rio Grande, Andrews, Baker, Youngs, Spicer, Lincoln, Oak, Maple, Magnolia and 26th.
Wildwood: 609.522.8258
Contact lifeguard headquarters at Lincoln Avenue and beach
In Wildwood Crest, all beaches will be open and protected by lifeguards, weather permitting, from 10 a.m. to 5:30 p.m., on Memorial Day weekend, Saturday through Monday, May 23-25, as well as on Saturday and Sunday, May 30-31.
Lifeguards will be placed on stands for the weekends of May 23-25 and May 30-31 at the following locations: Cresse-Morning Glory, Buttercup-Lavender, Crocus-Aster (surfing beach), Cardinal-Sweetbriar (surfing beach), Columbine-Rosemary, Fern-Palm, Myrtle-Primrose (surfing beach), Rambler-Orchid (surfing beach), Stockton-Stanton, Atlanta-Nashville, Miami-Monterey, Toledo-Denver, Hollywood-Preston, Pittsburgh-Charleston, Trenton-Newark, Washington-Jefferson.
Beginning Saturday, June 6, all beaches will be open and protected daily, weather permitting, from 10 a.m. to 5:30 p.m. through Labor Day, Monday, Sept. 7.
The Wildwood Crest Beach Patrol strongly advises all bathers to swim at lifeguard protected beaches only during the hours of operation.
Transport service for the handicapped with be available from 11 a.m. to 4 p.m. whenever lifeguards are on duty.
Call Wildwood Crest Beach Patrol headquarters at (609) 522-3825 for transport service or for further information.
Ocean County
Long Beach Island
Barnegat Light: Beaches remain open and badges are available online via the borough's website.
Website: http://www.BarnegatLight.org Phone: (609) 494-9196
Beach Haven: Beaches and restrooms are open. Badges are available via an app on the borough's website or at the Centre Street badge office.
Website: http://beachhaven-nj.gov Phone: (609) 492-0111
Harvey Cedars: Preseason beach badges may be purchased through the borough's website.
Website: www.harveycedars.org Phone: (609) 361-6000
Long Beach Township: Beaches are open and seasonal beach badges can be purchased at The Beach Badge Shack on 68th Street, Brant Beach and at other locations listed on the township's website. Badges are required on township beaches from June 1 to September 7.
Website: http://www.longbeachtownship.com Phone: (609) 361-1000
Ship Bottom: Beach badges are for sale online and at Town Hall and are available at preseason rates through May 31.
Website: http://www.shipbottom.org Phone: (609) 494-2171
Surf City: The borough never closed its beaches. Badges are available at Borough Hall and preseason rates are in effect through May 31.
Website: www.surfcitynj.org Phone: (609) 494-3064