OCEAN CITY — Former U.S. Rep. and Ambassador William J. Hughes was a leader on the environment, Pinelands preservation and keeping what is now the William J. Hughes Technical Center from moving to Oklahoma.
Nationally, he led on legislation concerning guns, crime, aging issues and trademark and copyright law.
But in today's era of political tribalism and partisan warfare, Hughes' civility and bipartisanship are what stood out.
"He treated everyone, regardless of party, with courtesy and respect, and his gentlemanly approach helped improve many lives," said John Froonjian, interim executive director of the William J. Hughes Center for Public Policy at Stockton University.
Hughes died Wednesday in his city home, a family spokesperson said. He was 87. Details about Hughes' cause of death were unavailable.
Gov. Phil Murphy called Hughes, "a New Jersey icon" who "protected the Jersey Shore from polluters and the Pinelands from development."
Hughes represented the 2nd Congressional District, which covers most of coastal South Jersey, from 1975 to 1995, then became ambassador to Panama.
The Democrat won his seat from Republican Charles W. Sandman in 1974, partly as a result of the impeachment hearings against President Richard Nixon, in which Sandman was one of Nixon's defenders on the Judiciary Committee.
GALLOWAY TOWNSHIP — As a congressman, William J. Hughes spent 20 years representing South Je…
Hughes' death came a day before the district again made national headlines for its role in a presidential impeachment, as U.S. Rep. Jeff Van Drew, D-2nd, was one of just two Democrats to vote against impeachment rules for President Donald J. Trump.
Hughes' children stressed his dedication to his family.
"Wherever he was and whatever he was doing, he always made time for the family," Bill Hughes Jr. said, recalling Saturday night family dinners in Ocean City. "In many respects, in a profession which is anything but normal, we grew up as one of the most normal families that I know, in a normal family upbringing, creating a strong family bond."
GALLOWAY TOWNSHIP — At 85, William J. Hughes has had a lifetime of accomplishments.
Barbara Sullivan said her father instilled in all his children respect, work ethic and, above all, that family comes first.
"Even though it's a very strenuous job to be a member of Congress, Dad always had time for the family, going to games or recitals or graduations," Sullivan said, adding the close-knit family bond has been passed down to the next generation.
Jersey Shore beach pollution was the main reason Hughes decided to run for Congress, he said in a Press interview about two years ago.
The need to protect the Atlantic Ocean against environmental threats — from the prospect of …
"I was a member of Save Our Seas (SOS)" in the early 1970s when he was working in the Cape May County Prosecutor's Office, Hughes said. "Sludge was being dumped by Camden and Philadelphia seven miles off of Cape May, making a mess of our fisheries and shoreline, and impacting tourism, our largest industry," Hughes said.
There was no regulation of medical waste at the time, and people stopped coming when beaches were closed for bacteria counts, he said.
So Hughes resigned from the Prosecutor's Office to run on a platform of cleaning up the ocean, he said, and was elected in 1974.
He authored bills that stopped the dumping and turned beach water quality around quickly.
Nancy Hughes, the wife of former Congressman and Ambassador to Panama William J. Hughes, die…
He also coauthored legislation that established New Jersey's Pinelands National Reserve and took legislative action to protect South Jersey rivers.
"Bill Hughes invented a new way to protect wild and scenic rivers, where the lands around rivers are locally owned and not federally owned," said Fred Akers, the river administrator who runs both the Great Egg Harbor River Council and the nonprofit GEH Watershed Association.
The Great Egg Harbor River was the first locally managed river in the U.S. to join the national Wild & Scenic River program 27 years ago. Hughes visited towns along the river and assured residents the federal government would not come in with a heavy hand and take over, Akers said.
The Great Egg Harbor River off Egg Harbor Township was a windy expanse on a recent fall day.…
The Great Egg Harbor was designated in 1992, and the Maurice River in 1993. "Today there are 16 rivers in nine states that followed the same model he created," Akers said.
"You have to wish people in elected office and appointed officials now were the caliber of Bill Hughes," said Sharon Schulman, former executive director of the Hughes Center, who knew Hughes for decades and worked on his congressional campaigns.
Schulman said Hughes didn't put politics above doing what he felt was right in his right-leaning district. Even though he supported gun rights, she said, he "stood for the assault weapon ban in a very pro-NRA district."
Two years ago, when Vice President Joe Biden helped honor Hughes at the center, the two talked about their work together on the ban, Schulman said.
GALLOWAY TOWNSHIP — At 85, William J. Hughes has had a lifetime of accomplishments.
Van Drew said Hughes was the first person to endorse his candidacy for Cape May County freeholder years ago.
The two did a television ad, Van Drew said Thursday, "walking along the beach, and he was a good deal taller than me, and we used to have fun talking about how I had to take two steps for every one of his. He was always a kind gentleman."
Longtime friend Edward Salmon, who helped found the Hughes Center at Stockton and is now chairman of the board, said Hughes' work as ambassador to Panama came "at a most critical time, when we were giving back the Panama Canal to the Panama government."
Salmon said the two met in 1974 when Salmon was mayor of Millville and Hughes was first running for Congress, and remained close friends.
In Congress, Hughes was a member of the House Judiciary Committee, chaired the Subcommittee on Crime and the Subcommittee on Intellectual Property and Judicial Administration, served on the House Committee on Merchant Marine and Fisheries and was a chairman of the House Select Committee on Aging.
He was appointed ambassador to Panama by former President Bill Clinton, holding that post until 1998.
Hughes' wife, Nancy, died in January 2018. He is survived by four children: Lynne Hughes, Barbara Hughes Sullivan, Tama Hughes and William Hughes Jr., 10 grandchildren and five great-grandchildren.
A viewing will be held Sunday afternoon at the Ocean City Tabernacle, and church services Monday morning at Holy Trinity Episcopal Church in Ocean City.
Look back at the career of Rep. William J. Hughes
billhughes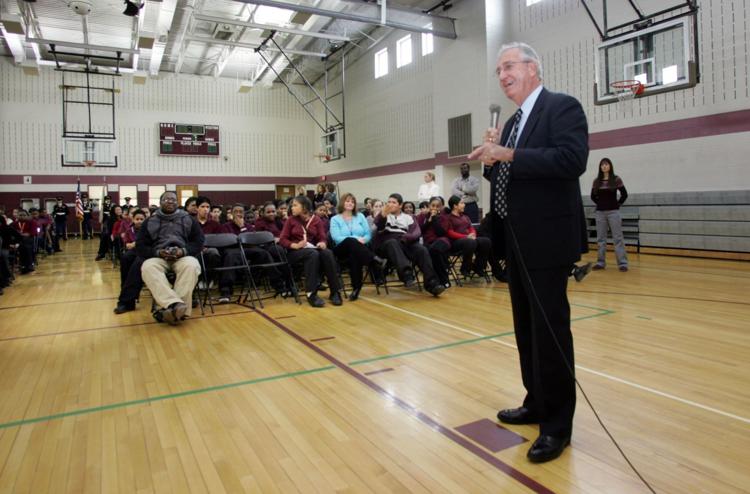 HUGHES MEMORABILIA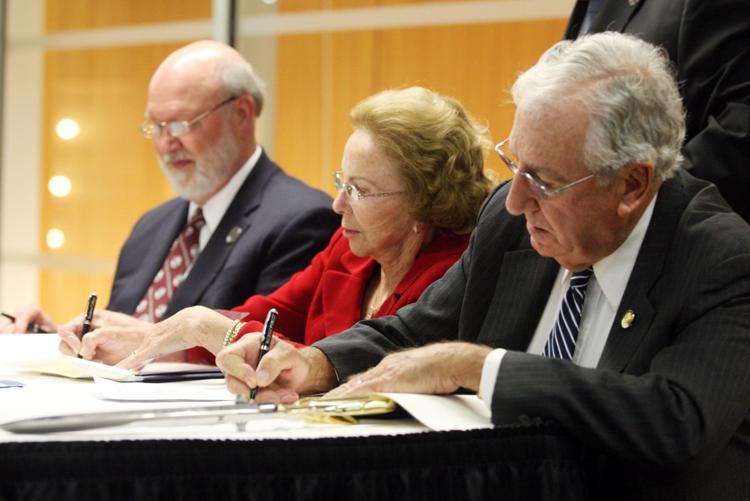 William Hughes former US Ambassador and Congressman who is recei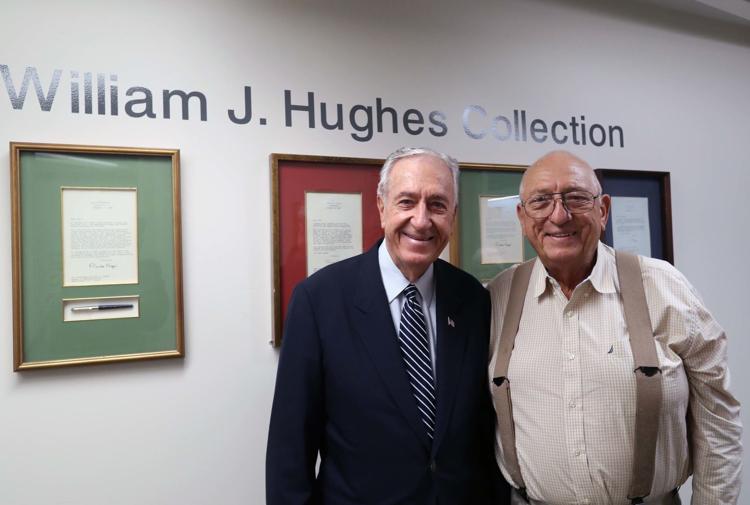 Sharon Schulman at the Policy Center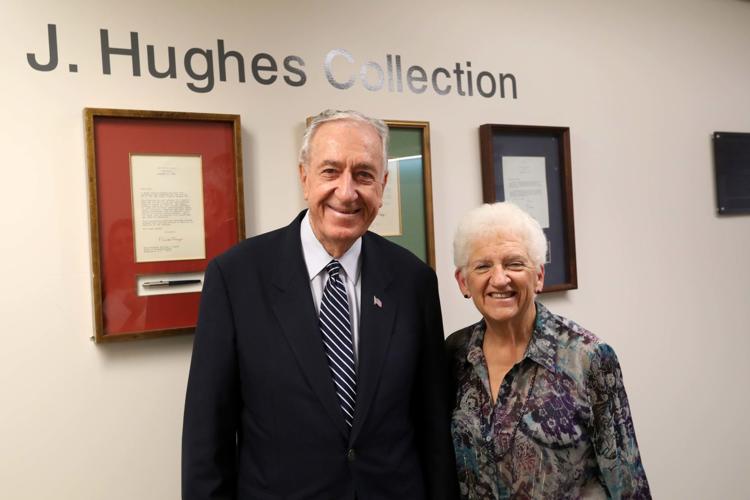 HUGHES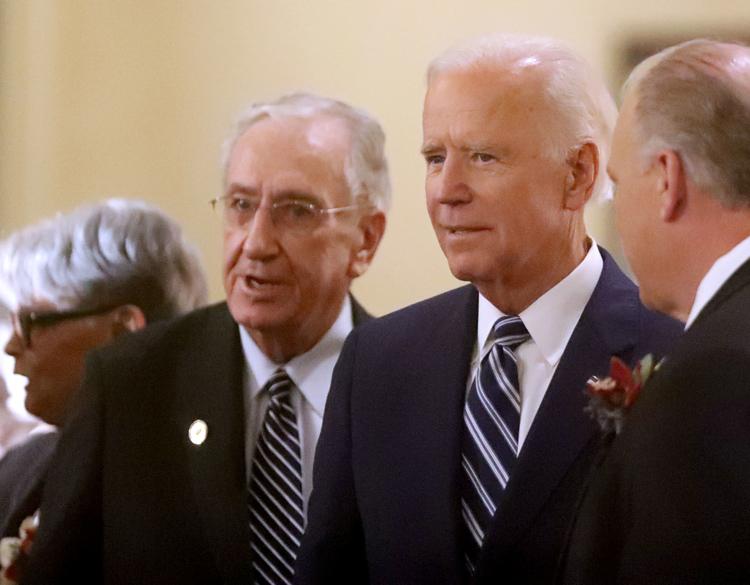 Ocean City Election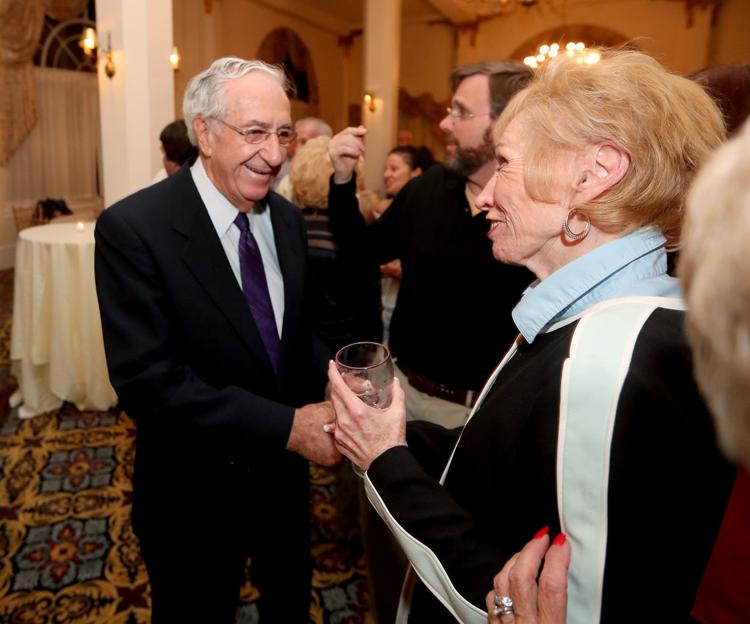 HUGHES.26998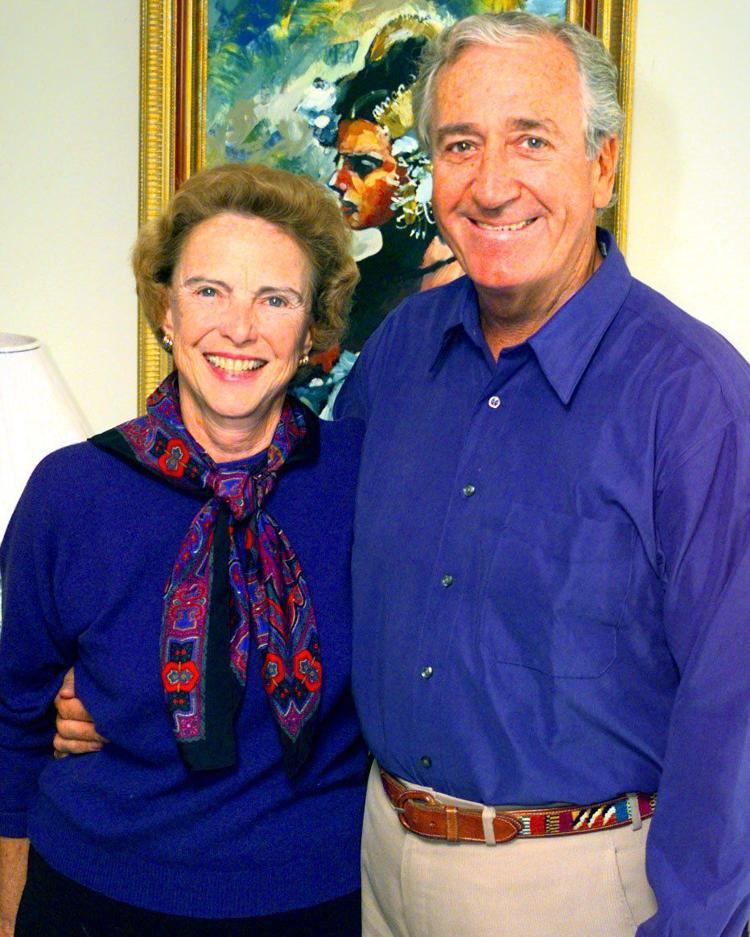 William Hughes former US Ambassador and Congressman who is recei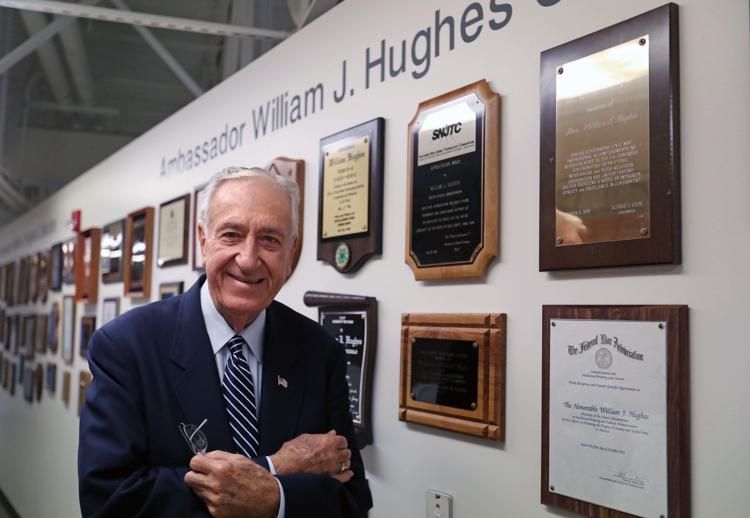 William Hughes former US Ambassador and Congressman who is recei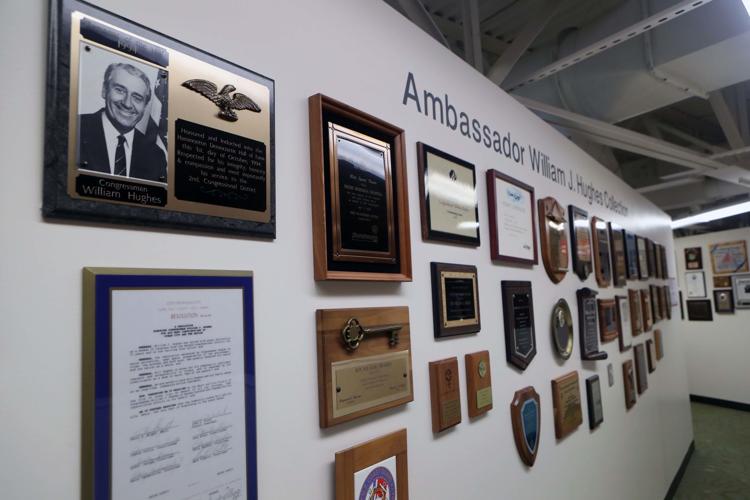 William Hughes former US Ambassador and Congressman who is recei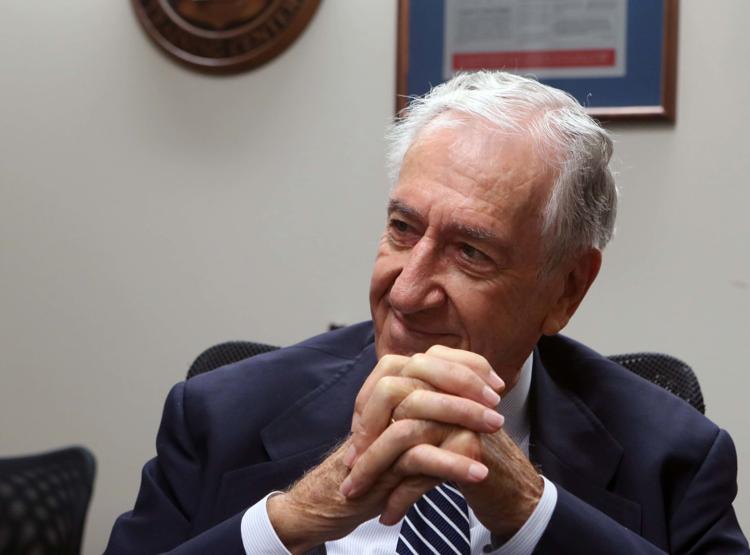 HUGHES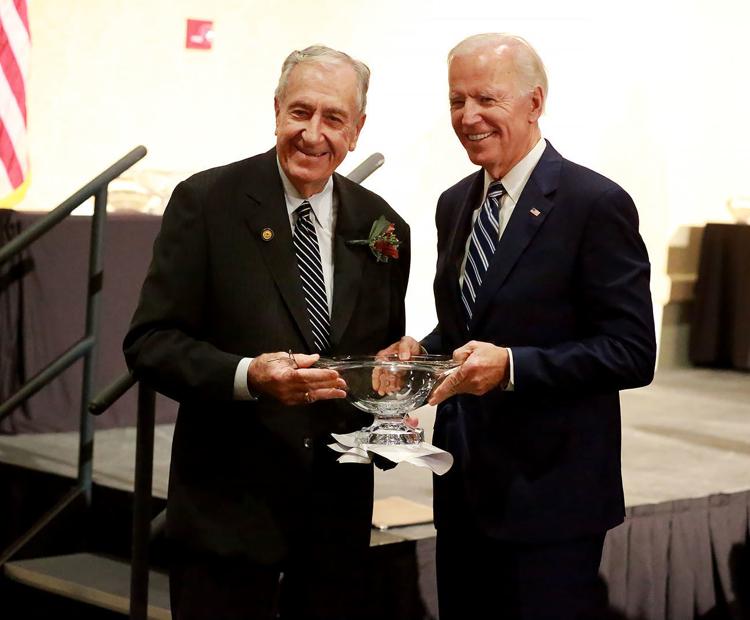 -- HIDE VERTICAL GALLERY ASSET TITLES --
Nancy Hughes with William J. Hughes and son William Jr.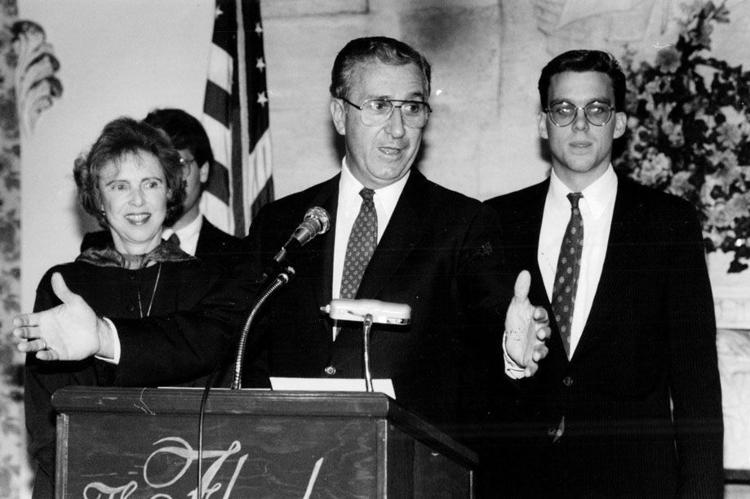 Nancy and William J. Hughes at an event in 1986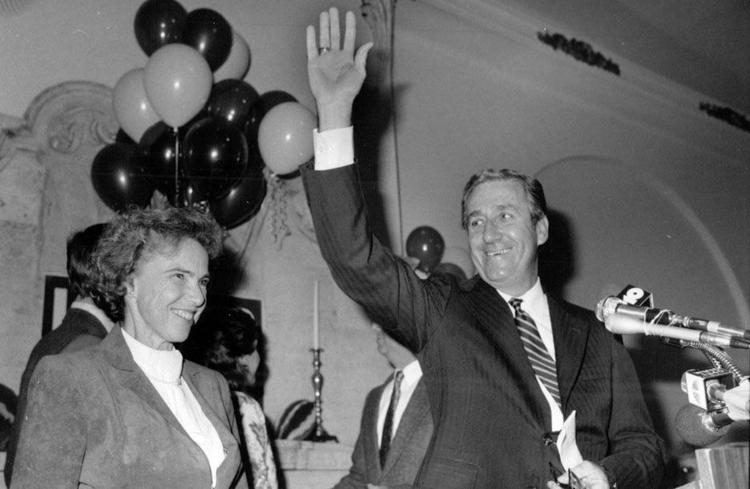 BEACH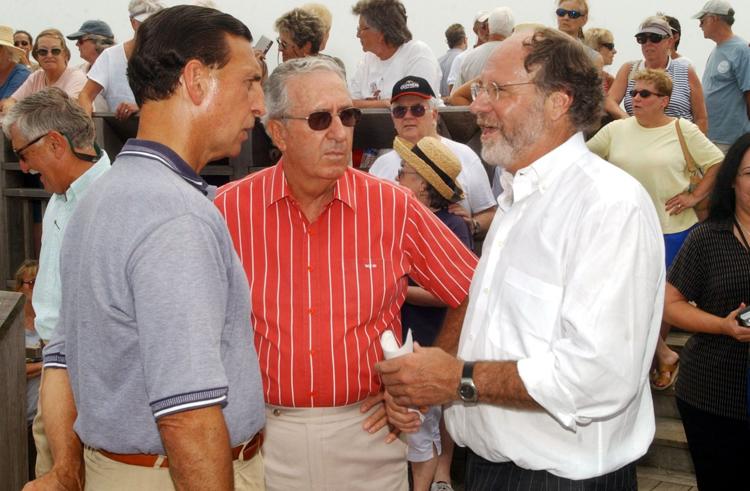 SCHULMAN (4).jpg
William Hughes Egg Harbor City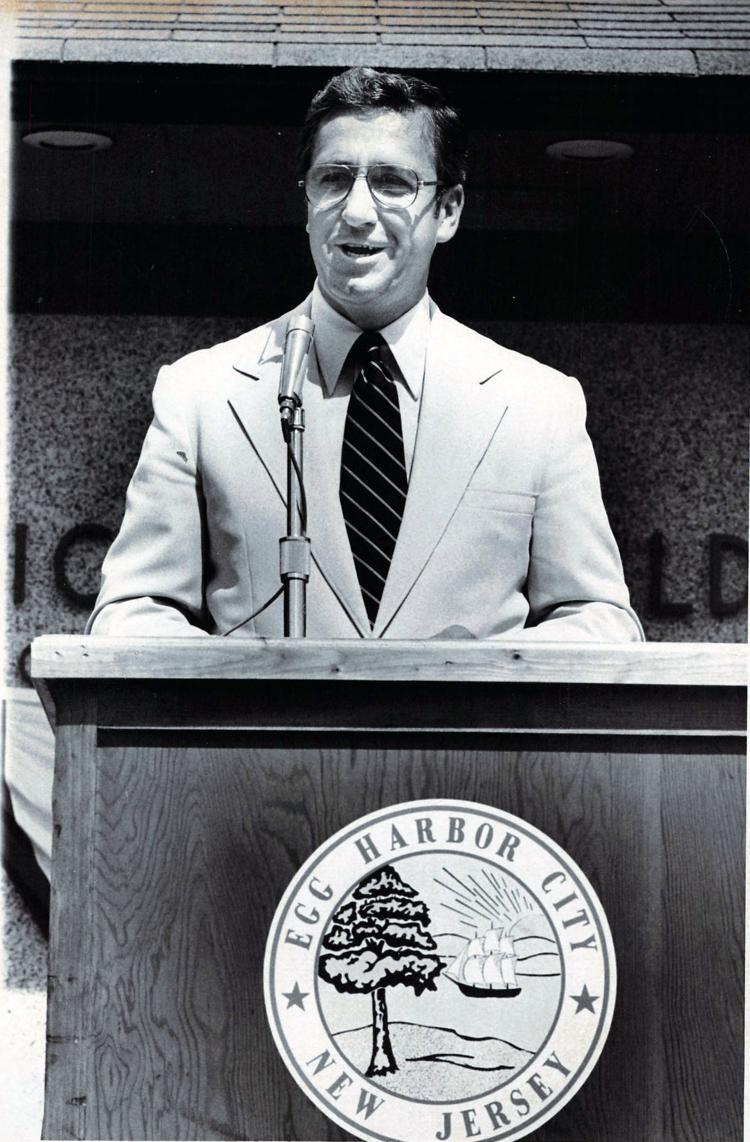 Hughes arrives for work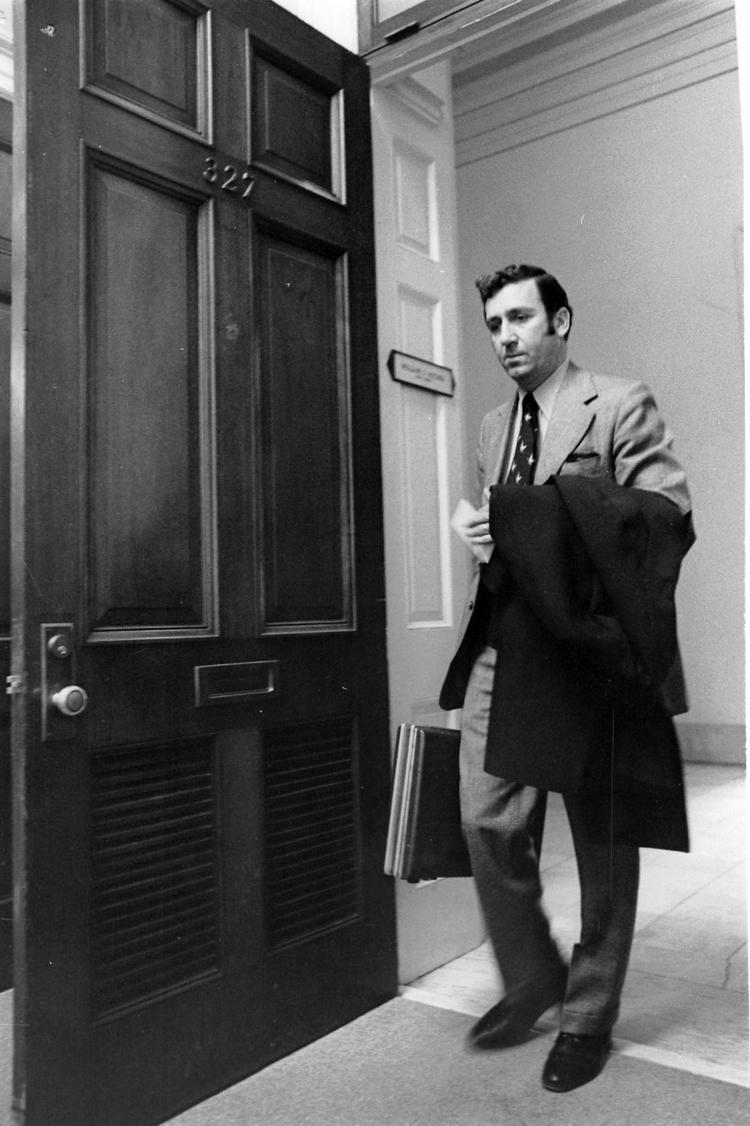 Hughes Capitol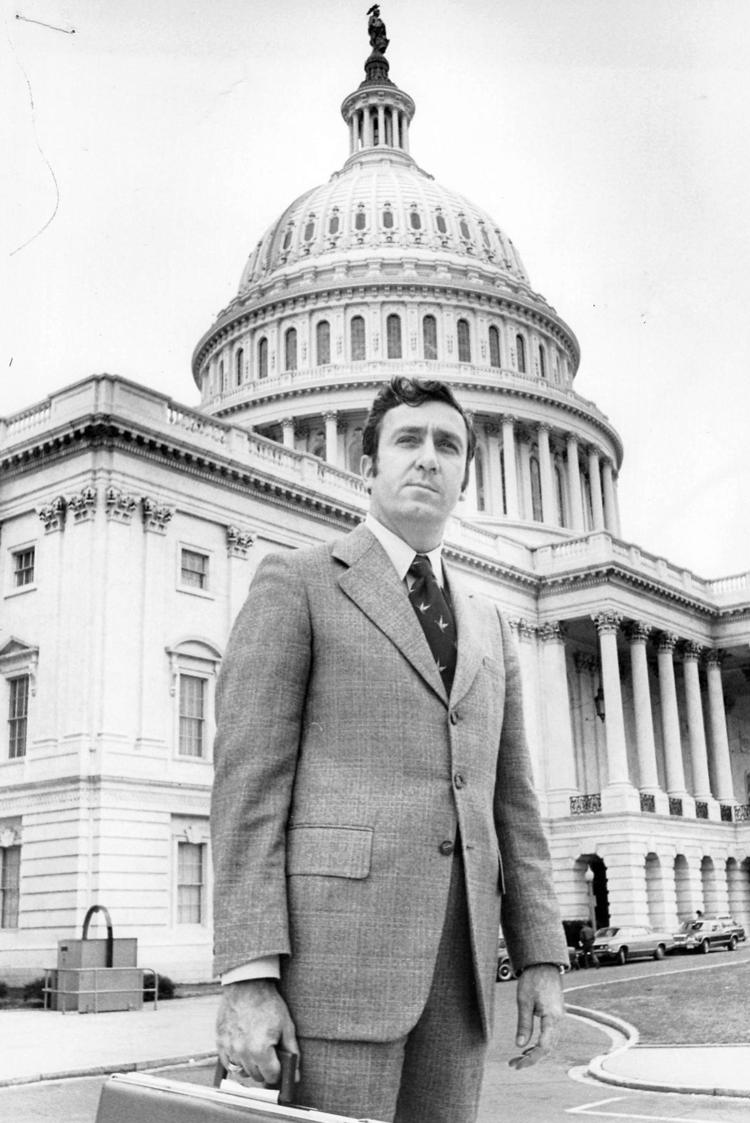 Hughes desk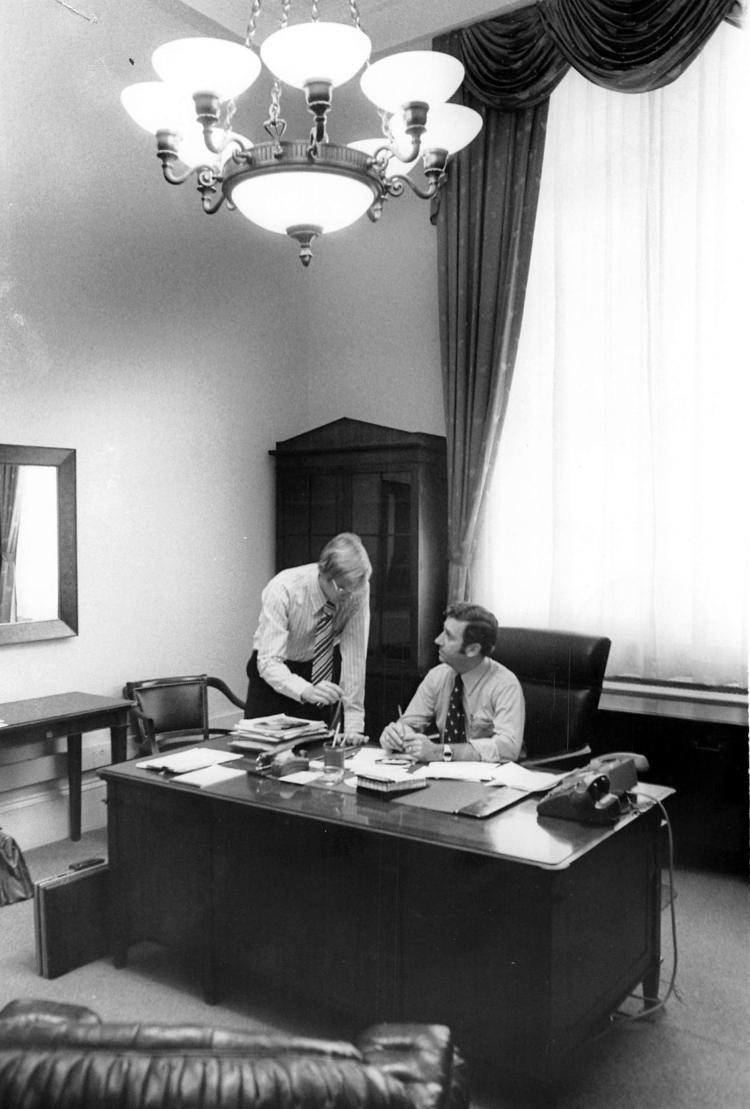 Hughes celebrates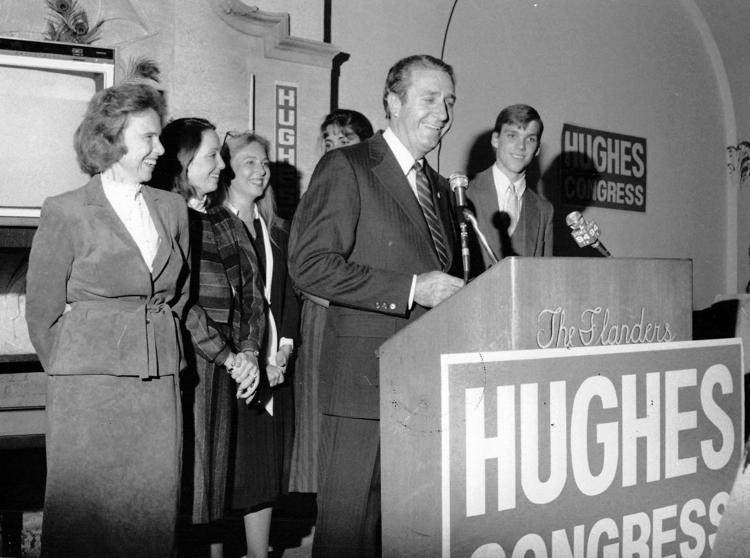 Hughes at Jeffries Towers
Hughes and Speaker Carl Albert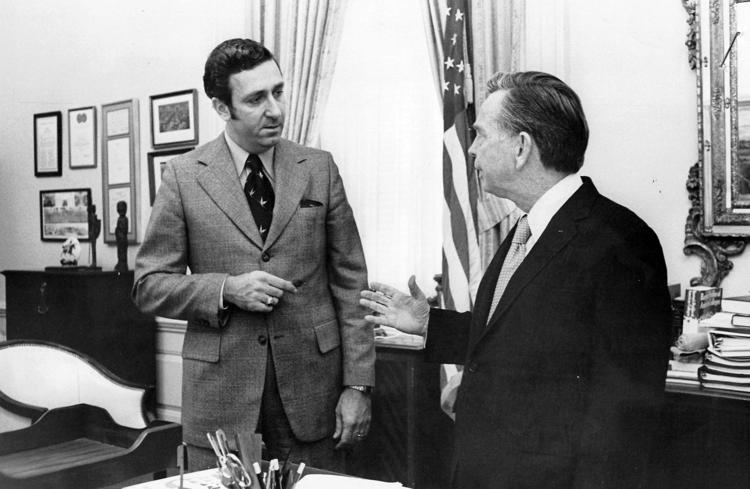 Hughes 1985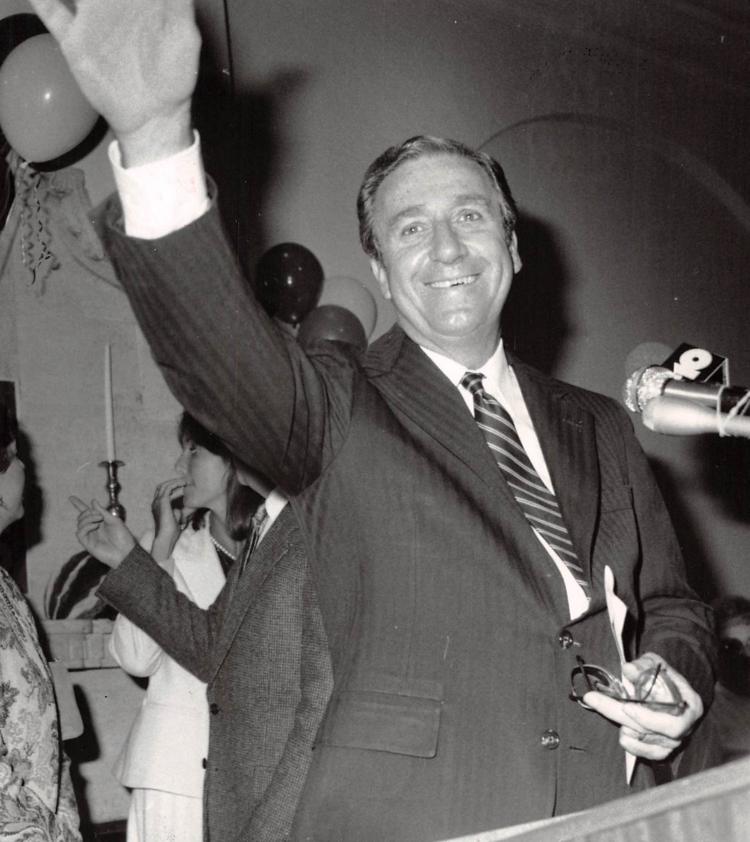 Hughes in Cumberland County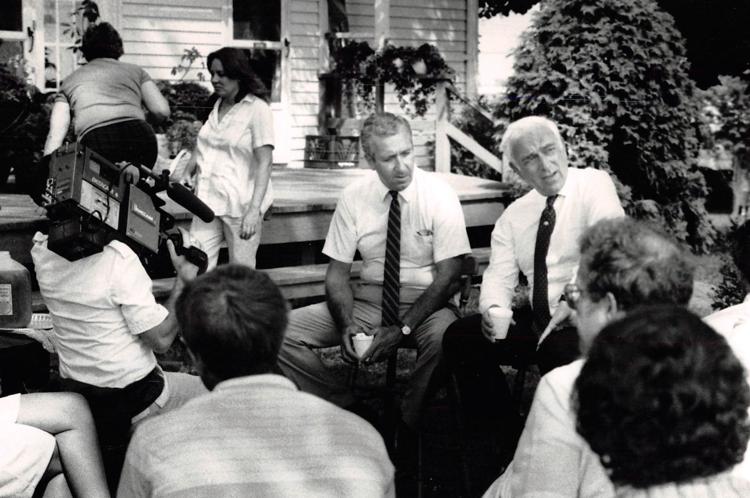 Hughes Pleasantville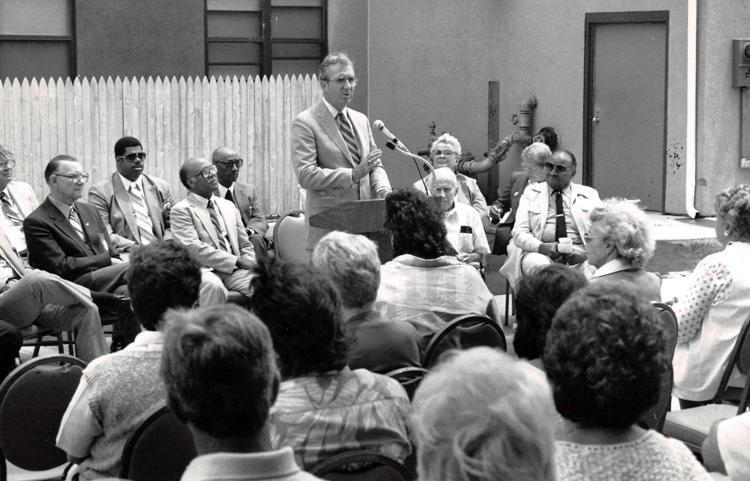 Hughes 1988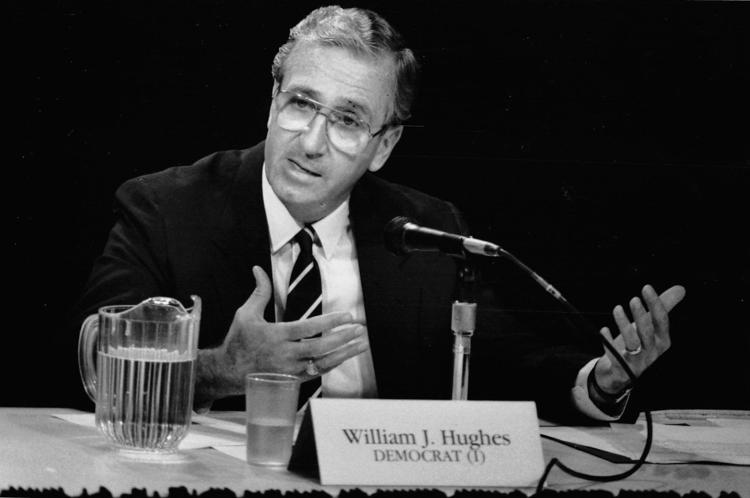 Hughes ACCC
Bill Hughes 1988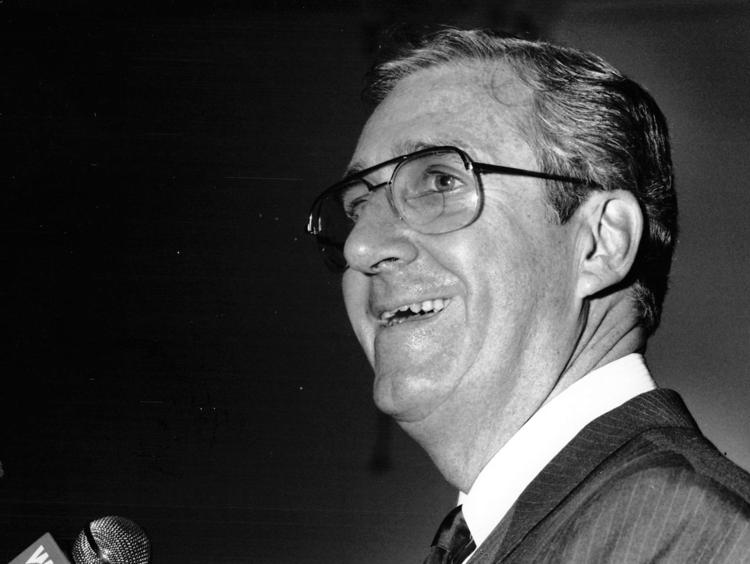 Hughes Coast Guard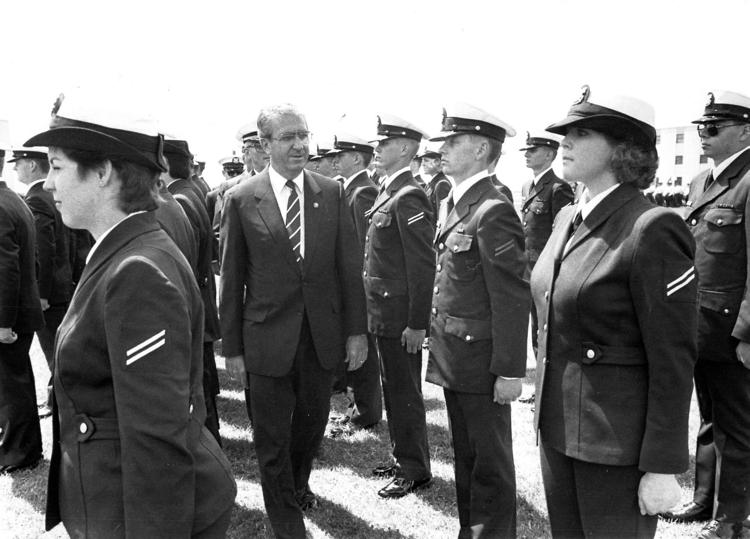 Hughes at West Cape May Elementary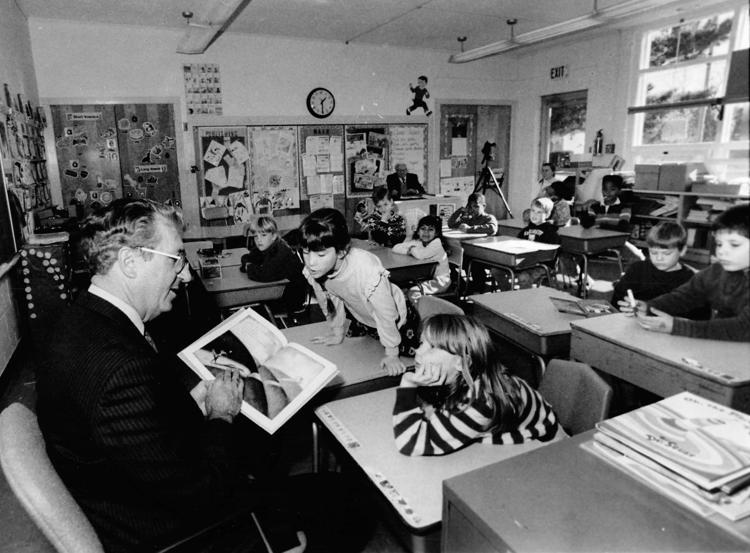 Hughes spring water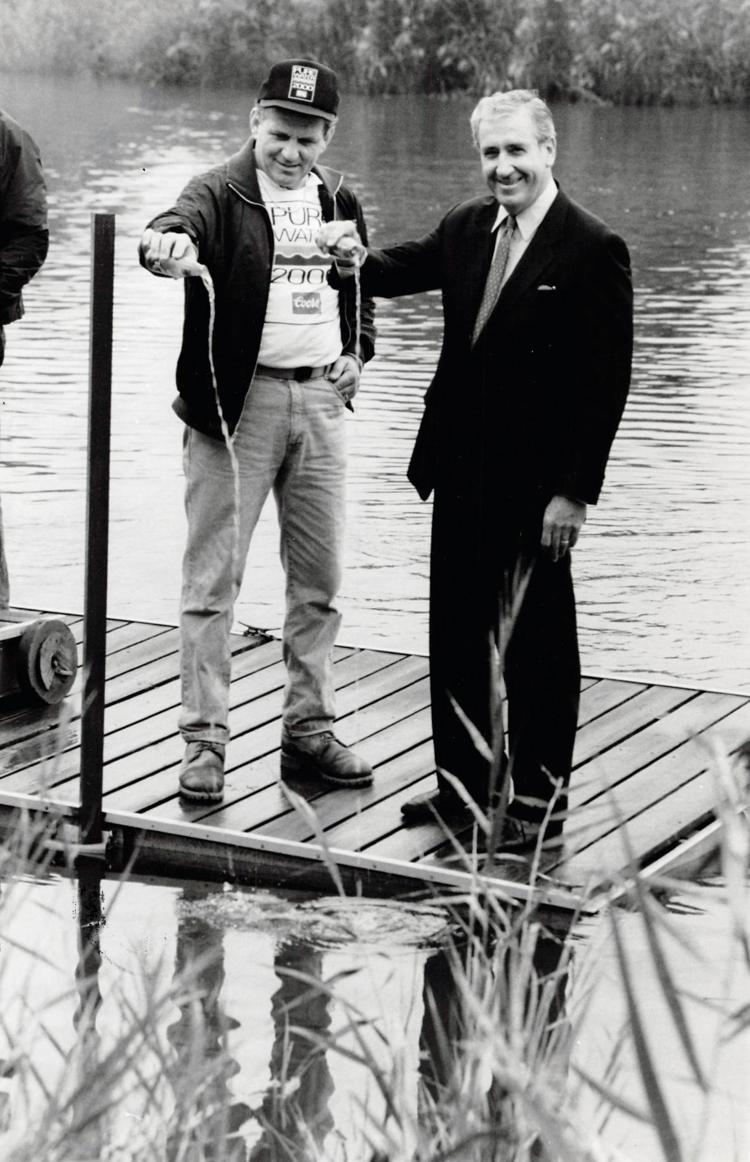 Hughes 1991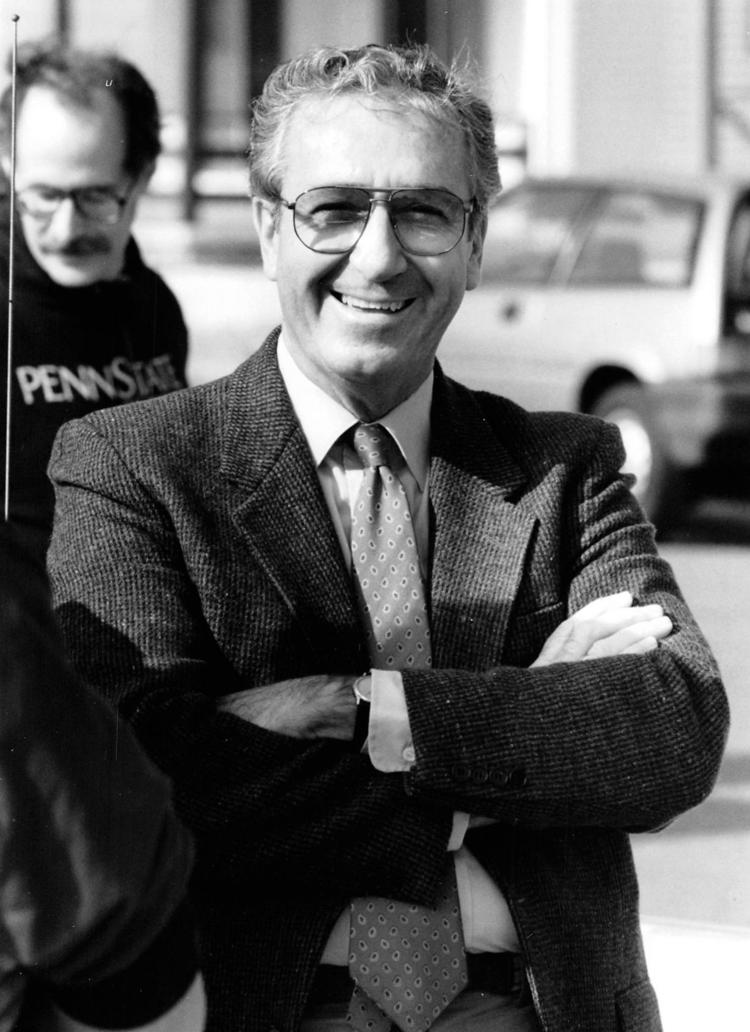 Hughes Glassboro State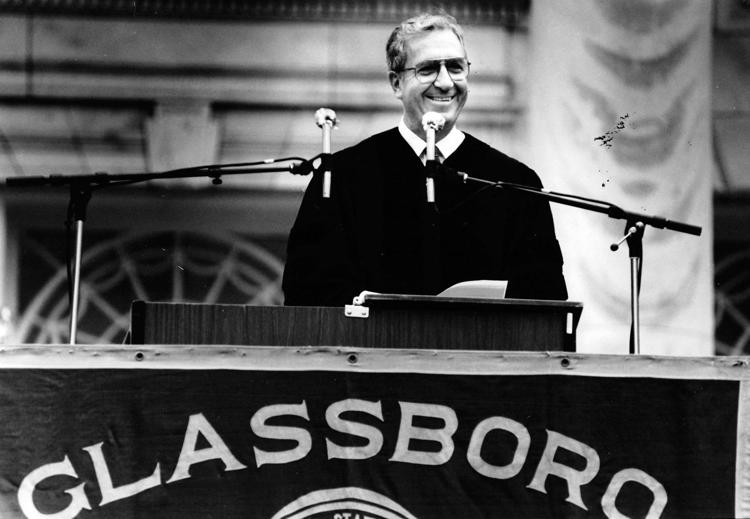 Hughes 1992
Hughes Buena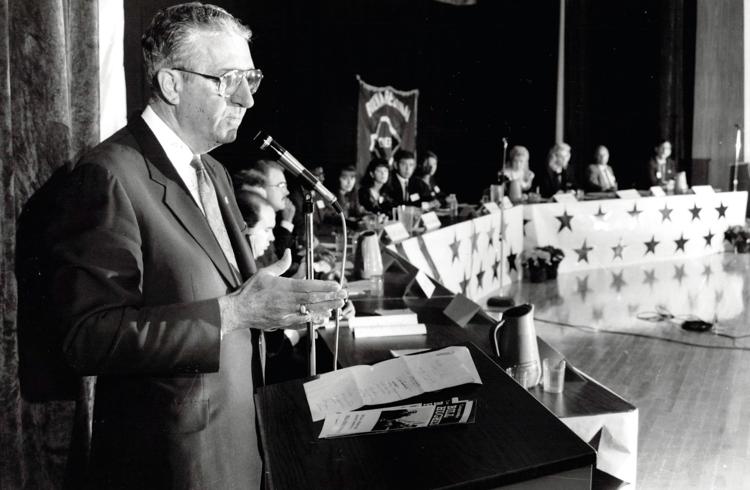 Hughes OC
William Hughes healthcare