In June 1776, the crew of the colonial ship Nancy, on the way back from the Caribbean with guns and gunpowder, found themselves pursued by Royal Navy vessels off Cape May County.
With American warships assisting, the crew grounded the ship at Turtle Gut Inlet by Wildwood Crest, unloaded all but about 50 barrels of gunpowder, lit a fire in one of the mainsail folds as a timed fuse, and abandoned ship.
British sailors, seeing the Americans leaving, climbed aboard. The Nancy blew up, sending 30 to 40 British sailors into the water.
One American died, and some estimates clock British losses in the dozens. The engagement was considered a humiliation for the British forces.
"If we had to go head to head with the British Army and Navy in every engagement, we would have never won the war," said Paul W. Schopp, a Stockton University administrator and assistant director of the school's South Jersey Culture & History Center. "But it was a war of attrition, it was a war of cat-and-mouse, it was a war of harassment."
The Battle of Turtle Gut Inlet is an early example of South Jersey's contributions to the war effort. In the American Revolution, South Jersey played the roles of disruptor and supplier. Privateers, or pirates given the go-ahead by the Continental Congress, regularly raided British supply ships out of what is now called the Mullica River, and sent their spoils to forces in Philadelphia and beyond. They were so effective, in fact, that the rising shipping insurance rates back in England helped turn the tide of public opinion against the conflict, according to local historians.
In a state that one historian called "the cockpit of the American Revolution," a number of skirmishes and conflicts in South Jersey have taken a backseat to ones up north. But the lower counties played a pivotal role in the ultimately successful effort to establish independence from the British government.
"South Jersey was a vital, vital part (of the war effort)," Schopp said. "Most people, when they think about the Revolutionary War, particularly here in New Jersey, they think about the battle of Trenton, the battle of Princeton, the battle of Monmouth ... and they don't realize how much engagement occurred here in South Jersey."
In a summer 2018 edition of the history journal SoJourn, compiled by the South Jersey Culture & History Center, more than 120 conflicts and skirmishes are listed as having taken place in the lower eight counties between 1774 and 1782.
A large portion of those took place on the water. And because the British were in control of New York City, waters off New Jersey were fertile ground for an attack.
In July, August and September 1778, privateers out of Chestnut Neck (modern-day Port Republic) took over 18 British transport ships.
"The British couldn't get their big warships across the Great Bay and up the Mullica River to stop it," said Norman Goos, a librarian with the Atlantic County Historical Society and head of the Colonel Richard Somers Chapter of the Sons of the American Revolution.
The British had enough and launched 13 ships with more than 1,600 troops to attack the fort there. Americans caught wind, but reinforcements could not get there in time. The British rowed up the shallow river and destroyed the fort, including their own captured ships floating in the harbor, before destroying the village nearby. Shortly after, they attacked Casimir Pulaski's forces on Osborne Island near the mouth of the Mullica, killing 30 to 50 Americans in their sleep.
However startling the attacks, the Americans quickly recovered, and privateering efforts took only a short hiatus. The venture cost the British the modern equivalent of tens of millions of dollars, Goos said.
"(The massacre) was a blip," Goos said. "They were back in business in less than 30 days."
In many ways, with disparate loyalties among locals, the Revolution was a sort of civil war in South Jersey, said Thomas Kinsella, a professor of literature at Stockton and director of the South Jersey Culture & History Center. Foraging by Loyalists and Patriots alike was a source of stress for farmers and merchants.
"You're talking about a place that had raiding parties coming through. ... Think about the position that put everyone in. You might have been on the American side. You might have been a Loyalist. You might have been a Quaker and were trying to stay out of it. But they were still coming through," Kinsella said. "They'd take your hay; they'd take your food; they'd take your livestock; they'd take your wagons."
Many of those farmers were instrumental in providing food to the forces and lumber for shipbuilding. And turpentine and rosin from the area's numerous pines went to shipbuilders, as well. Cannonballs and cannons were developed from bog ore from Batsto Village.
The area also sent its militias to fight in notable battles in other parts of the state. The names of those involved would be recognizable to locals today. Jeremiah Leeds, Norman Goos' ancestor, was born in Leeds Point and became the first white settler of Absecon Island and a first lieutenant of the 3rd Battalion of the Gloucester County militia (Atlantic County was a part of Gloucester at the time) under Col. Richard Somers, of the founding family of Somers Point.
After the last major conflict in Yorktown, Virginia, and before the Treaty of Paris, a number of small conflicts and skirmishes took place. South Jersey lays claim to what is largely considered the last one: the Affair at Cedar Bridge, in which Patriots attacked Loyalists at a tavern in what is now Ocean County. The brush-up left one dead on each side and numerous fighters injured.
Monuments to the sacrifices of soldiers can be found scattered across South Jersey. One 50-foot-tall monument, raised by the Daughters of the American Revolution in the early 1900s in Port Republic, celebrates the "brave Patriots of the Revolutionary War who defended their liberties and their homes" in the Battle of Chestnut Neck.
"The great cenotaph, the monolith that's got the minuteman on top. He's looking at the river. He's guarding the river," said Kinsella. "He's just watching."
Atlantic City Fireworks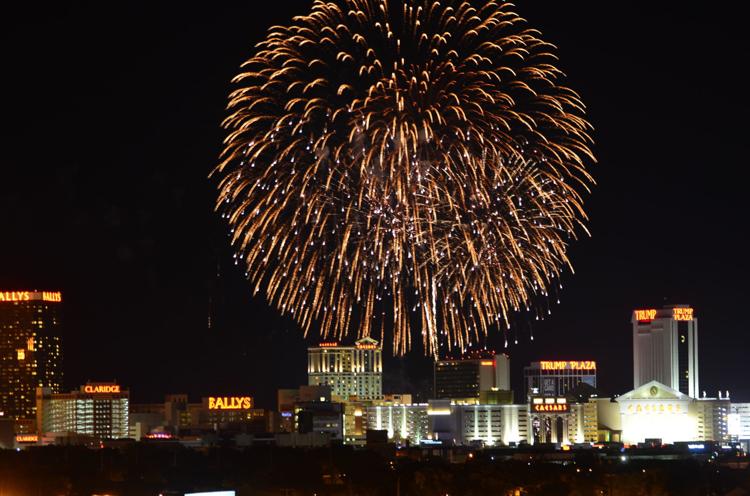 July 4 at 9 p.m. outside Borgata Hotel Casino & Spa, 1 Borgata Way, Atlantic City.
Bridgeton Fireworks
July 4 at 9:30 p.m., Alden Field, 4 Burt St.
Dinner and Fireworks
July 4 from 6:15 to 10 p.m.; participants will be transported by trolley from the Washington Street Mall Information Booth to the Red Store in Cape May Point for a dinner prepared by Chef Lucas Manteca; after dinner, hop back on board for a short ride to Cape May Lighthouse and climb to the top to watch the fireworks; Washington Street Mall information booth, 526 Washington St., Cape May, $100. 609-884-5404 or CapeMayMAC.org.
Hammonton Independence Day Fireworks
July 4 from 9 to 10 p.m., Hammonton Lake Park, 100 Sports Drive. 609-567-4300.
Hammonton Independence Day Parade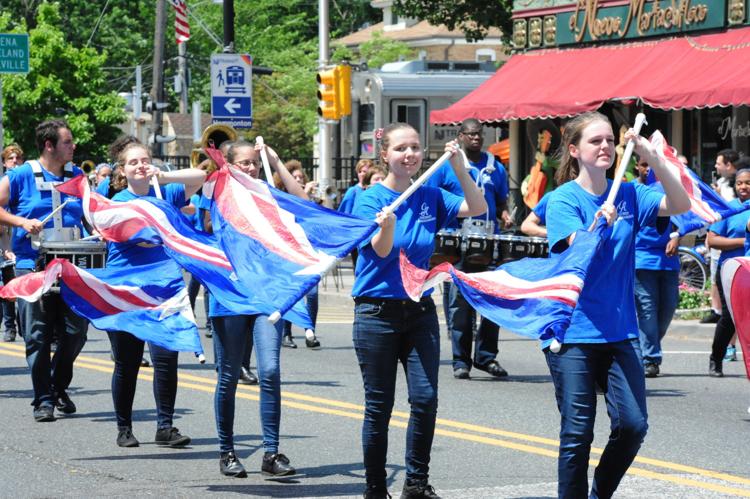 July 4 from 11 a.m. to noon; fourth annual parade will run along Bellevue Avenue from Egg Harbor Road to Third Street and will begin lining up along the railroad tracks on North Egg Harbor Road at 10 a.m. 609-377-4474.
North Wildwood Independence Day Family Parade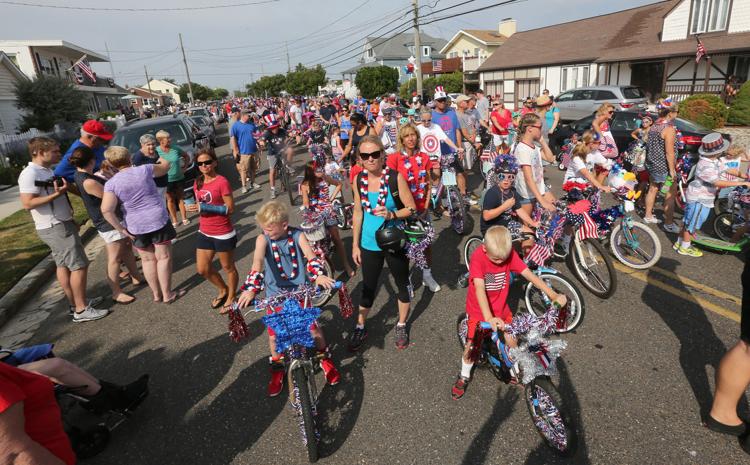 July 4 from 8:15 a.m. check-in, 9 a.m. parade begins; prizes will be awarded for the best-decorated bikes in red, white and blue; parade begins at Ninth and Atlantic avenues, proceeds north to First and Surf avenues, free. 609-522-2955 or NorthWildwood.com.
Ocean City Fourth of July Celebration
July 4 from 9 p.m., fireworks display, Music Pier, Moorlyn Terrace and the Boardwalk.
Patriotic Pooch Parade
July 4 from 8:15 a.m. check-in, 9 a.m. parade; dogs of all shapes and sizes will parade along the streets of the Wildwoods dressed in patriotic garb alongside decorated bicycles; prizes will be awarded for the best-dressed pooches; Bill Henfey Park, Eighth and Atlantic avenues, North Wildwood, free. 609-522-2955.
Sea Isle City Fireworks
The fireworks will take place at 9 p.m. on the 50th Street Beach. 
Smithville Fourth of July Parade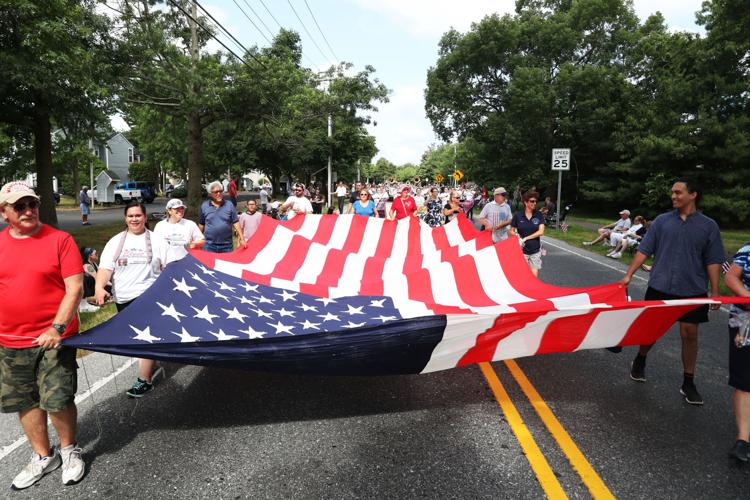 July 4 from 9 to 11 a.m., Historic Smithville, 615 E. Moss Mill Road, Galloway Township. 609-748-8999.
Strathmere 4th of July Parade
July 4 from 9:15 a.m. registration at the firehouse; 10 a.m. judging; 10:30 a.m. parade begins; rain date July 5; Strathmere Volunteer Fire Department, 9 Commonwealth Ave. 609-231-6000.
Vineland Concert and Fireworks in the Park
July 4 from 7 p.m. performance by the Bud Cavallo Duo, followed by the Cumberland County College Jazz Band and Wind Symphony at 8 p.m.; fireworks will end the evening; bring a chair; Giampietro Park, 3231 E. Landis Ave., free.
Wildwood Fourth of July Fireworks Spectacular
July 4 from 10 p.m.; holiday fireworks extravaganza; rain date July 5; Pine Avenue and the beach, free. 609-523-1602 or DooWW.com.
Buena Vista Township Independence Day Celebration
July 6 from 11 a.m. to dusk; vendors, merchants, crafters, bounce houses, kids activities, food trucks, parade, fireworks and more; Michael Debbi Park, Cedar Avenue, Richland. 856-697-2100 or BuenaVistaNJ.com.
Cold Spring Village Independence Day Celebration
July 6 from 10 a.m. to 4:30 p.m. Saturday and Sunday; patriotic family activities, programs and music; Historic Cold Spring Village, 720 Route 9 South, Lower Township, $14 adults, $12 ages 3 to 12, free ages 2 and younger. 609-898-2300 or HCSV.org.
Millville Firework and Food Truck Festival
July 6 from 5 to 10 p.m.; live music, food trucks, vendors, kids activities, and more; 9 p.m. fireworks begin; New Jersey Motorsports Park, 8000 Dividing Creek Road, free admission. NJMP.com.