Andrea Palermo's life has taken on the ups and downs of the tides she follows on her phone app.
As a resident of a back bay neighborhood on a New Jersey barrier island, she has no choice but to track the wind, weather and moon phases, and be ready to change plans in an instant.
During storms, and sometimes under clear skies when high tides coincide with full moons, the bay water rises over the marshes, crosses neighbors' properties, runs down her street and floods her yard.
It still threatens her cars, but will never get into her house again. After Hurricane Sandy, which flooded her first floor, she got a grant to raise the home 12 feet. Now, she walks up 18 stairs to get to the front door in her Merion Park neighborhood near the 34th Street bridge.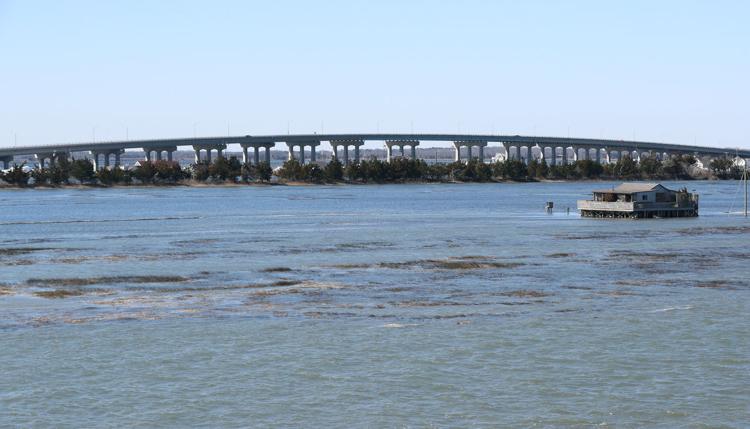 This is life with nuisance flooding — a constant worry that is much more than a nuisance for the people who live with it. In parts of Atlantic and Cape May counties, these smaller floods happen 30 to 40 times a year, according to the Union of Concerned Scientists.
"From the moment they say a nor'easter is coming, there's stress. I'm watching every newscast and studying tide charts. It's just something that we do," said Palermo on a weekday in March.
Three nor'easters had already hit the Jersey Shore that month, and another one was coming. Palermo carried in outdoor furniture and readied her children Annie, 17, and Chase, 12, for after-school activities. She tied down what she couldn't bring in.
"It's all just planning," she said, consulting a flood preparation checklist.
Ocean City is spending tens of millions of dollars on flood mitigation projects. But that amount pales compared to the value of real estate in Ocean City. It's $11.6 billion, of which $4.2 billion is buildings and other improvements and $7.4 billion is land.
In 2014, the city used federal post-Hurricane Sandy funds to raise and regrade streets in Merion Park. Three new pumping stations to move flood water out more quickly were installed.
The $3 million project was the first of several flood mitigation projects in the city since Sandy, said Frank Donato III, the city's director of financial management and emergency management coordinator.
"Even with pumps, those projects aren't going to prevent flooding," said Donato. "(Merion Park) is built on the marsh with no bulkheads. With pumps you get relief quicker, as opposed to being trapped for days."
Palermo said floodwaters recede more quickly now, but there are still times she can't drive in or out of her neighborhood.
That's when she parks blocks away on higher ground — ironically, closer to the ocean — and hikes through high water.
When bad flooding is expected, she moves her car to the mainland and gets a ride back with friends. Trinity United Methodist Church in Marmora allows residents to use its parking lot.
"Every storm I think I don't want to live here anymore," said Palermo. "But I love the neighborhood. I've been here 17 years and had my kids here."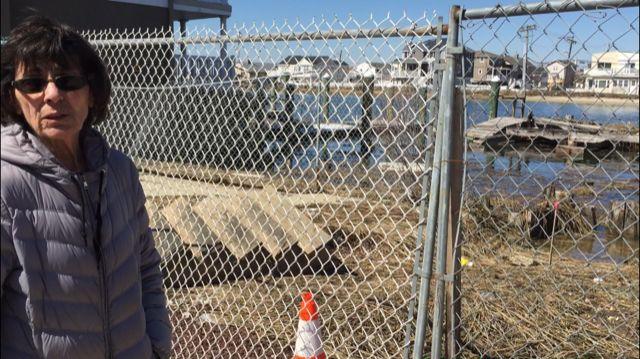 Struggling to keep up with infrastructure
Andrea Petinga lives in the Chelsea neighborhood of Atlantic City, where back bay flooding is also an issue.
But for Petinga, who has lived in her home 43 years, the flooding is made worse by failing infrastructure.
The city bulkheads across Sunset Avenue from her home are falling apart, and stormwater drains and pipes under the street don't function properly.
The city recently voted to fund a study of flood problems in Petinga's neighborhood and other bayside areas south of the Atlantic City Expressway, said Atlantic City's grant consultant James Rutala, of Rutala Associates in Linwood.
The city has tackled two huge sustainability projects — building the seawall and Boardwalk in the Northeast Inlet and renovating the Baltic Avenue Canal, a massive underground cement pipe that drains the north end of the island. Floodgates have been replaced and pumps installed, he said.
But around LaClede Place, where Petinga lives, some bayfront property owners have not installed bulkheading or even sandbags. Many owners don't live there full-time. Some of the lots are vacant, after older homes were destroyed in Sandy, while others never had bulkheads.
"At the time this house was built, we didn't have flood tides like we do now," Petinga said, looking at a bayfront home built in the first half of the 20th century. It has a boat ramp built into the lot, allowing the water to lap up and over any time tides are high.
"Since Sandy, every full moon, every new moon, we get floods," she said. She theorized the storm did something to the marshes, or simply dumped too much silt into the back bays, further raising water levels.
She could not bring her car back to her neighborhood for 11 tides — six days — in a row between the second and third nor'easters in March, she said.
"The tides never went down. It was crazy," she said of water in her street and around her masonry duplex that cannot be lifted.
At another nearby bayfront property, a new bulkhead was recently installed, but since it is surrounded by lots without them, it can't do much.
"All this water undermines these sidewalks," said Petinga, pointing out collapsing and deteriorating cement from the regular inundation with bay water.
She worries about kids falling into the water while playing around vacant properties. She also worries the compromised sidewalks could collapse, trapping someone.
She's ready to leave the island, she said.
But in the next breath, she seems to contradict herself.
"There is nothing prettier than living on the bay or by the bay," said Petinga. "Except when it's in your living room."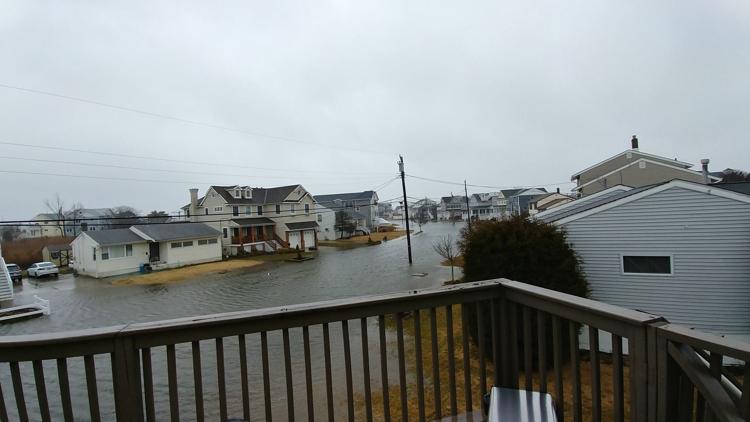 Back in Ocean City, Palermo has plans because she's worried about the storm.
"I was supposed to go to dinner Monday night. High tide was at 6 p.m. to 7 p.m., and I might not make it back in time. I canceled dinner so I'd be home for high tide," she said.
Her kids' soccer events are postponed a lot because of flooded fields, she said. She also changes plans if a weekend is forecast too stormy.
Sometimes she takes chances, she admitted. When her son moved up to Boy Scouts from Webelos, there was a big ceremony.
"I literally took pictures out the window saying, 'I don't know if I'm going to make it. I can't get out of the driveway,'" Palermo said. "But I drove through some water to get there. If it hadn't been so important, I would have stayed home."
The low-slung Camaro she drives may not have been the best choice, she admitted.
"I was not thinking when I got that car in this house," she said, laughing.
So she also purchased a high-riding SUV.
But one thing hasn't changed: her connection to the sea.
Like Petinga, she feels conflicted.
"I love the water. To me, living on the island, when I drive over the bridge I decompress," said Palermo. "That takes the stress — a little bit — out of the flooding."