Warming shelters will host more guests in the years to come. However, plans on the public and private levels likely will generate mixed results.
Code Blue alerts, intended to assist municipalities in protecting vulnerable citizens during cold weather, were expanded under a law recently signed by Gov. Phil Murphy.
The change in criteria has been accepted positively by those who work directly with the law, though funding remains an issue.
A Code Blue alert, intended to assist municipalities in protecting vulnerable citizens durin…
On Jan. 21, Murphy signed into law new criteria for Code Blue. Alerts are now triggered any time the National Weather Service predicts a temperature of 32 degrees or lower. Previously, alerts were activated when temperatures were predicted to fall below 25 degrees without precipitation, or below 32 with precipitation.
"I was in tears when it passed. I was just really, really excited when it happened," said Paul Hulse, president and CEO of Just Believe Inc. in Toms River, which operates warming shelters In Ocean County.
According to the Iowa State Environmental Mesonet, 101.1 nights per year experience a low temperature below 32 degrees at Atlantic City International Airport. That's well above the 31 Code Blue alerts issued in Atlantic County last winter.
Vince Jones, coordinator for the Atlantic County Office of Emergency Management, said the law is well-intentioned and serves an important purpose, but questions where the funding to pay for it will come from.
"We felt that they did their homework when it came to the weather part of it and how temperatures affect the body," Jones said. "They did their due diligence there. However, it's going to create more Code Blue nights and there's going to be more costs involved and it just didn't get addressed."
MILLVILLE — It's a cold, clear Thursday night at Trinity United Methodist Church. A Cumberla…
Jones said that after speaking with the New Jersey Association of Counties, the new standards went into effect for the Code Blue issued this weekend.
In Cumberland County, officials believed it did not go into effect until the following winter. However, as of Feb. 18, the county utilizes the new criteria. 
Cape May County changed its criteria immediately after the bill's passage.
The lack of funding on the state level has caused additional confusion and frustration, Jones said.
"You're going to have a lot of Code Blue nights. Who's putting them up, who's paying for them? We're stuck now on the back end with this new law," Jones said.
The M25 Initiative, a nonprofit that operates warming shelters in Cumberland County and offers amenities like food, beds and worship, said they cannot continue in their current capacity given the law change. One night of Code Blue costs about $500 for the county with volunteer forces, Rob Weinstein, president and founder of M25, said in an earlier interview.
"While we remain committed to the spirit and goal of the program, we believe that the long-term needs of the program, along with the limited human resources of the M25 Initiative, require more operational leadership and resources than our volunteer board can offer," the group said in a letter to Cumberland County officials.
The group is looking to others for support.
"I think we were more looking toward a county agency of some sort and partner with them. ... We want to partner with another organization," Arrigo said.
At Atlantic City International Airport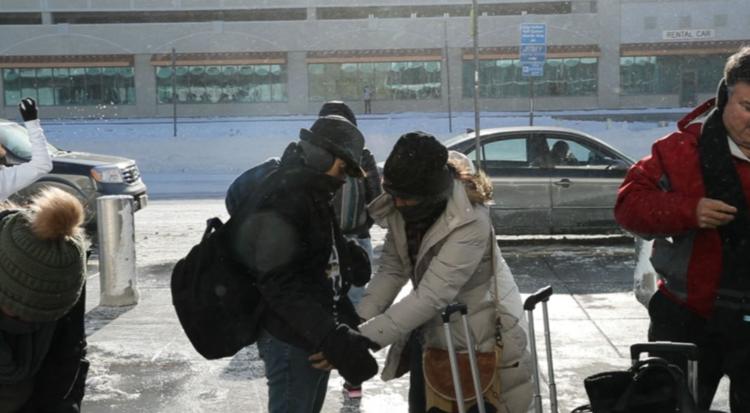 The first full winter's worth of snowfall data goes back to 1948-1949 at A.C. Airport, located in Egg Harbor Township.
On average, 16.5 inches of snow fall, though this can be heavily influenced by just one snow storm bringing a "season's" worth of snow. Seasonal snowfall in the single digits is common, last occurring in 2016-17, but these five winters barely made a mark on the ruler. 
5) 1997-98
The whole season's snow came down to one day. All 3.0 inches of snow fell on Dec. 27.
4) 2001-02
The only winter of the millennium to make the list, 2.6 inches of snow fell. 
Most of it, 2.4 inches, came on Jan. 19.
3) 1949-50
Typically, two inches is the threshold where you see the plow out on the road. Even if you added this winter up, it wouldn't be enough to plow, let alone shovel. 1.6 inches was the total.
Jan. 19 is a popular date for the first snowfall in lean years. The first accumulated snowfall this season was also Jan. 19.
2) 1994-95
Second places gets you under an inch for seasonal totals. The 0.8 inches was accomplished by two separate 0.4 inch events in February. 
1) 1972-73
That winter was only saved by a paltry, 0.4 inch event at the airport. South Jersey residents had to hold their breath, though, it wasn't until Feb. 16.
0.4 inches of snow is about the average for Charleston, South Carolina (0.5 inches). 
Near Cape May
While the period of record is longer, going back to the winter of 1893-94, records must be taken with a small grain of (road) salt. 
Not every year had a person measuring snow. Furthermore, missing days were frequent before the winter of 1974-75. 
To account for this, 0 inch seasonal values with more than 1 day missing was excluded. 
14.9 inches of snow falls throughout the winter in New Jersey's Southernmost Point. 
5) 2011-12
1.8 inches of snow fell in the season. Snow lovers did catch a bit of a break, though, as it came via 4 unique events over time. 
4) 1991-92
Like fifth place, the little bit of snow was spread out enough to at least not make it feel like South Florida. 4 events totaled 1.6 inches of snow. 
3) 1970-71
It was one and done for one. 1 inch flat fell over the winter, happening the day after Christmas. It was a long winter for snow lovers indeed. 
Note, one day of observations was missing from this winter.
2) 1994-95
Since the shore typically sees less snow than the mainland, it comes as no surprised that the 2 spot has less snow than the top (bottom) spot for the mainland.
0.2 inches of snow fell back in 1994-95, with South Jersey snow lovers waiting until mid-February for the white gold. 
This is on part with an average winter in Dixie's Sunny Shores. Mobile, Alabama, has an average of that amount per year. 
1) 1972-73
Being located on a Cape, the surrounding three bodies of water do a valiant job of flipping to snow. It's no wonder why locals call Cape May County "The Cape May Bubble".
Well, talk about a bubble effect. A big, fat 0 inches of snow accumulated that winter. This put Cape May in the company of Miami, Phoenix and San Diego that winter. 
One day is missing in the record and that was in February. Given that Atlantic City International Airport reported 0.4 inches of snow during the month, it's entirely possible that no snow fell that February down at Exit 0.