MAYS LANDING — Four years after her death, the family of Tiffany Valiante is keeping hope alive that someone has more information about how the 18-year-old Oakcrest High School graduate disappeared from her home and ended up on the train tracks a few miles away.
The Valiantes are now offering a $20,000 reward for more information in Tiffany's death, and they have filed a new lawsuit to have NJ Transit police evidence tested for DNA.
"We know somebody out there has the answer that we need," Tiffany's mother, Dianne Valiante, said Thursday morning. "I want people to put us in their place and think what if this was your daughter, your cousin. How would you feel? You have all this evidence, and nobody is listening."
NJ Transit declined to comment.
Tiffany was hit by a train about two hours after leaving her home abruptly about 9:30 p.m. July 12, 2015, while her family celebrated her cousin's graduation across the street. Her death was ruled a suicide by the state medical examiner after a brief investigation that did not include interviews with her family members, any known DNA analysis or a rape kit.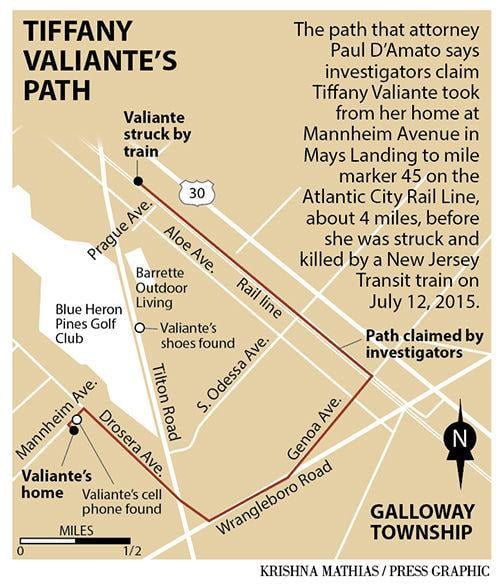 In the weeks and years since, her family has been leading a relentless campaign to have Tiffany's cause of death changed to "undetermined." They have been backed by many others in their quest.
The civil suit filed in Atlantic County Superior Court on Thursday seeks to have NJ Transit police identify which items of evidence they have and which have been destroyed; to require the department to identify from which items DNA swabs were taken; and to transfer the items and DNA to a private forensic firm for analysis. It also seeks legal costs.
According to the exhibits included in the case, NJ Transit documented more than a dozen pieces of evidence, including items it had retained from the scene of Tiffany's death, like her T-shirt and ankle bracelet, a folding knife and a white towel "with what appears to be blood stains."
The evidence also included Tiffany's shoes and headband, an extra-large gray Wilkes University sweatshirt and an iron-on letter "A" with a straight pin through it. Those items were found in the brush off Tilton Road, a little less than a mile from the train tracks.
In 2017, the Valiantes' attorney, Paul D'Amato, sent an Open Public Records Act request seeking, among other things, Tiffany's shoes, headband and anklet, as well as cellphone records from her phone and any reports from the nurse practitioner who pronounced Tiffany dead. For those particular items, NJ Transit responded it "has no records responsive to your request."
Dianne said the family is willing to pay for the cost of DNA testing to get answers.
"One way or another, DNA is going to get tested," said Tiffany's father, Stephen Valiante. "I care about this and I want to get it done, and that's all there is to that."
Among the Valiantes' supporters is Lindsay Schuele, 23, of Sparta, Sussex County, who played volleyball with Tiffany on a recreational league at Stockton University. Schuele has kept in touch with the Valiantes since Tiffany's death.
"She could light up a room. She made everyone around her smile," Schuele said of Tiffany.
She said the Valiante family is fighting an uphill battle but has a lot of support.
Family friend Eddie Nutt, of Bass River Township, Burlington County, said he understands the Valiantes' determination.
"I'm sure they want closure. Somebody obviously did something," Nutt said.
On Friday, the Valiante family plans to hold its annual get-together at their home on Mannheim Avenue to remember Tiffany. This year, the family will plant a dogwood tree, then paint remembrance rocks and place them around the tree.
"So that we can always go back and say, 'This is a circle of love,'" said Tiffany's sister, Krystal Summerville, 33, of Egg Harbor Township.
Meanwhile, the family will soon be handing out brand-new signs and bumper stickers announcing the monetary reward that were created with the help of former Atlantic County Surrogate Jim Carney, who now works as a personal advocate.
"We know there's people out there that have information," Stephen Valiante said.
He said the family is taking a second mortgage out on their house to fund the reward, because "money talks."
"It will give us more evidence and more backing than what we already have to prove to them that this needs to be opened up," Summerville said.
Tiffany's eldest sister, Jessica Vallauri, 35, of Mays Landing, said people can call the number with any possible information, even rumors.
"Some people feel like, 'Oh, it was just a rumor, I'm not going to say anything,' but, no, that might be the key evidence that we need," Vallauri said.