NJ Transit will beef up service on the Atlantic City Rail Line for the air show later this month, according to an agency spokesperson.
The decision followed a conference call Thursday brokered by State Senator Chris Brown, R-Atlantic, between the agency, elected officials and South Jersey business stakeholders
That call was a follow-up to a June meeting between South Jersey representatives and NJ Transit Executive Director Kevin Corbett. After the meeting, participants said they planned to provide the agency with short-term, mid-term and long-term goals to improve the Atlantic City Rail Line, a line riders and officials have said often gets short shrift from the state.
"NJ Transit is pleased to continue collaborating with local elected officials and the business community to explore options to enhance the Atlantic City Rail Line," said spokesman Nathan Rudy. 
Extra service for special events, like the Atlantic City Air Show, was one of the short-term goals. No details of the extra service were released.
According to Brown, the short-term goals discussed — to be implemented within a year, if NJ Transit signs on — include opening clear lines of communication in the run-up to large events in the resort should they require increased service on the line, marketing the line as a way to get to events in Philadelphia and down the shore, surveying workers from large Atlantic City employers to adjust arrival and departure times to their needs, and reducing travel time, cancellations and delays.
Since the line's reopening in May, after a protracted shutdown for the installation of federally mandated safety mechanisms, cancellations and delays have plagued commuters, reinvigorating longtime complaints that the agency undervalues its South Jersey line.
Brown, who has pushed for change on the ACRL, was pleased with the outcome.
"I am pleased by working in a bi-partisan manner with President/CEO Corbett and local stakeholders to achieve better rail service for Atlantic County working families and businesses, we have secured additional train service for the Atlantic City Air Show as a first step in helping the Atlantic City Rail Line reach its fullest potential," Brown said.
Representatives from the agency Thursday afternoon spoke with Brown, Mayor Frank Gilliam, CRDA Executive Director Matt Doherty and Chair of the Atlantic County Board of Chosen Freeholders Amy Gatto, among others.
Future conference calls will address the local officials' and stakeholders' mid- and long-term goals for the line, Brown said.
Among the mid-term goals, which stakeholders believe could be tackled within one to three years, are establishing shuttles from the stations in Atlantic City, Absecon and Egg Harbor City to the Atlantic City International Airport, identifying funding opportunities to build a Pomona train station, looking into discount ticket programs for casino employees or reduced fare for Stockton students, and encouraging the development of transit villages around existing stations.
A "transit village" status gives a town access to more state funding for streetscaping and other improvements to promote construction of higher-density housing and commercial space.
The long-term goals discussed, which stakeholders believe could be tackled within three to five years, include having hourly runs on the line, express trains to Philadelphia and Lindenwold, constructing double tracking where possible, and developing a way to quickly connect North Jersey and New York City to the ACRL, using as a blueprint the former "Blue Comet" right-of-way between Lakehurst and Winslow Junction and the former Atlantic City Express Service between New York City and the resort.
Rev. Janet Hewes Gasbarro, of Absecon, who was nominated for the NJ Transit board in March, participated in Thursday's call, and said it was productive.
"I think it was a good conversation ... It was a good follow-up to our meeting," said Gasbarro. "I think they're sincerely working with us to make this improve and make it accessible. That's the feeling that I'm getting."
Staff Writer Michelle Brunetti-Post contributed to this report.
What to know for the Atlantic City Airshow 
What's happening?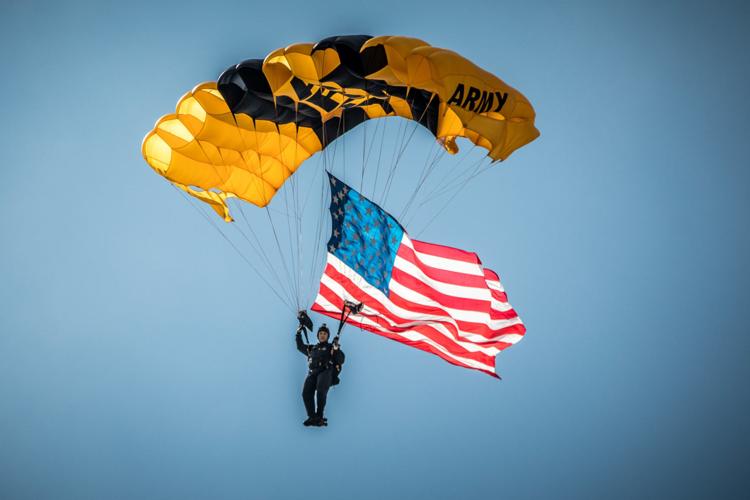 The Atlantic City Airshow returns to the resort the week of Aug. 19.
Opening ceremonies take place Monday night, Aug. 19, with the show's first-ever evening jump by the U.S. Army Golden Knights at Linwood Country Club, said chamber Executive Vice President Michael Chait.
Practice day will be Aug. 20, with the show Aug. 21.
Beside the show, the week will also feature a Red, White, and Blue BBQ at Linwood Country Club. 
When and where are these events?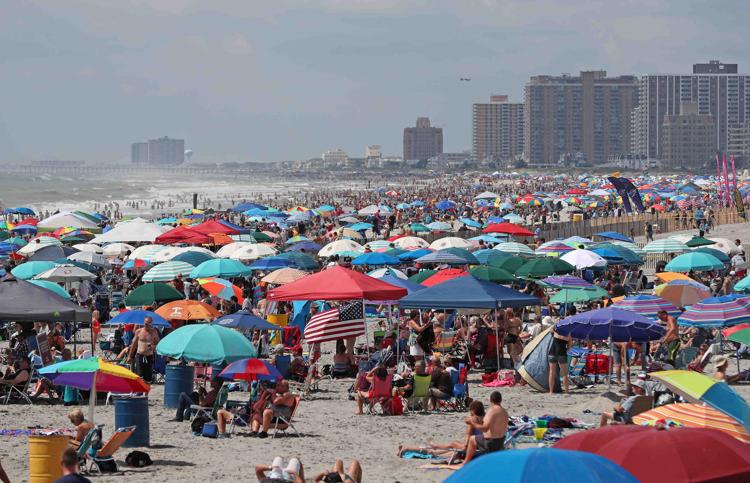 The barbecue is planned for 6:30-9 p.m. Monday, Aug. 19 at Linwood Country Club.
The airshow is planned for 11 a.m.- 4 p.m. Wednesday, Aug. 21 along the beachfront.
Both events are planned rain or shine. 
What does the BBQ entail?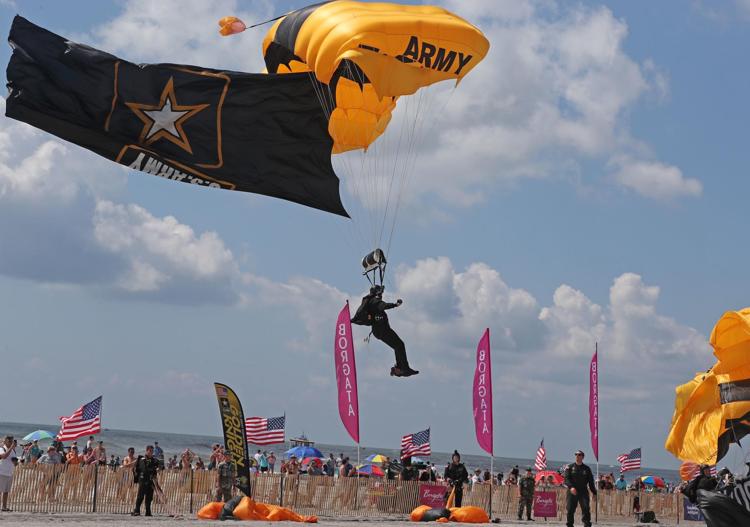 The menu for the Red, White and Blue BBQ will feature a variety of classic backyard favorites such as hot dogs, burgers, chicken, sausage, grilled shrimp and more. Side dishes include grilled veggies, potato salad, cole slaw, corn on the cob, baked beans, and salads. Dessert will feature assorted cookies, chocolate covered pretzels and fresh fruit.
The even will be topped off with a special night jump performance by the US Army Golden Knights.
What is the lineup for the airshow?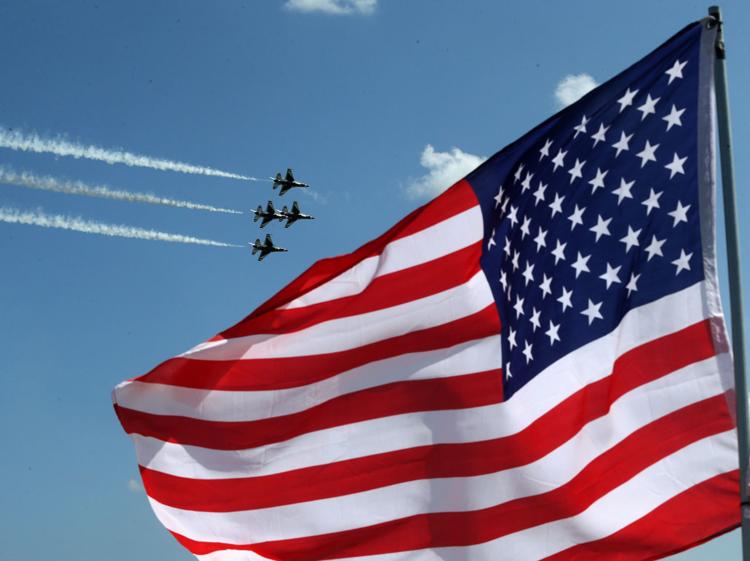 The lineup is subject to change, but the day will begin with a National Anthem Flag Jump as performed by the Army's Golden Knights, the proceeded by several flybys, aerial demonstrations, and performances from various air showmen, including the US Air Force Thunderbirds.
How much are tickets to the events?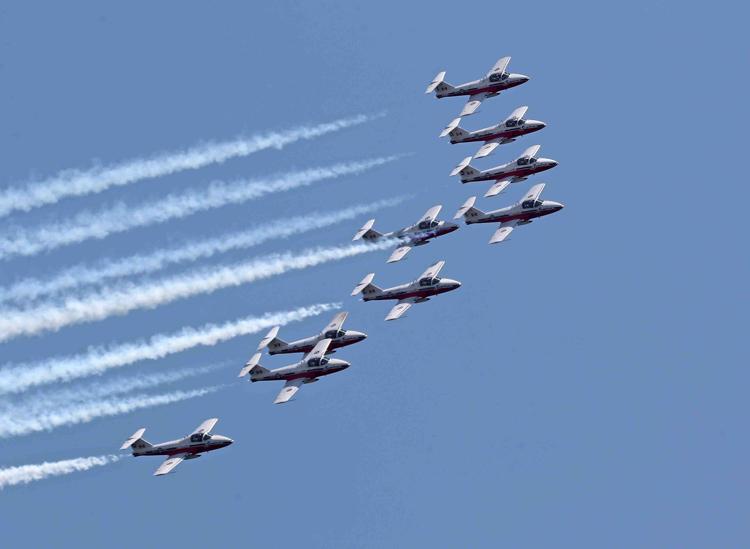 Tickets to the Red, White, and Blue Beach BBQ are $35 for children 12 and under, and $65 for adults. Children four and under do not need a ticket.
Attendees of the airshow can view the performances for free anywhere along the Atlantic City Boardwalk or beach.
Premium seating is available for purchase, and ocean facing hotel rooms will have good views of the show.
What is the Flightline Club?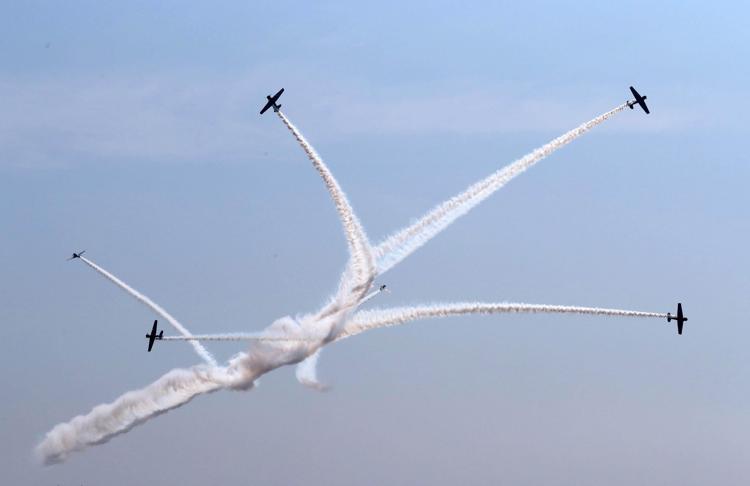 The Flightline provides views a VIP, shore-side experience of the airshow beneath a tented venue, complete with tables, chairs, on sight restrooms, sound and narration of the flights, and unlimited lunch food and nonalcoholic beverages served from 11 to 2.
Admittance is $55 for adults, and children four and younger are free. Tickets can be purchased online at https://www.eventbrite.com/e/2019-atlantic-city-airshow-flight-line-club-tickets-59635427168?aff=AirshowWebsite
Where can I park?
Parking is available throughout the city. Early arrival is recommended.
Is there a public transportation option?
Yes, NJ Transit offers an array of options for purchasing rail and bus tickets into, out of, and around Atlantic City. Tickets can be purchased at most public transportation stations. NJ Transit also offers a variety of special fare options for train and bus.
Visit njtransit.com for bus and train schedules.
Is there anything else I should know?
Snacks and beverages are a smart choice to bring. Nonetheless, there many places on the boardwalk to grab a bite to eat. Also, dressing for the occasion is advised.
This is beach after all, so bring some chairs and umbrellas. Cameras and binoculars will also help improve the show.
WPG Talk Radio 95.5 FM and 1450 AM will provide commentary of the event.