On Nov. 15, three people were shot in what officials called a targeted attack during the third quarter of the Pleasantville-Camden Central Jersey Group II high school football playoff game. What follows are accounts of the evening from people who attended the game.
Friday afternoon
Sign up for MORNING KICKSTART plus other valuable EMAIL NEWSLETTERS and never miss out on the latest in news, entertainment, weather, and sports.
VIEW & SUBSCRIBE HERE
It's 3 p.m., four hours before the game, and Chris Sacco, Pleasantville head coach gathers in the high school's cafeteria for a pregame meal of chicken and pasta. The players hang out, trying to relax. At 5:45 p.m., his special teams players head out to the field, followed by the full team at 6 p.m. The game is an hour away, but already there's a different feeling in the air. A program that had struggled for years had its biggest crowd in decades.
SACCO: When we came out, the coaches all said how big the crowd was. We've never seen our side completely full. The kids were really locked in.
Ernest Howard, 17, Pleasantville linebacker and tight end: They told us it was like 2,500 people there. It was just like a live night.
Retired Pleasantville Battalion Chief Neal Loch, 51, arrives five minutes before kickoff with Jonathan Diego, a Pleasantville alumnus. Loch takes his usual spot in front of the high school band.
LOCH: We just kind of hang out.
Up in the press box behind Pleasantville's home bleachers, Press of Atlantic City sports writer David Weinberg sets up his laptop next to Nick Kosko and Steve Parker, who are broadcasting the game for 97.3 ESPN. Weinberg leans out the open press box window and snaps a photo of the crowd, which he posts on Twitter.
Game time
With a trip to the sectional final on the line, fans wave maroon-and-gray pompoms as Stephen Townsend, the PA announcer and athletic director at Pleasantville, urges the record crowd to make some noise for their team. Pleasantville firefighter Julio Sanchez, 41, sits on the right side of the bleachers with fellow firefighter Ernie Alexander, and takes a video of the crowd that he posts on social media.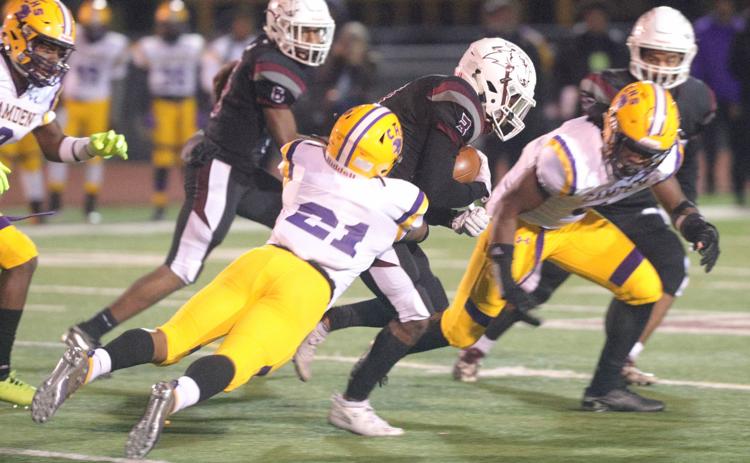 The first half ends with Camden leading 6-0 in a defensive battle.
SACCO: We were down 6-0 at halftime, but we were thinking we'd be able to wear them down in the second half.
SANCHEZ: It was exciting to see the kids in that position for the first time in a really long time. It was a really good game up until that point.
As Sacco addresses his team in the locker room, Loch and Diego walk up to the press box to be interviewed by Kosko and Parker.
LOCH: After we came down from halftime, I ran down to the port-o-potty, the exact furthest point from where we were standing. I come back 10 minutes later, I told (Diego) we didn't realize how thick the crowd was. It was four people thick; what's normally a two-minute walk took me 10 minutes.
POP-POP-POP
On fourth down and with 4 minutes and 58 seconds to go in the third quarter, Pleasantville punts. The punt hits the ground and rolls out of bounds, and the special teams leave the field. Suddenly, bedlam erupts with the sound of gunfire, people screaming and others scattering from the home team's bleachers.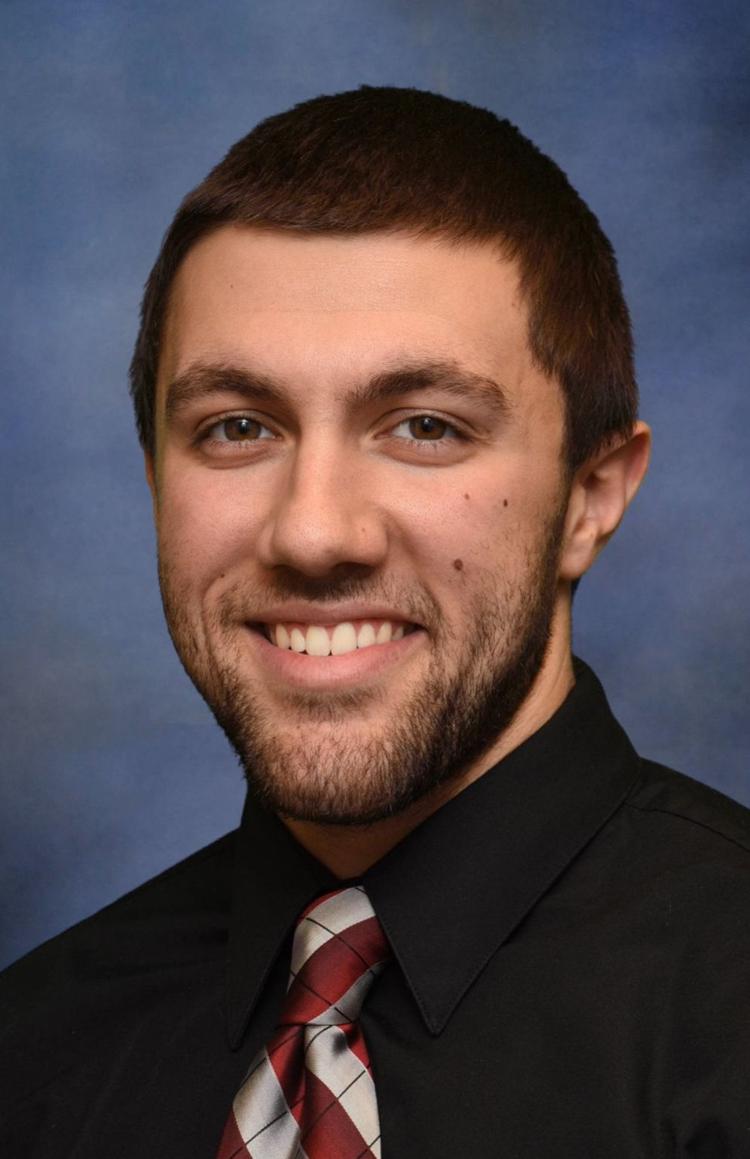 KOSKO: I hear these shots ring out in my left ear. And in that split second I had two thoughts in my head, thinking that either these are firecrackers or this is the worst-case scenario and these are gunshots.
LOCH: We hear the pop, pop, pop, pop. We looked at each other rather calmly. Everybody is moving at us. We immediately take off towards the shooting. We were hoping it was fireworks, but that's too much panic for fireworks.
SACCO: The shots came directly behind me, and I knew what it was right away. I just grabbed the players who were close to me and yelled for them to get down or run.
After hearing the shots, Sacco ran up to the stands to find his family. At first he couldn't locate two of his children. 
SACCO: To be honest, that was the scariest part for me. Then we found out that my cousins had taken them to be safe. We all got to the gym, and there were about 200 people in there, the locker rooms and the coaches' offices, taking shelter.
HOWARD: We ran inside and got in the gym, got in the locker room, and everybody just started calling their loved ones. And unfortunately my mom didn't answer at first. So I called my sister and my sister said she was looking for my little brother. So that's when I started losing my mind and I was about to run outside and go find him myself.
In the press box, Townsend, Weinberg, Kosko and Parker hide under the table until they are given the all clear.  
WEINBERG: Screams filled the air as fans stormed out of the bleachers. Officials dropped to their stomachs. Camden players headed to the parking lot on the opposite side of the field.
After the shots are fired, people start running for cover and calling 911. Howard and his teammates take off running toward the school and break through the fence because they are unable to jump over it. While others run from the shooting, Loch and Diego take off toward the home stands.
911 call: "We need help like right now."
DIEGO: By the time we got there, the gunshots were probably 30 seconds to a minute already over.
After arriving in the stands, Diego and Loch start to treat those who had been shot. Loch treats Micah Tennant, a 10-year-old boy from Atlantic City.
DIEGO: There were people in the stands that were not cooperating with the police and that were very antagonistic toward the police.
Nina Mitchell, an off-duty detective with the Atlantic County Prosecutor's Office, had stopped by the game as the shooting unfolded. When she arrives, the scene is chaos.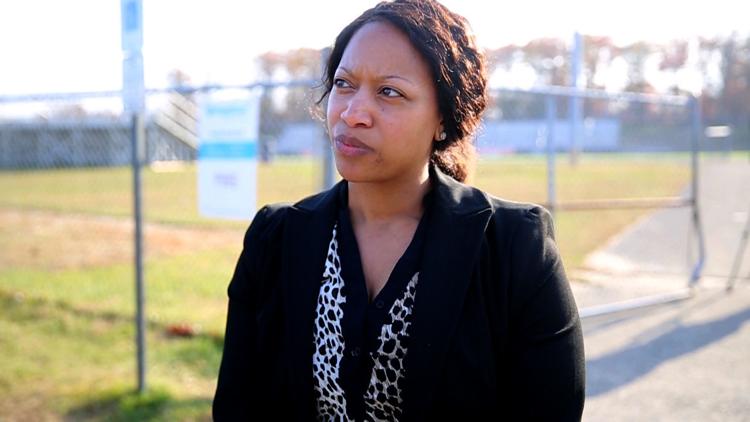 MITCHELL: Just kids screaming help, crying, yelling. I saw people carrying people, pulling people by their arms.
WEINBERG: A woman was crying next to (a victim) while emergency medical personnel tended to him before loading him into an ambulance. A minute later, a man was being carried out of the stands on a stretcher and was receiving medical attention until another ambulance arrived. I couldn't stop shaking.
As EMTs work on the victims, the alleged shooter, Alvin Wyatt, 31, of Atlantic City, runs from the scene. JonMarshall Robinson, an on-duty Pleasantville police officer, notices something different about Wyatt as he flees.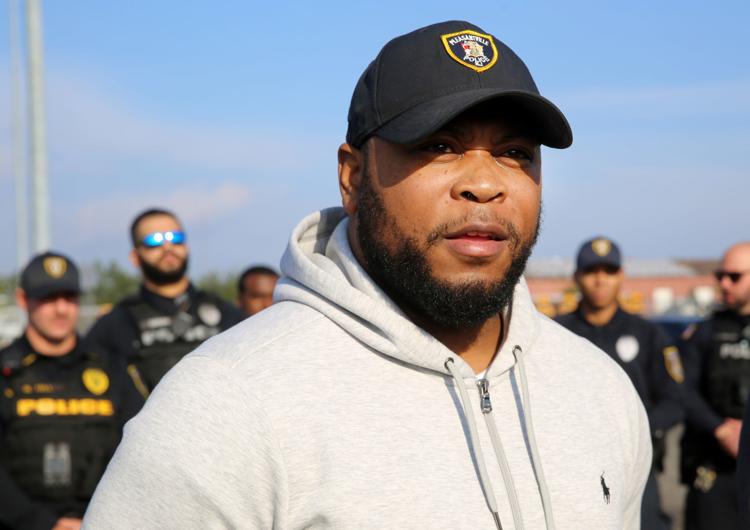 ROBINSON: He was just running faster than everybody else, wasn't looking back. It didn't look like he was running for safety when I approached him. Once he saw that I was an officer and I had my weapon out, he really complied. He was like, "What's going on? What's going on?" I was like, "You tell me. I got a description, and you matched it."
'I STAYED AWAKE FOR A LONG TIME'
Diego stays at the field until 10 p.m., while in the locker room, Howard and his teammates sit silently. 
HOWARD: There wasn't really conversation with anybody. Everybody was just crying, angry, just frustrated that we got this far and something like this can happen at this … wonderful night that we were about to have.
SACCO: When I got home, I stayed awake for a long time, just trying to process everything and breathe.
Just after 10 p.m., four people are arrested in connection with the case after an off-duty police officer follows them from the game into Atlantic City. Micah Tennant dies Nov. 20, hours before Camden and Pleasantville finish their game at Lincoln Financial Field in Philadelphia. Camden wins 22-0.