LACEY TOWNSHIP — For 50 years, the Oyster Creek Generating Station has towered over the Pine Barrens in what used to be a sleepy fishing village called Forked River.
Some looked at the nuclear plant as they passed on Route 9 and saw hundreds of good jobs and tax ratables, its presence contributing $80 million a year to the local economy.
Others saw a public health and environmental threat, a source of pollution that was slowly killing nearby Barnegat Bay.
However they felt about the plant while in operation, people are now asking how the plant's closing Sept. 17 and a years-long decommissioning process will affect their taxes, their quality of life, their health and the environment.
But answers aren't easy to find, since no one yet knows who will own the plant during decommissioning or how long it will take.
Decommissioning involves decontaminating the site, dismantling the plants' buildings and infrastructure, and overseeing the storage of 753 metric tons of highly radioactive spent fuel rods left over from converting uranium to electricity.
Current owner Exelon Generation said it would take 60 years to complete the process, then announced it wants to sell the property to Camden-based Holtec International, which says it can do it in eight years. As part of the sale, Holtec would take ownership of the property, its nuclear waste and access to a $980 million decommissioning fund paid for by ratepayers.
Holtec did not respond to requests for comment.
"Exelon is doing what good corporate leaders should do and look out for shareholders," said Ron Martyn, a retired finance executive who lives in Lacey Township and is working with other retirees to protect the interests of the town. "Exelon would like to get out of the liability."
Holtec is a multibillion-dollar global company, he said. Sitting on its board are Democratic powerbroker George E. Norcross III, the insurance executive who has led the revitalization of Camden, and former U.S. Rep. James Saxton, a Republican from Mount Holly who represented New Jersey's 3rd Congressional District from 1984 to 2009.
But Holtec plans to subcontract the work to a newly created company called Comprehensive Decommissioning International LLC, also of Camden. Martyn wonders whether it would be structured to have sufficient size and revenue to complete the decommissioning with the funds available.
"Things must be required down the road, like a surety bond," Martyn said. "They must complete the project, or the bond will continue the work."
Residents worry about mishandling of materials on site, a natural disaster or a terror attack. And they are uncomfortable with an unknown company taking responsibility for an important task such as overseeing high-level nuclear waste.
"If something does happen, it will impact our lives, from the resale value of our property to continued town growth," said Martyn, who said he would like to see more of a sense of urgency from government leaders at all levels to get these concerns addressed.
A large part of the Jersey Shore's tourism industry could be affected, said Martyn.
"This isn't just a Lacey issue," he said.
He is lobbying for a bill in Congress that would pay communities for hosting storage of high-level radioactive materials after nuclear plants close.
With at least 12 more plants due to retire by 2025, many other communities will soon face the same questions Lacey is facing now, said Paul Dressler, another Lacey retiree from the business world.
The township collects about $2.3 million a year in property taxes from the plant, but its tax bill will likely go down when Exelon donates 217 of its 766 acres to the township after closing, said Charlotte Martyn, Ron's wife.
Exelon has filed a tax appeal for the 2018 valuation, and would expect the value to go down further once the plant is no longer operating, a spokesperson said.
But the township's annual $11 million in Energy Receipts Tax will continue, according to the state Department of Community Affairs.
"Energy Tax Receipts Aid is no longer tied to the value of utility property within a municipality," said department spokeswoman Tammori Petti. "Instead, it is based on what a municipality received in the prior year. Therefore, the closure of Oyster Creek nuclear plant will have no impact on Energy Tax Receipts payments for Lacey Township."
Residents and environmentalists want to know how government will ensure decommissioning is done correctly, and that the $980 million trust fund is spent wisely.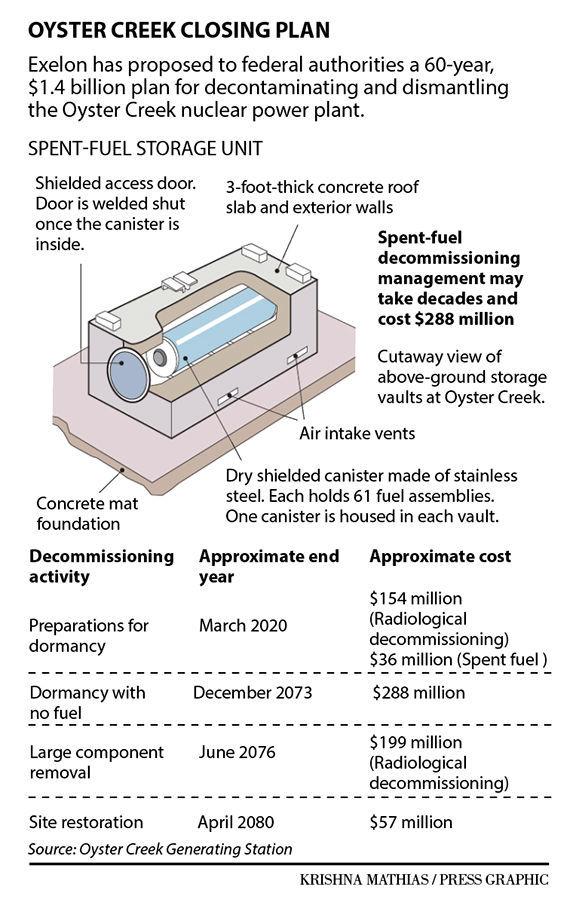 "I still feel Exelon should do the work," said Dressler. His research on an attempt by Entergy to sell the Vermont Yankee nuclear plant to a company called NorthStar found lots of red flags, leaving him doubtful a third party should be involved.
The Nuclear Regulatory Commission, which has to approve any sale of a nuclear plant and transfer of its license, has been examining NorthStar's financial information for two years and has not been satisfied the company has the resources to complete the job.
Taxpayers could be left on the hook to pay to finish decommissioning and handle spent fuel if a company mishandles the funds or is unable to complete the job, Dressler said.
For most businesses, however, the question is will they lose customers when the plant closes?
Matt Madeo, owner of Mrs. Walker's Homemade Ice Cream a few miles north of the plant on Route 9, isn't too worried.
"We definitely have quite a few guys from the power plant come for their lunch break. I see them weekly, or biweekly," he said. "But there will still be people there for years."
Serving 60,000 groups of customers a year, he figures most people coming in are not related to the plant.
"As long as they don't blow up, I'm good," he said.