LONGPORT — The summer drive down Atlantic Avenue toward the ocean is almost always pleasant. Beautiful mansions line the road and the sea breeze whips by.
Then suddenly, the island ends at 11th Avenue, where a row of seven homes sit feet from crashing waves, protected by a stone jetty.
It may seem odd that the tip of Longport starts at 11th Avenue, instead of First, but it wasn't planned that way.
More than a century ago, a string of storms wiped away the borough's first 10 blocks, disasters that still serve as a reminder of Mother Nature's force and the risks of building on the ocean's edge.
"That's why you need shore-front protection," said Mayor Nick Russo as he recalled the disastrous series of storms and blizzards that pounded the island from 1914 to 1916.
It began with storms on Dec. 27, 1913, and Jan. 4, 1914.
Both left millions of dollars in damage across Absecon Island. In Longport, violent gusts of wind up to 40 mph tore apart houses and washed away bulkheading "as if it were cardboard," according to Press archives. An old pier and fishing deck were also ruined.
"DESTRUCTION ON LOWER BEACH DURING A FURIOUS COAST STORM," the front page of the Atlantic City Review read the following day.
Three more storms hit in the following three months, followed by four in the winter of 1915.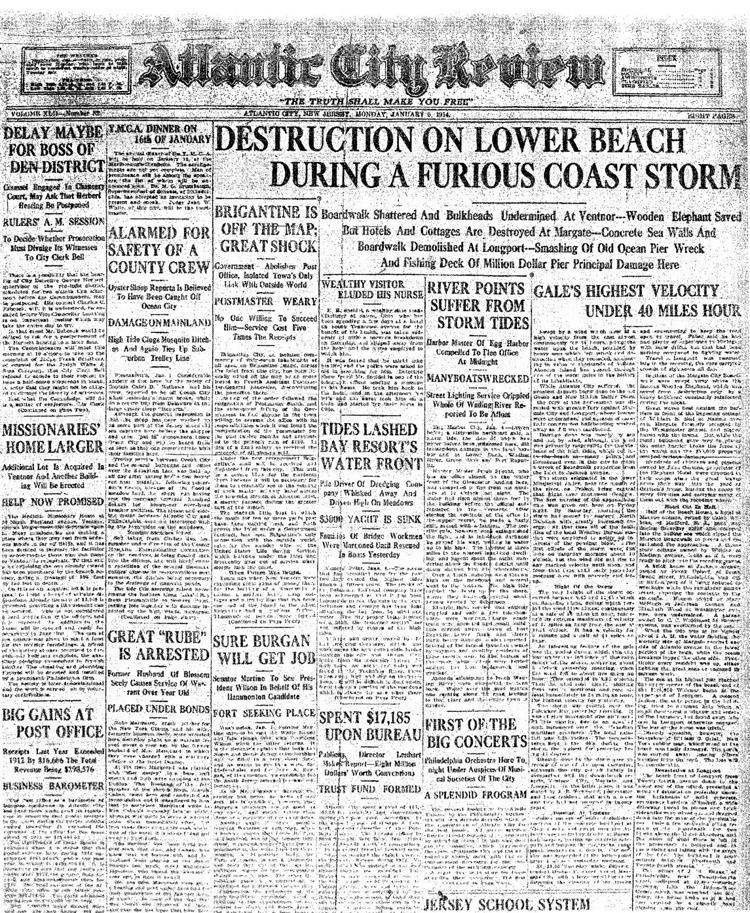 The final straw came in July 1916, when a tropical storm with high winds hit the Atlantic City area, flooding cellars and bringing down trees, Press archives show. It helped slice off a mile and a half of Longport, according to "Great Storms of the Jersey Shore" by authors Larry Savadove and Margaret Thomas Buchholz.
That final storm passed close to New Jersey's coast and finished what the others started, said Jim Eberwine, director of Absecon's Office of Emergency Management and a former National Weather Service meteorologist.
"Over the years, severe coastal storms took a toll on Longport, little by little," Eberwine said. "The continuous onslaught of winter storms eventually completely undermined the roadways and infrastructure."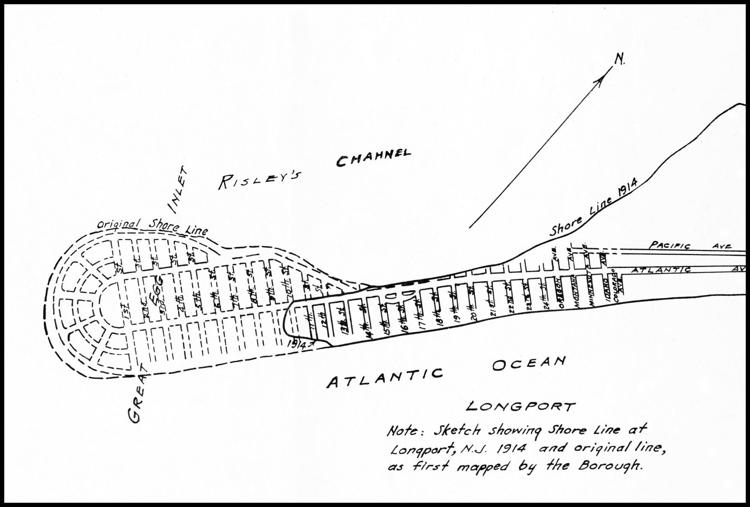 Back then, fewer properties were in harm's way, as the borough was far less developed.
Only a handful of families lived within Longport's first ten blocks, which consisted of beach and a few scattered homes and farms. Trolleys carried residents to other parts of the island.
Chuck Frye's grandfather, Chris Frye, was one of the residents of Longport's lost land. Chris Frye, Longport's first fire chief, was born on the Point and helped work at a farm his father owned there.
In a 1937 Press article, Chris Frye recalled seeing houses "drifting away, tumbling about in the cauldron of waters" during the final storm of 1916.
"He was probably only 20 years old at the time," said Chuck Frye, owner of Frye's Auto Repair in Margate.
The series of storms carried one-third of Longport's land across the Great Egg Harbor Inlet to northern Ocean City and created what is now called the city's Gardens Section, said Tom Quirk, executive director of the New Jersey Coastal Coalition.
By 1920, Longport and state officials built an ocean-facing seawall and a groin at the end of 11th Avenue to prevent further loss of land, according to a 2001 Army Corps of Engineering report on the town. Groins are man-made structures designed to trap sand and hold beaches in place.
"What Mother Nature does is she moves things back and forth," Quirk said. "So we put jetties in to stop that. ... But Mother Nature never listens."