Spring fever will be underway this weekend, and while T-shirt weather will come back into play, we'll also be saddled with some wet weather.
The Press of Atlantic City collected 13 New Jersey Press Association (NJPA) awards, ranging …
You likely did not need to use much of your heating system overnight. Temperatures stayed in the 40s, generally, and around sunrise, we will be on either side of 50. 
Similar to Thursday, the day will not feature the most sunshine, but it will be mostly dry. I would say all outdoor activities and work will be a go, unless it's extremely sensitive to rain. The risk for a shower will be around after 5 p.m., but a majority of locations will be dry.
Otherwise, just expect a strong south wind to blow. Highs will range from the mid to upper 60s on the mainland to the mid-50s at the shore, with lower temps on the Delaware Bay shore.
Meteorologist Joe Martucci appeared on an April 7 episode of "Tidal Flooding Talk" to recap …
Clouds will thicken Friday night as we kick off the weekend. The first of our two weekend storm systems will move in.
Luckily, the brunt of these systems will be at the beginning and end of the weekend. Here are the details:
Rain likely develops between midnight and 2 a.m. Saturday, associated with a cold front. The rain will increase in coverage overnight, and the first hours of Saturday morning should see a steady rain.
After 10 a.m. to noon, I expect most of us to be dry. The front will hang just to the south of us, which will keep us partly to mostly cloudy and maybe with an isolated shower.
As long as you can handle a wet ground, most outdoor activities will be fine during the p.m. hours. Winds lighten up, with highs in the 60s to around 70 most everywhere.
Saturday night will then be dry and very mild, perfect for grilling or taking a stroll on the boardwalk. Temps will slowly fall though the 60s and 50s. By Sunday morning, it will be in the mid to upper 50s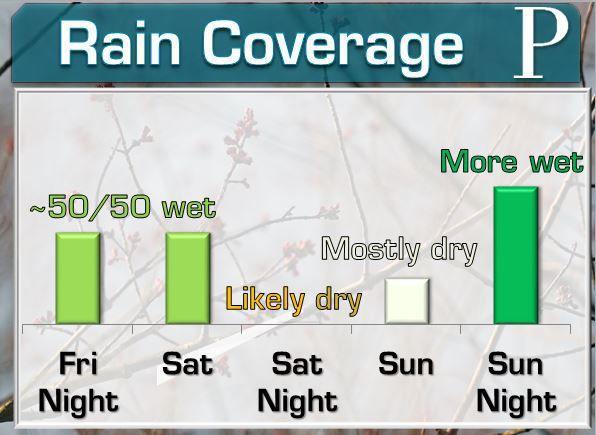 Sunday morning will be good for any Palm Sunday services or planting. You can leave the windows open, with a partly sunny sky. Clouds then will return in the afternoon.
A warm front will lift north with a second low pressure, which usually brings us scattered showers. It will not be a washout. It will be comfortable out, in the low 70s on the mainland. The shore will stay cooler, but even temperatures around 60 will not be too chilly.
Sunday night looks pretty dry. The center of the low-pressure system will pass nearby Monday. Rain gear will be needed for the start of the workweek. A soaking rain looks likely for the morning, tapering off during a windy afternoon.