A European company with plans to build a large-scale wind farm off Atlantic City's coast has acquired competitor Deepwater Wind for $510 million.
The deal between Danish company Ørsted and Rhode Island-based Deepwater Wind now needs to be approved by federal regulators. In the meantime, the two companies will merge teams to advance East Coast projects that span from Virginia to Massachusetts.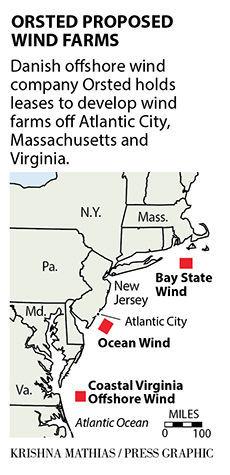 "The approval of this deal signals the importance of growing the U.S. offshore wind industry," said Thomas Brostrøm, CEO of Ørsted U.S. Offshore Wind, in a news release.
The company will be joint headquartered in Boston and Providence, Rhode Island.
In 2015, Ørsted received a seabed lease from the federal government to build the Ocean Wind farm about 10 miles from Atlantic City.
The site would have the potential to supply enough energy for 1.5 million homes and will likely generate 1,000 jobs per year during the two to three year construction process in addition to 100 permanent jobs, Orsted said. It's expected to open in the early 2020s.
The company deployed equipment offshore to measure wind speeds and wave height to find locations for windmills after receiving a permit from the federal government to do so in May. By Dec. 28, Ocean Wind plans to apply for renewable energy credits with the Board of Public Utilities.
The wind energy giant has already made a physical presence on the island too. Five months ago, Ørsted opened an office on the ground floor of the Bella Condominiums facing Pacific Avenue. Staff there oversees development of the proposed Atlantic City project.