Subtropical Storm Melissa will give us one final day of coastal flooding on an otherwise glorious fall day. The rest of the week will then quiet down, with two opportunities for needed rain.
The storm continues to be well off our shore, out past Cape Cod. It has created some serious wave action, which brought rounds of moderate stage coastal flooding to parts of the area. With the northerly wind, the bays have had trouble draining during low tides.
This will happen on Saturday. The morning high tides will be flirting with moderate flood stage. I believe if you are located in Ocean County or near a back bay, then it will be moderate. For everywhere else, including the Delaware Bay, then minor flood stage it will be.
If you've been seeing water since the Thursday evening cycle, you'll see it again here. Move your car and please do not drive through the water. I was out in Atlantic City during morning high tide Friday, and the wake created by driving through it adds inches to the standing water on the ground. In moderate stage, that could be the difference between no water in a home and having it spill in.
Otherwise, high pressure will provide for a dry day. We'll see more sunshine in Millville and Bridgeton, with more clouds along the shore. Temperatures will sit around 70 degrees during the afternoon, with a north-northwest wind around 10 mph. All outdoor activities will be great, provided those along the shore can deal with the flooding waters.
As winds back more to the west, we'll lower our tide heights Saturday evening. We'll be in the nuisance, minor flood stage. I believe the Delaware Bay could even be flood-free. It'll be the last time you'll need to move your cars for a while.
Saturday night will otherwise be a very pleasant autumn evening. Temperatures will fall through the 60s and 50s as we build up to a mostly cloudy sky. Overnight, lows will range from the upper 40s on the mainland to upper 50s at the shore.
That front mentioned in Friday's column for Sunday does look like it will actually make it in here. That will be good news for us. Western Cumberland County was put into a moderate drought stage this past week, and the rest of the region remains "abnormally dry." Rain showers will develop between 2 and 5 p.m. They'll be isolated at best, so it won't be a washout and a few places will squeeze out a tenth of an inch of rain.
In between the rain, it'll be mostly cloudy, with cooler highs in the mid-60s. The flooding will be over.
Press Meteorologist Joe Martucci will be the featured guest at the New Jersey Coastal Coalit…
High pressure will then move in, sit overhead and move out to sea Monday and Tuesday. The result will be a pair of comfortable October days across the region. We'll be in shorts weather for part of Monday, with highs in the low to mid-70s. Tuesday will cool down a bit, but stay seasonable. Expect plenty of sunshine with good nights to leave the windows open if you'll be sleeping then.
Parts of South Jersey are in a moderate drought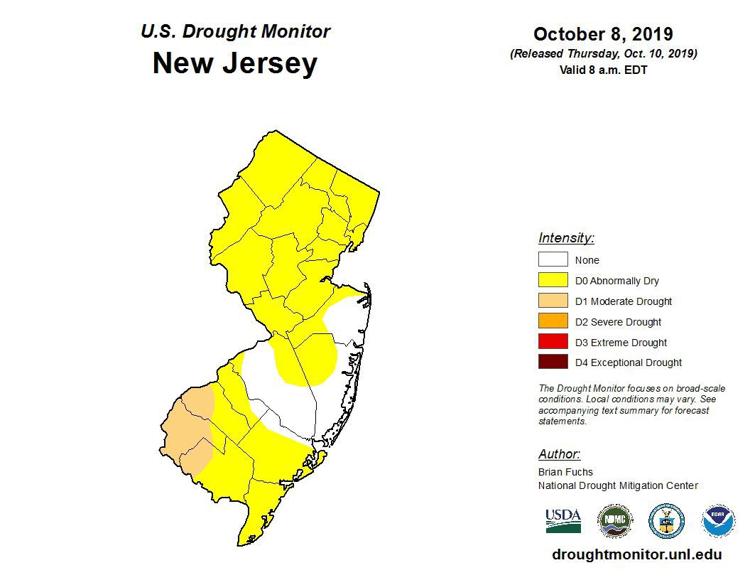 Parts of the Garden State continues to be in a state of drought as of the Oct. 3 update. Salem County, as well as a small part of Gloucester County, were placed in moderate drought stage by the United States Drought Monitor on Thursday.
Only 2.75% of the state is in moderate drought. However, 81.38% of the state is in "Abnormally Dry" conditions. This pre-drought condition includes essentially everywhere south of the White Horse Pike. This is in an increase from 66.97% on Sept. 24. 
However, Dave Robinson, the New Jersey State Climatologist, who recommends what areas should be in drought, said the Cumberland County addition might be by accident. 
"As far as I knew, the drought monitor wasn't going to show any change in NJ this week. That was my recommendation and the author confirmed that would be the case. Thus, any change is not intentional." said Robinson.
Drought conditions range from abnormally dry, classified as D0, all the way to Exceptional Drought, D4. Here are the threat levels, along with their meaning. 
Abnormally Dry - D0
This stage either means the region will go into drought if rain does not come, or will come out of drought. 
According to the United States Drought Monitor, Abnormally Dry conditions bring:
Delayed planting and stunted crop growth
An elevated fire danger
Lawns that brown early, along with wilted gardens
A decline in surface water levels
Abnormally Dry conditions can reasonably be expected every 3 to 5 years, according to New Jersey State Climatologist Dave Robinson.
Moderate Drought - D1
This is the first official drought category, which occurs every 5 to 10 years, on average, according to Robinson. During this time:
Irrigation use increases
Hay and grain yields are lower than normal
Honey production declines
Wildfires and ground fires increase
Trees and landscaping are stressed; fish are stressed
Voluntary water conservation is requested; reservoir and lake levels are below normal capacity.
Severe Drought - D2
Severe drought is when day to day impacts are felt by the general population. This occurs every 10 to 20 years, on average, said Robinson. This includes: 
Outdoor water restrictions are implemented
Warnings are issued on outdoor burns
Water quality is poor
Golf courses conserve water
Crops are impacted in both yield and fruit size
Producers begin feeding cattle
Poor air quality
Trees are brittle and susceptible to insects
Fish kills occur
Extreme Drought - D3
Extreme drought brings increased strain on resources in the area, including: 
Widespread crop loss
Stressed Christmas trees
Wells that run dry
Increased business from well drillers
Wildlife disease outbreak
Extremely reduced flow to ceased flow of water 
Warm river temperatures
Extreme drought is rare in New Jersey and occurs every 20 to 50 years on average, according to Robinson. 
Exceptional Drought - D4
Exceptional Drought stage is extremely rare in New Jersey. The only time once has occurred since 2000 was between Aug. 20-26, 2002. Even still, the only counties in this category were Salem and a very small part of Cumberland County (Stow Creek and Greenwich).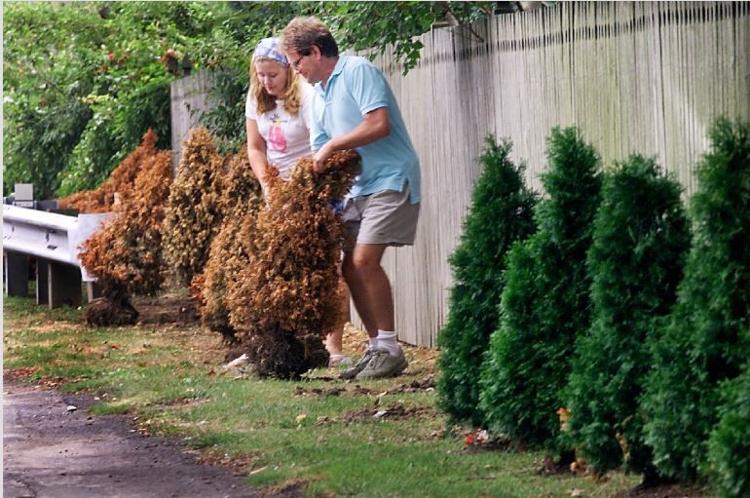 During this stage, crop less is widespread. Water emergencies go into place as well. In 2002, the Great Egg Harbor River, as other small streams in South Jersey, were at a then all-time low. The former Seaview Mariott Resort in Galloway had to reduce their water usage. Landscapers cut their works because they couldn't cut lawns.
Joe's 7-Day Forecast
Be sure to watch Joe's daily forecast videos online. This forecast is updated Monday through Friday. For articles and more, you can also follo…