Two low-end shower and storm risks this week will not be enough to rain on the parade of comfortable, summery weather in the region this week.
It'll be a quiet, pleasant morning across the area. Temperatures will be in the 60s everywhere, warmest at the shore, with a good amount of sunshine. High pressure will dominate to the north, with some moisture pooling up to our south.
We will watch for a few showers or storms after about 2 p.m. However, I doubt all of you see one. In fact, if you will be north of the White Horse Pike on Monday, expect a dry day. South of there should just be isolated showers. High temperatures on the east wind will be in the mid- to upper 70s.
The threat of showers will diminish after dark, as high pressure will flex its muscles and move further in. The result will be a clearing sky. Temperatures will fall to around 60 on the mainland, with mid- to upper 60s by the very mild ocean.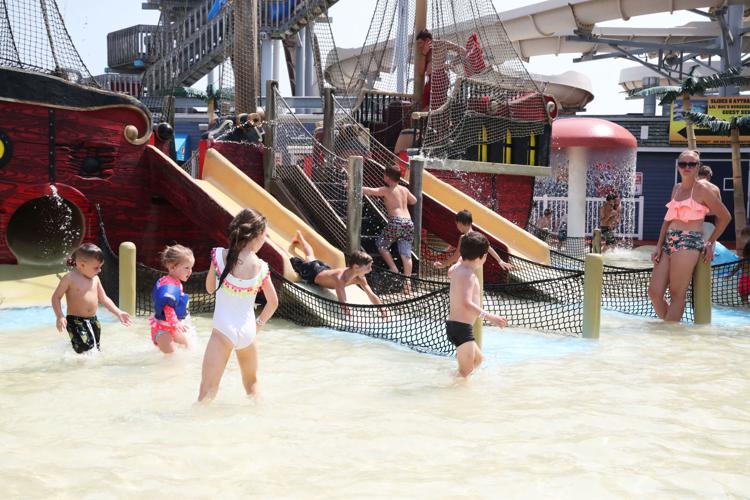 Tuesday will be at the peak of hurricane season and right around our warmest water temperatures of the season, on average. There'll be no immediate tropical threats. On the flip side, hit the beach or pool if you can. What a day it'll be. We'll see a mostly sunny sky with temperatures that'll top out between 75-80. Tack on not a whole lot of humidity and enjoy.
An upper-level ridge of high pressure will then build in from the south, accompanying surface high pressure, then just offshore. The result will be warmer temperatures on a southwest wind. Wednesday and Thursday will be about the same in the temperature department. Mornings will start in the low to mid-60s on the mainland. Avalon and the shore will be in the mid- to upper 60s. Afternoon highs will be in the mid- to upper 80s on the mainland, feeling like 90 with the higher dew points. The shore will have cooling sea breezes, putting the coastline around 80.
Wednesday will be completely dry, with morning sunshine and a few more afternoon clouds. A cold front will hobble in Wednesday night into Thursday. It'll bring a partly to mostly cloudy sky Thursday. I'm watching for a line of storms Thursday afternoon. Severe weather will not be likely, but not ruled out. You'll have plenty of dry time for outdoor work and plans. Only if you need a completely dry day would I then suggest you postpone or push up your activities.
I'll release our summer shore weather grades this week. Look for the video and article and feel free to message me with how good of a student you think it was.
The general response I've had over the past couple of weeks was that it was not a good summe…
Periods of rain. Roadway flooding likely in spots.
Mostly dry until 1 to 3 p.m. Then, rain falls. Rain continues into the night. Record highs possible.
Rain turns to a wintry mix between 2 to 5 a.m. The wintry mix ends 10 a.m. to 1 p.m., staying cloudy after.
Sunny
Morning sun with afternoon clouds. Rain likely develops overnight.
Rain.
Partly sunny