At Hard Rock Tulsa, located off Route 66, there is a diner inside the casino and hotel in honor of the famous highway. Toby Keith's I Love this Bar and Grille is a staple. The Joint is a 2,700-seat concert venue where acts come to play.
Jimmie Tramel, pop culture writer at Tulsa World, recently covered a Kiss concert at the venue. He has seen acts such as the late Merle Haggard and Bryan Adams there. Upcoming acts include Bret Michaels, George Thorogood and Kris Kristofferson.
Even though Tulsa's location has a retro vibe — classic rock plays over the speakers at all times — Tramel said the crowd varies in age.
"It's all ages. Even if you aren't into classic rock or country music, there's still gambling and restaurants. The whole place just has a feel-good vibe," Tramel said.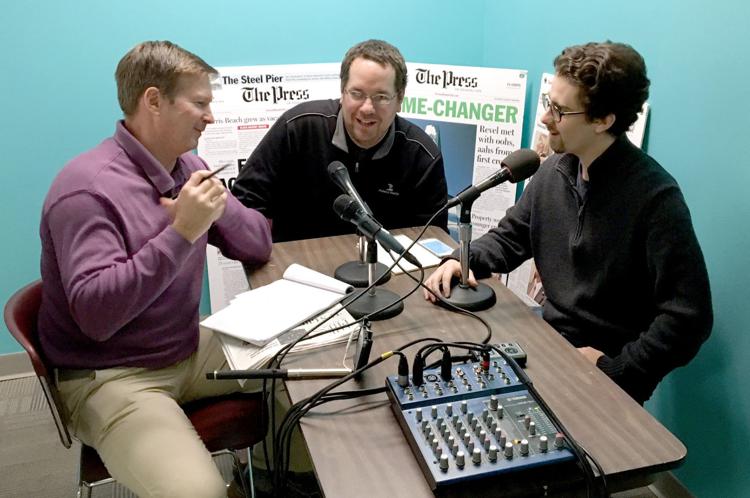 The announcement last week that a group of investors led by Hard Rock International will buy the closed Trump Taj Mahal Casino Resort, rebrand and reopen it as Hard Rock Hotel & Casino Atlantic City by summer 2018 was good news for this struggling resort. But it also raises the question: Does rock 'n' roll still sell?
Rummy Pandit, executive director of the Lloyd D. Levenson Institute of Gaming, Hospitality and Tourism at Stockton University, said a themed restaurant such as Hard Rock will look at the market to find out how it can adapt to younger generations.
"They started many years ago, and at that point they were catering to a different type of generation listening to a different type of music. I'm sure they will evolve," he said.
Founded in 1971 by two Americans living in London, Hard Rock oozes rock 'n' roll, even in its 172 cafes, where Fender Stratocaster guitars and framed pictures of rock legends adorn the dining rooms.
But the individual properties — Hard Rock operates 24 hotels and 11 casinos, including in Tampa, Florida; Tulsa, Oklahoma; and Sioux City, Iowa — still manage to bend the Hard Rock brand to match their audience.
While Tulsa vibes retro, the Hard Rock Hotel & Casino Punta Cana in the Dominican Republic offers more modern fare, with Justin Bieber performing next month.
Other properties offer acts you'd find any week in Atlantic City: stand-up comedians, cover bands and older rock groups such as Grand Funk Railroad, who just played at Tropicana Atlantic City and is scheduled to play at a Hard Rock property in Biloxi, Mississippi, in September.
A survey of millennials' entertainment preferences by the Levenson Institute concluded "casinos, city planners and supporting businesses should focus on providing midscale accommodations and casual-dining options to attract new visitors to the city."
4:30 p.m. The company that bought Atlantic City's Trump Taj Mahal casino still wants to buil…
Which is why Pandit thinks the Hard Rock model could work.
"They have a specific model based on food and beverage and an experience with entertainment," he said. "That model, I believe, will appeal to a growing millennial generation."
The theme alone will make the Hard Rock stand out, Pandit said.
"We don't have such a concept right here in Atlantic City," he said. "I think this will differentiate themselves from other gaming properties."
Gaming professor David Schultz said the company's branding, "which is something they've worked on for 20 years," is still the No. 1 reason professionals see it as a possible success.
Schultz said the Hard Rock brand appeals to millennials and baby-boomers alike.
"It's instant name recognition," he said. "You have an organization that really understands gaming."
A look back at the Atlantic City Hard Rock Cafe