ATLANTIC CITY — With lawmakers in Trenton vowing to work swiftly on legislation to regulate and tax sports wagering, nearly all of the state's casinos and racetracks have publicly stated their plans to offer the new gaming option as quickly as possible.
Hard Rock Hotel & Casino Atlantic City, scheduled to open at noon June 28, has been relatively quiet on the subject of sports betting. The casino hotel declined multiple requests from The Press for comment on sports wagering, both before and after the U.S. Supreme Court's ruling May 14 that found the 1992 federal ban unconstitutional.
The entertainment conglomerate's silence on sports betting is not surprising, said sports law attorney Irwin Kishner, because of its 2016 stadium naming rights deal with the NFL and the Miami Dolphins. The agreement is confidential, and specific language about sports gambling in the 18-year, $250 million deal is unknown.
However, Jim Allen, Hard Rock International chairman and CEO, provided this answer when asked about offering sports wagering at the Atlantic City property during Hard Rock's license hearing in front of the Casino Control Commission on May 9.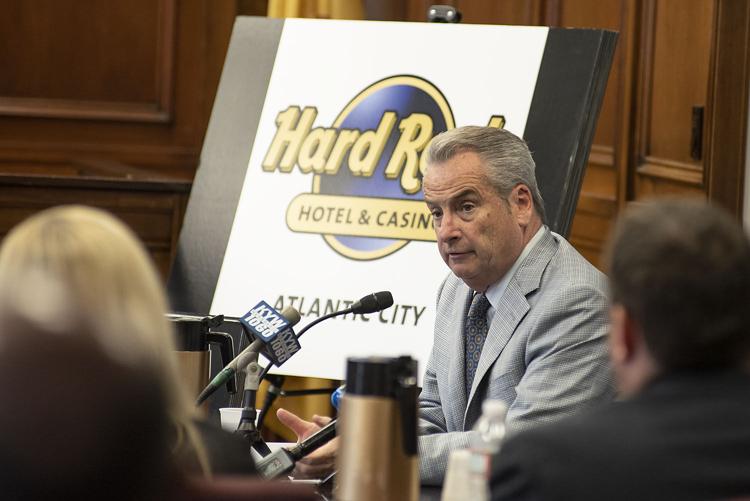 "We have certain restrictions in our agreement in Hard Rock Stadium with the NFL, but we've reviewed those restrictions based upon our confidential agreements with the NFL and the ownership of the Miami Dolphins," Allen said. "But, yes, we do think that sports betting would be great and tremendous for New Jersey. And the Hard Rock brand anticipates participating in that particular venue within the confines of our specific treatments with the National Football League and the Dolphins and Steve Ross, owner of the related group."
The inspector from the state Division of Gaming Enforcement who posed the question did not press Allen about what those restrictions may be, nor was there any follow-up about sports wagering at the Atlantic City property.
ATLANTIC CITY — The U.S. Supreme Court decision Monday to open the door for legalized sports…
Multiple requests for clarification from Hard Rock were declined. The NFL did not respond to a question about sports-gambling restrictions, prohibitions or provisions for its corporate partners. A spokesman for the Miami Dolphins indicated Wednesday he would look into the stadium naming agreement with Hard Rock but has yet to respond.
The NFL was one of five sports leagues — along with the NBA, NHL, MLB and NCAA — that challenged New Jersey's law to allow legal sports gambling all the way to the Supreme Court. The NFL's gambling policy, as outlined in the league's constitution and bylaws, states: "The NFL opposes all forms of illegal gambling, as well as legal betting on NFL games or other professional, college or Olympic sports. Such activity negatively impacts the interests, welfare and integrity of the NFL, its games, clubs, players and coaches, and diminishes public confidence in legitimate sport. Equally important, even social gambling among co-workers can lead to discord, violence and a loss of team cohesion."
New Jersey's top lawmaker urged leaders in all 50 states to reject "extortion attempts" by s…
Kishner, executive chairman of Herrick Feinstein LLP, has represented the New York Yankees, New York Giants, Brooklyn Nets, Chicago Cubs, the Ultimate Fighting Championship and the New York City Football Club, in addition to various professional sports leagues, teams, owners, stadiums and arenas. Kishner said a provision that prohibits league business partners from associating with gambling would not be uncommon.
"In very substantial agreements, like a naming rights deal or a major sponsorship deal, it would not be unusual to have a provision that says, 'This (agreement) is subject to the rules, regulations, bylaws, etc., of the National Football League,'" he said. "I would strongly suspect there was a provision which covered (sports wagering) in the naming rights agreement."
Given that Hard Rock International operates a casino in Las Vegas which features a sports book (the property was sold to Virgin Group in April) Kishner said it was likely the entertainment company was granted an exemption for that location when the deal was inked in 2016.