The Atlantic City Rail Line will resume full service May 24, just in time for Memorial Day weekend, NJ Transit said Wednesday.
The announcement came a day after Gov. Phil Murphy directed NJ Transit Executive Director Kevin Corbett to announce a date for service resumption by the end of the week.
Now, politicians are calling on the agency to expand rail service to and from Atlantic City.
"It makes no sense to have taken this long to reopen, considering (Atlantic City) is such an economic driver for the entire state," said state Sen. Chris Brown, R-Atlantic. "What we have to focus on now is expanding the rail line so it better serves the community and this $2.6 billion (casino) industry."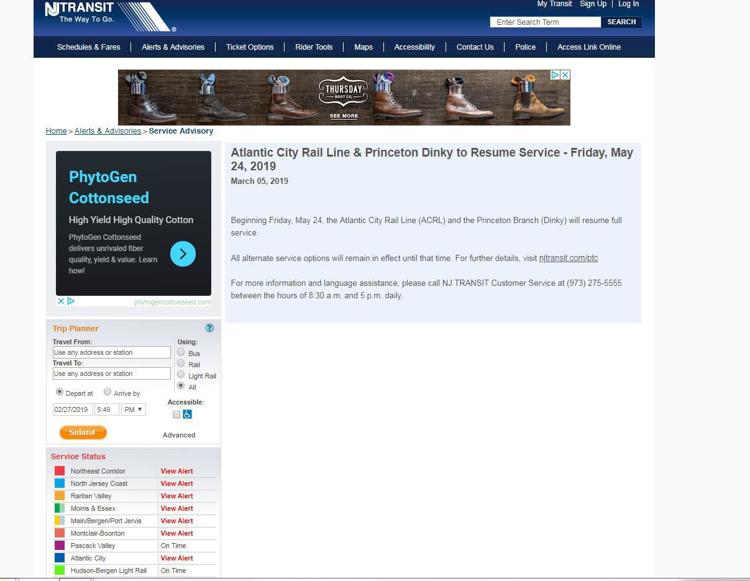 Corbett last week told Atlantic City Rail Line riders he would give them a date within three weeks.
"The governor helped with this," said U.S. Rep. Jeff Van Drew, D-2nd, who had asked Murphy to help get a date for reopening from the agency. He also organized a letter from nearly the entire New Jersey congressional delegation to NJ Transit demanding service resume soon.
Van Drew said he had told the governor the line needed to restart before Memorial Day.
HAMILTON TOWNSHIP — At a riotous meeting Thursday at the Atlantic City train station, NJ Tra…
"It's been an incredible inconvenience," Van Drew said. Riders have had to take much slower NJ Transit buses for their commutes or tourist travel. But with the tourist season hitting full stride after Memorial Day, even more workers and tourists would have been negatively affected, he said.
"Now let's see what else we can do to get more regular runs, and maybe an express run," said Van Drew.
The line was shut in September to install federally mandated positive train control safety equipment. The shutdown has doubled commuting time and made it much less comfortable, riders have said.
NJ Transit first said the train would resume in early 2019, but in January said it wouldn't start again until March, and then later said it would be sometime in the second quarter of the year, which ends June 30.
ATLANTIC CITY — NJ Transit officials couldn't say when the Atlantic City Rail Line will reop…
Assemblymen Vince Mazzeo and John Armato, both D-Atlantic, said they are happy to have a date for reopening, but they are disappointed it couldn't have been earlier.
"It's pretty far away. I'd like to see exactly what the issue is" that's keeping it from reopening in March, April or early May, said Mazzeo. "We will hold NJ Transit's feet to the fire and try to make it earlier."
The state agency has said a shortage of engineers and equipment throughout the system has delayed reopening, along with the desire to wait for Federal Railroad Administration approval of new schedules, though that approval was not required, according to the FRA. But officials have never explained why some engineers and equipment could not be taken from one of the state's 11 other major rail lines, all of which are in Central and North Jersey. The PTC equipment was installed on the Atlantic City line by early this year.
"To all the public and the elected officials that showed up at that horrendous gathering at NJ Transit — they actually made a difference. It moved the needle," said Republican Atlantic County Freeholder Frank Formica, who was among many who criticized NJ Transit for failing to provide seating or a sound system for last Thursday's meeting that attracted about 200.
South Jersey residents are calling for NJ Transit to not only reopen the Atlantic City Rail …
Formica said he is also seeking more frequent trains for the Atlantic City line.
The other rail line that had its service interrupted, the Princeton Branch (Dinky), will also restart May 24, NJ Transit said.
All alternate service options will remain in effect until May 24. For further details, visit njtransit.com/ptc or call NJ Transit Customer Service at 973-275-5555 between 8:30 a.m. and 5 p.m. daily.
Also this week, federal regulators gave approval to NJ Transit for a two-year extension to complete the implementation of PTC across the state. The FRA sent a letter this week that said NJ Transit met six key criteria by the end of December for the extension.
The Associated Press contributed to this report.