One year ago, Sandy Feddema awoke to the sound of Bridgeton officials knocking on his door.
A 40-foot-wide, 15-foot-high stone wall next to his West Commerce Avenue home had crumbled, leaving the compact, sandy bluff behind it exposed and Feddema with a big cleanup on the sidewalk. He spent months removing sand and and dirt from the walkway, and noticed something unusual.
"(The sand) was just coarse," he said. "Like sand I had never touched before, and the color was different."
Little did Feddema know, the bluff beside his house, once hidden behind a centuries-old wall, helps illustrate how the most recent Ice Age shaped South Jersey.
That's according to Mark Demitroff, a geomorphologist at Stockton University who took a look at what was left during a visit to Bridgeton last year.
He discovered a frost crack in the small cliff filled with sand, called a "sand wedge cast."
These are typically found in areas where there was once permafrost, thick layers of soil that are frozen year round.
He has not yet been able to date the crack.
"We thought, 'If we can find those in the Bridgeton area ... we could prove that this area did have permafrost,'" he said. "It was never never cold enough by our climate models."
Throughout the state, though, Demitroff said there's more evidence the terrain was molded by lengthy, freezing glacial periods. 
About 2.6 million years ago, towering ice sheets miles thick began to cover parts of the world, particularly the northern U.S. and Canada. It was the most recent Ice Age, called the Pleistocene Epoch by geologists, and it stopped just short of South Jersey.
The giant mass abruptly ended around Exit 11 of the New Jersey Turnpike, in Woodbridge, he said, placing the lower half of the state in a unique position: parked beside extensive ice sheets for thousands of years.
South Jersey, he said, became a "polar desert," with the ground "frozen like a Popsicle." The remains of mastodons, Ice Age-era beasts, have also been found in all corners of the state. 
"Cold, dry, windy conditions over the last two and a half million years shaped the landscape here," he said at a talk at Bridgeton's library Thursday night. "When the Ice Age hits Bridgeton ... the area turned into a polar desert."
Those "sand wedge casts," evidence of such weather conditions, have also been found in Delaware, Maryland and Pennsylvania.
In Bridgeton, Demitroff said, it's possible permafrost was frozen up to 100 yards deep.
"That's thin by geological standards," he said.
Other parts of the Pinelands' topography, and its fringes, can be traced to the Ice Age, too.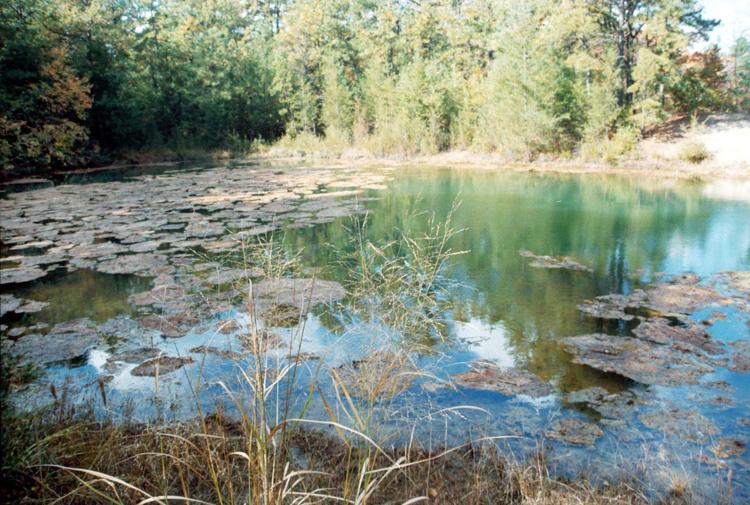 Shallow, circular ponds, called spungs, can be found dotted throughout the 1.1-million acre Pine Barrens. Some theorized that spungs, which fill with fresh water in the spring and drain in the winter, were created by meteorites that hit New Jersey.
But Demitroff points to the Ice Age.
Gale-force winds coming off glaciers that blew most of the year caved out those ponds. Even many oddly shaped rocks found in South Jersey were likely sculpted by sandblasting associated with strong winds, he said.
Blue holes, seemingly bottomless, icy cold springs found in parts of South Jersey, also stem from the Ice Age, Demitroff said.
Found in Winslow Township and Vineland, a blue hole is a strong spring set in permafrost that results in an ice mass that is essentially a miniature glacier called an icing.
They're considered to be dangerous for swimming.
"The (Ice Age) landscape I'm showing," he said, "helps explains where roads are, who is here and why it's here, why settlements are here and even why hills are here."