TRENTON — The state Senate Thursday approved legislation to dedicate Atlantic City's Boardwalk Hall in honor of state Sen. Jim Whelan, the former mayor and state lawmaker who died in August of a heart attack.
The bill, sponsored by state Senate President Steve Sweeney and Sens. Raymond Lesniak and Colin Bell, would rename the 91-year old arena Jim Whelan Boardwalk Hall. The Senate session was the first since Whelan died at his Atlantic City home.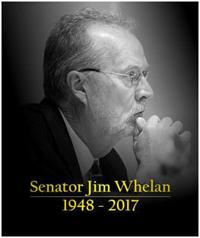 "Jim Whelan will be remembered for all that he accomplished as a senator and as mayor of Atlantic City, where he succeeded in helping to transform the city in ways that will be seen as even more remarkable as time goes by," said Sweeney, D-Salem, Gloucester, Cumberland. "Naming the iconic Boardwalk Hall in Jim's honor is fitting for a man who will always be an important part of Atlantic City's history."
The bill passed unanimously, 35-0.
Sen. Thomas Kean Jr., R-Morris, said Whelan left a lasting legacy on both the region and state.
"He focused on education, he focused on veterans, and he made sure future generations could go to college and grow old and raise their families in this state," Kean said. "He was an individual who cared passionately about Atlantic City, but that passion extended beyond to all of our families."
In addition to approving the bill, the state Senate also passed a resolution honoring Whelan's service in both Trenton and Atlantic City. The resolution described him as "well-known and greatly respected for his kindness, fairness, and decency."
"Jim Whelan was a man of integrity, sincerity and selfless commitment to the needs of others," said Lesniak, D-Union. "When Jim spoke, everyone listened, which is testimony to the trust and respect everyone had for him. I will miss him greatly but his legacy and his memory will live on."
The former lifeguard and Atlantic City teacher served as the resort's mayor from 1990 to 2001. He was elected to the state Assembly in 2005, then won a state Senate seat in 2007, winning re-election twice.
"Jim Whelan set an example for exemplary public service as a mayor, legislator, teacher and coach," said Bell, D-Atlantic. "He will be remembered in the lives of the people he served, especially the young people he cared so much about."
Deputy Assembly Speaker John Burzichelli, D-Salem, Gloucester, Cumberland; and Assemblyman Vince Mazzeo, D-Atlantic, will sponsor companion legislation in the Assembly.
"Jim Whelan was a soft-spoken and kind man who was a friend to everyone," Mazzeo said. "But don't be fooled — he would fight for what he believed in and for what was best for the people."